There was a time when I'd get deja vu browsing a restaurant menu and seeing the SAME grilled Romaine wedge with blue cheese dressing every place we went!! Ugghh..it was like salad groundhog day!! I was frustrated by the complete lack of inspiration.…and missed the times when I'd order a salad that was so inventive I couldn't wait to replicate it at home!
A little creativity can take a salad from "meh" to "mesmerizing!!" After years of putting almost anything on a bed of lettuce, I'm presenting a few of my favorite show stopper salad toppers to make healthy, delicious and eye catching salads.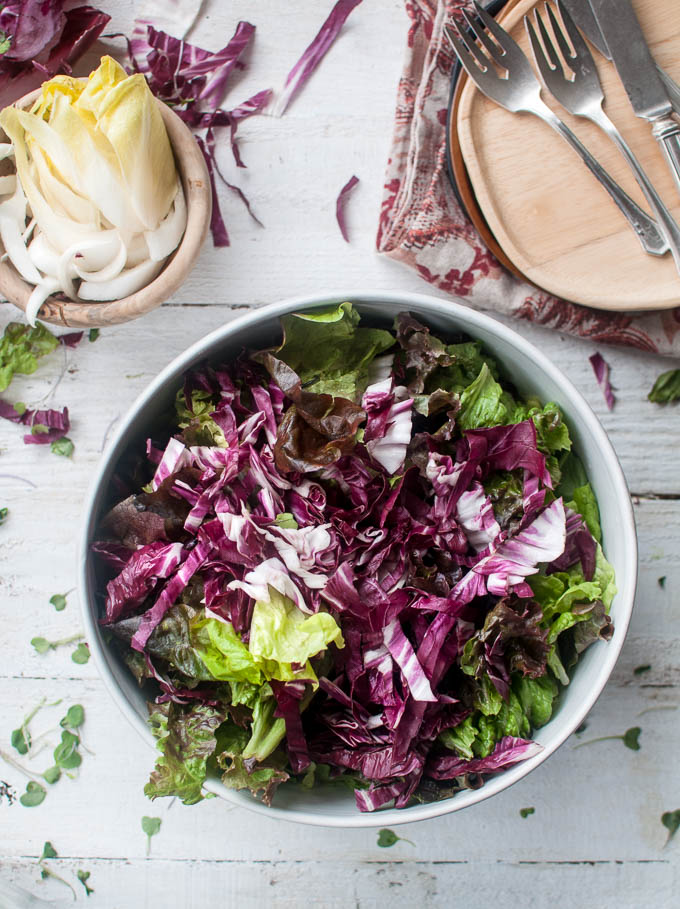 Building a Salad Step One: Chose a Base
Start by choosing an interesting base. Tired of lettuce?? Go with spinach or kale! What some spice? Try peppery arugula!! Need it to be delicate? Try dainty butter lettuce!! If you are used to using the same green base all the time, mix it up (no pun intended). Here are some ideas:
Lettuce
Romaine is one of the healthiest varieties, Romaine has a firmer leaves which is great for heavier dressings like this vegan Caesar dressing from Oh She Glows.
Red (or Green) Leaf Lettuce – Red leaf lettuce is my favorite. I love it's color, sweet tasting leaves and neutral taste that compliments almost anything you add to it. It pairs well with vinaigrette.
Butter Lettuce – Butter lettuce reminds of of a delicate flower, it's small and sweet and screams "summer".  I serve it with sliced mini heirloom tomatoes, avocado and a dainty dijon, champagne vinegar dressing.
Gem Lettuce – there is nothing is cuter than a pack of  "mini" romaine!! See this post for a beautiful gem lettuce salad.
Iceberg – I don't eat much Iceberg lettuce anymore but as a young girl it was ALL I ate.  Iceberg isn't as nutritious as darker greens but it wins for crunch and works so well in Asian style salads.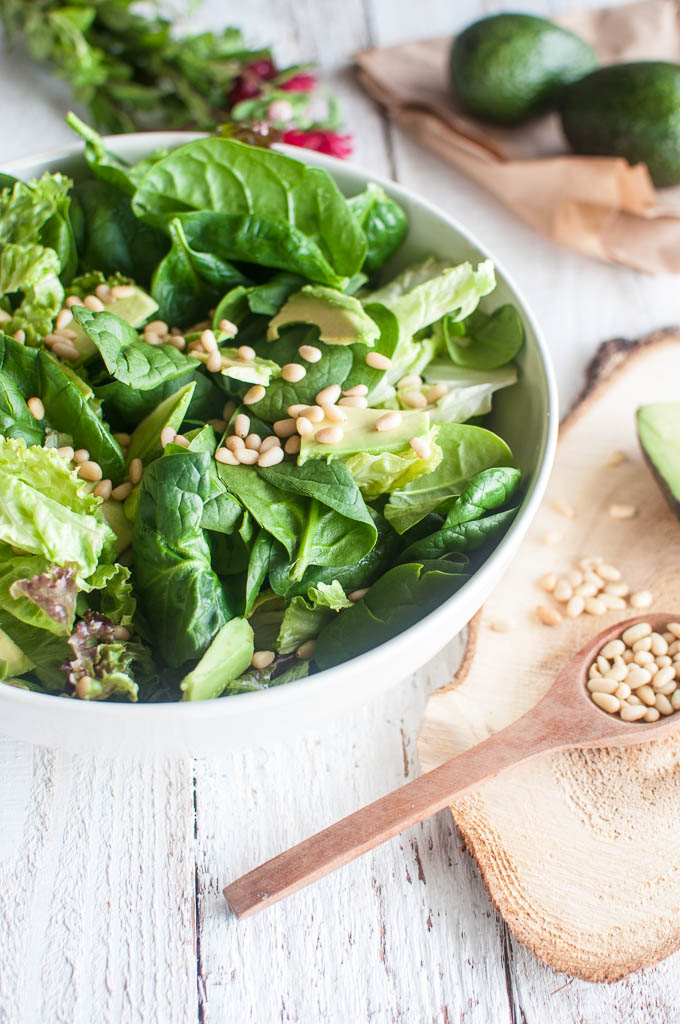 Leafy Greens
Arugula – also known as "Rocket" is a stringy strong cruciferous vegetable with a distinct "peppery" taste.  Often served on sandwiches and vegan pizza but also great in salads.
Spinach – I'm on a Spinach salad kick!! I add high quality olives, sweet cherry tomatoes, a drizzle of fancy olive oil salt and pepper to a bowl of fresh spinach and wallah!!! Lunch!!
Kale –I love kale now – but not always. The secret to enjoying kale is massaging out the bitterness and softening the texture. I use lemon, tamari, nutritional yeast, tahini and olive oil and get your hands in there. Then add: roasted Kabocha squash or dry pan tofu!!
Now that you've selected a base, chose a few exciting toppers. I give myself lots of liberty with salad toppers (chili, falafel, roasted vegetables, tofu…) —  sometimes when I sit for dinner with a crazy salad, my husband looks at me with questioning eyes — what have you got there????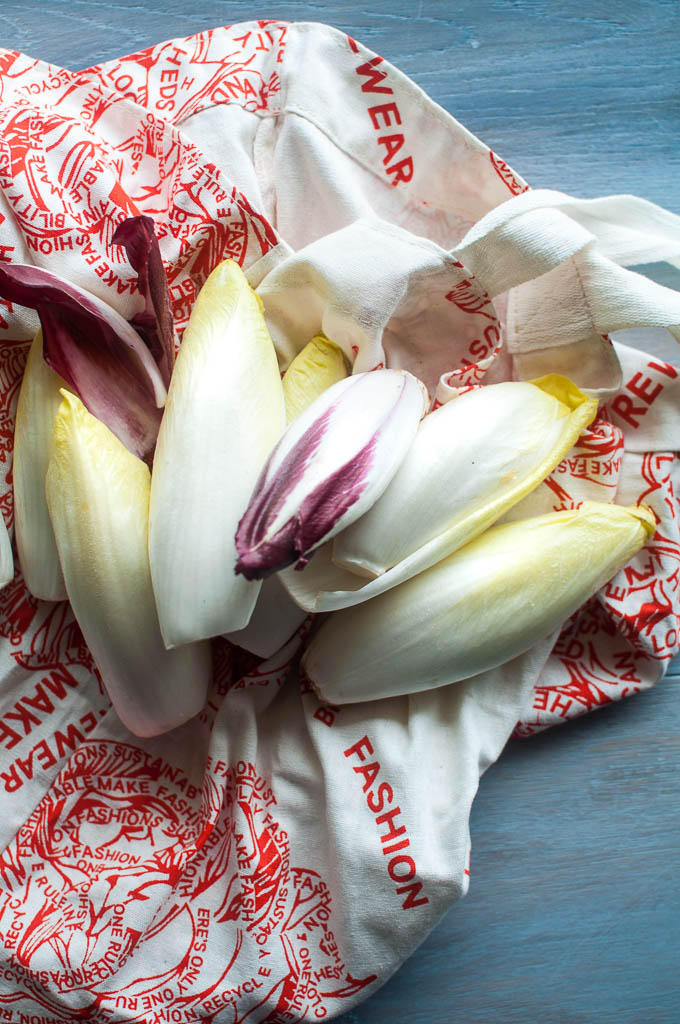 Building a Salad Step 2: Select Some Salad Toppers
Think of salads as an art project where you can mix and match a rainbow of colors and textures. The more experimental you get, the more exciting your salads will be!! Get innovative and play around.
Radicchio or Endive – Are part of the chicory family and known for their beautiful colors, heartiness, crunchy texture, and slightly bitter taste. Adding sliced Belgian endive or a mess of radicchio ribbons brings a salad to life. Add thinly sliced avocado and Pecan Parmesan (see recipe).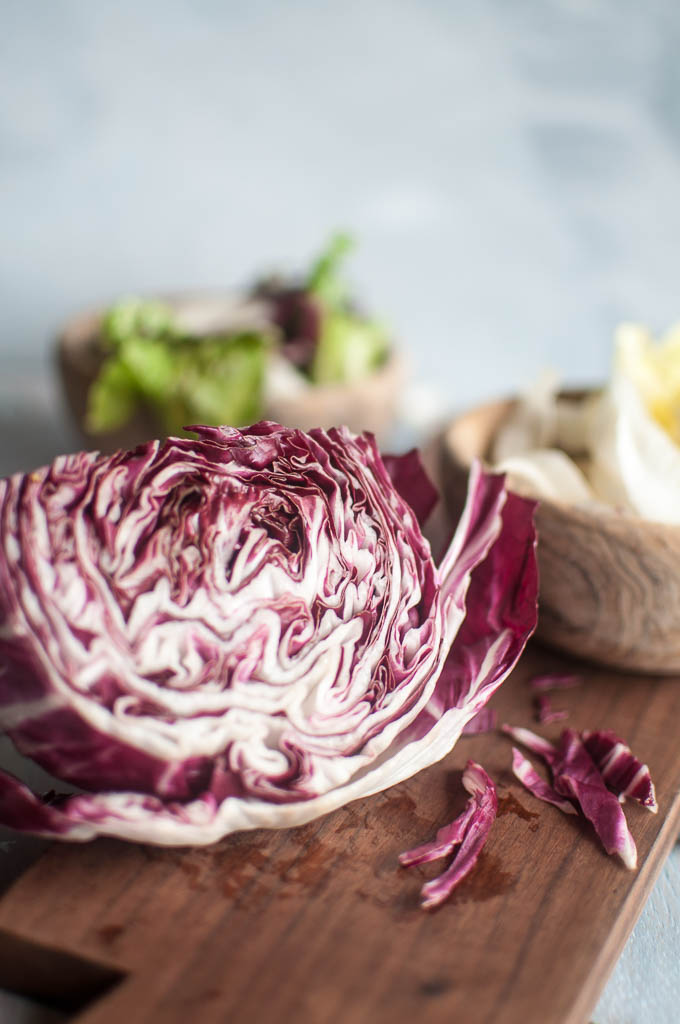 Avocado – Goes in ALL of my salads. It is high in fiber, creamy, and delicious.
Micro Greens and Sprouts – Like adding a super hero vegetable to your salad.
Nuts: Pine, Pecans, Walnuts, Almonds, Pistachios – Buy raw and keep in the fridge.
Quinoa and Edamame – A protein packed combination with mild flavor and added texture.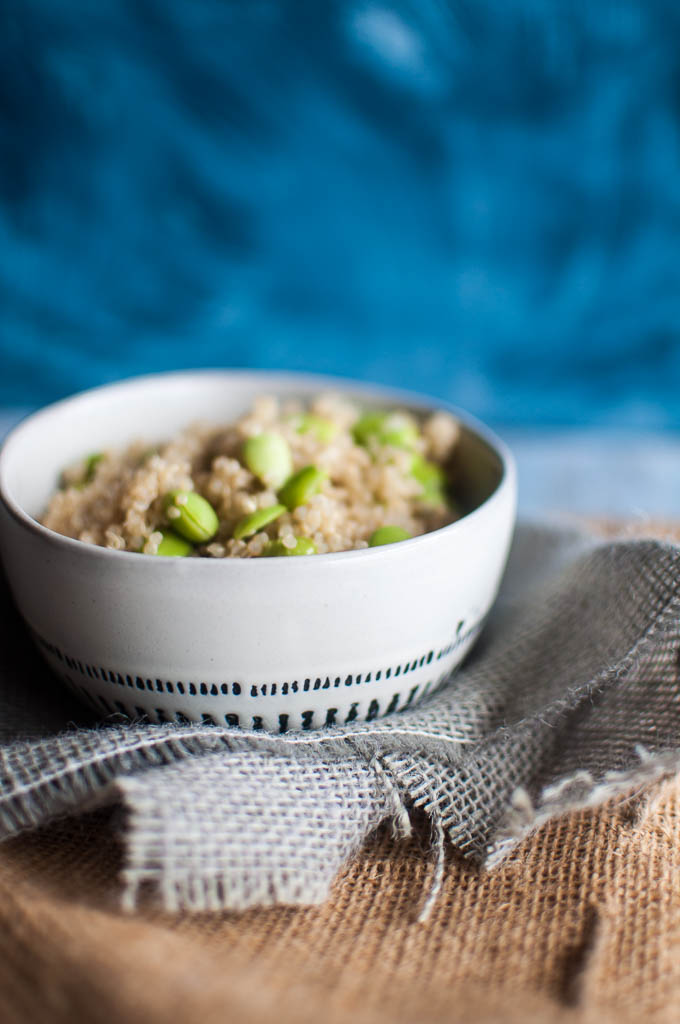 Tofu – Adds protein, texture and turns a salad into a meal (easy recipe here).
Roasted Squash or Sweet Potato – Makes a salad shine!
Dips – Dollop hummus, baba ganoush or your dip of choice on your salad for a little Buddha Bowl action!
Beans – Spiced Chickpeas, vegan chili, baked lentil falafels (told you I get creative!!)
Seeds – Hemp, pumpkin, sunflower, sesame seeds add texture, flavor and vegan protein.
Cheese – Because I am vegan, I hesitate to add this but cheese can be a wonderful addition to any salad if it's something you eat. My husband sprinkles Feta or Chevre on his salads. In general, goat and sheep's milk cheeses are not usually fed antibiotics and are easier to digest than cow based cheeses (read more on this here). If you are vegetarian however, avoid cheeses made with animal rennet and opt for plant based rennet (more here).
Building a Salad Step 3: Add your Favorite Dressing
I think it's best to make your own dressing unless you recognize all the ingredients in a bottled dressing. Here are my two easy "go to" dressings:
My easy go to vinaigrette: In a measuring cup (or bowl) add a squeeze of honey mustard (I like whole foods brand or Annies), a few generous shakes of Tamari, a little more balsamic vinegar, and a glug or two of olive oil. Mix with a fork until emulsified (should be creamy).
My second "go to" dressing is a simple mixture of Tahini, Tamari, olive oil, squeeze of lemon, and sprinkle of nutritional yeast. When putting this on kale, I add it directly to the washed and torn leaves in a large bowl. Then massage the leaves until they are wilted (a few minutes).
This Lemon Tahini dressing from Oh She Glows is a winner.
If there are favorite toppings I've overlooked, please send me a comment.