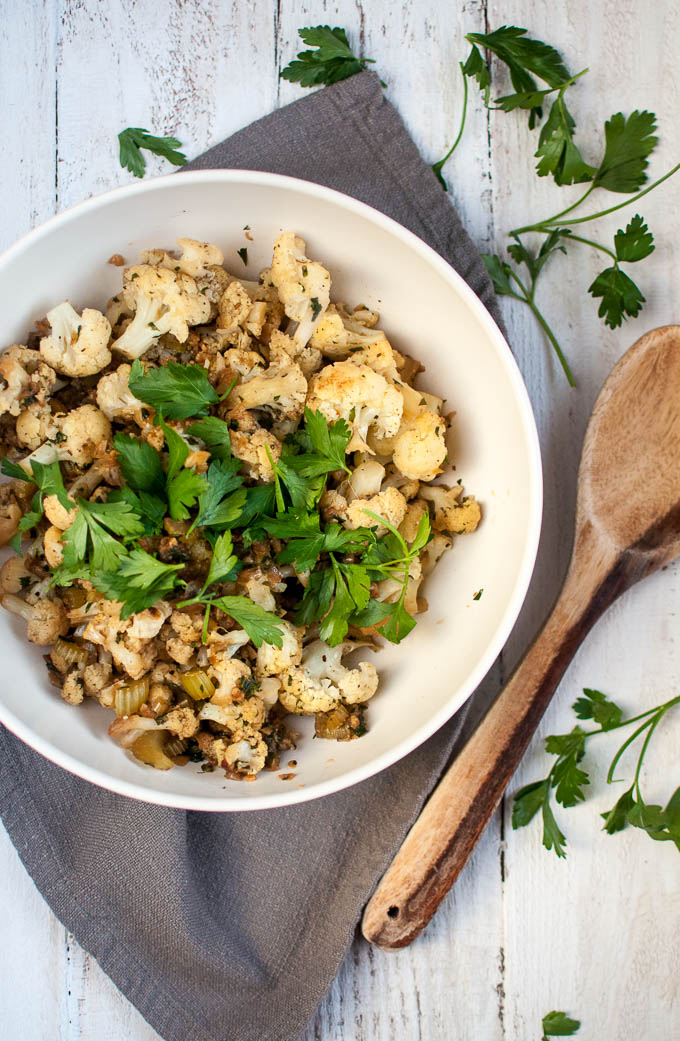 This year, Thanksgiving hit me right in the butt. It slammed into me just as I was removing my Halloween costume….WHAM…there it was! It came swiftly and I wasn't ready. So, when I was trying to decide what to cook for it, I was  unprepared. I didn't have the usual time to mull over recipes and savor the anticipation.
Mini pumpkins sprouted up in produce sections and bags of whole cranberries should have pulled me out of my daze but I wasn't getting the clues. Can I blame the balmy 85 degree temperatures? I'm certain it fooled me! Another thing that threw me off was the menu. Traditionally, I bring stuffing but now that I'm not eating wheat, that was out. I needed a crowd-pleasing vegan, paleo, low – carb recipe….EASY RIGHT????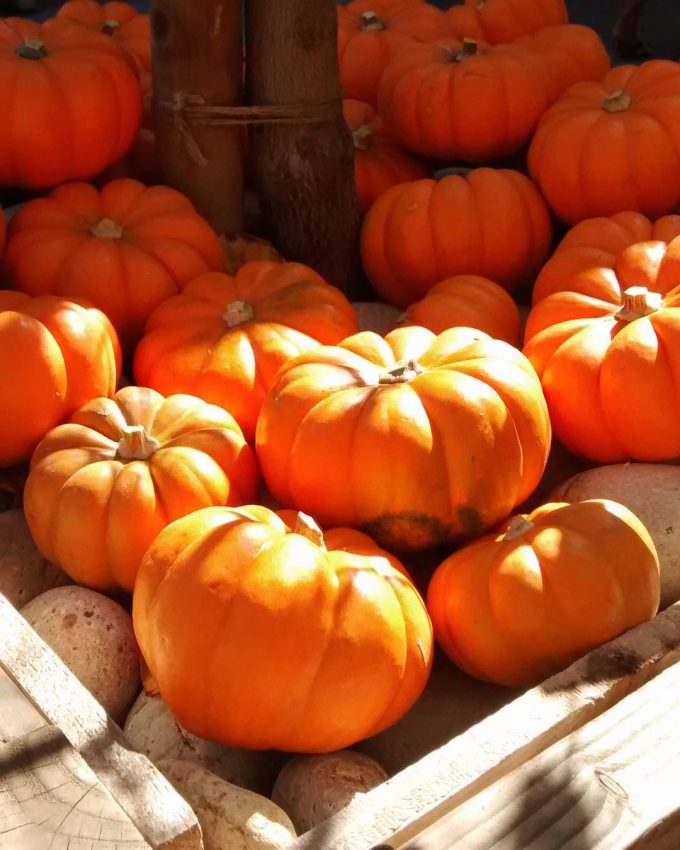 Like magic, it revealed itself to me. I was scrolling through my Instagram feed and came across this insane looking paleo, vegan low-carb Cauliflower stuffing recipe from Taylor at FoodFaithFitness. Bingo!!! That's it!!! First of all, her photos make this recipe screen-licking good! But it's also very easy to make and yielded an, "I can't believe this is cauliflower" result.
I am newly attracted to cauliflower, so I understand anyone who is skeptical and not yet convinced of its charms. All you need is one unpleasant cauliflower experience and the offense may last forever. But, browsing through Taylor's lip smacking photos on her gorgeous blog restored my faith.
Since I was lagging behind, I didn't get this post up before Thanksgiving however, this cauliflower stuffing could easily join any holiday menu. Or, if you recipe test the day before like I do, you may finish the entire batch before it reaches the table (I made it and ate it the day before – it was excellent!!). I planned on making another batch for Thanksgiving but decided against.  Cauliflower tastes best when eaten right away and I needed something I could prepare in advance so I could transport it to my neighbor's Thanksgiving feast. So what did I bring this year?
Wheat-free, vegan pumpkin bread from The Beaming Baker
My favorite Miso, tahini sweet potato dip with crudités
Fresh cranberry sauce sweetened with maple syrup instead of sugar
A large red leaf lettuce salad with shredded radicchio, pine nuts tossed in my easy honey mustard vinaigrette
This recipe calls for poultry seasoning which doesn't sound vegan but actually is. It's a spice mixture of sage, thyme, marjoram, rosemary, celery seed, allspice and black pepper. I didn't have that so I substituted Nutra Kik, a non-gmo vegan vegetable broth that I bought at the farmers market (you can order it online). It worked wonderfully and I can't wait to add it to soups.
Recipe
The recipe for this wonderful Vegan, low carb, Paleo Cauliflower Stuffing is by Taylor at FoodFaithFitness and can be found on her beautiful site.
The cauliflower softens over time and tastes best right hot out of the pan.In the future I will add mushrooms and possibly walnuts.