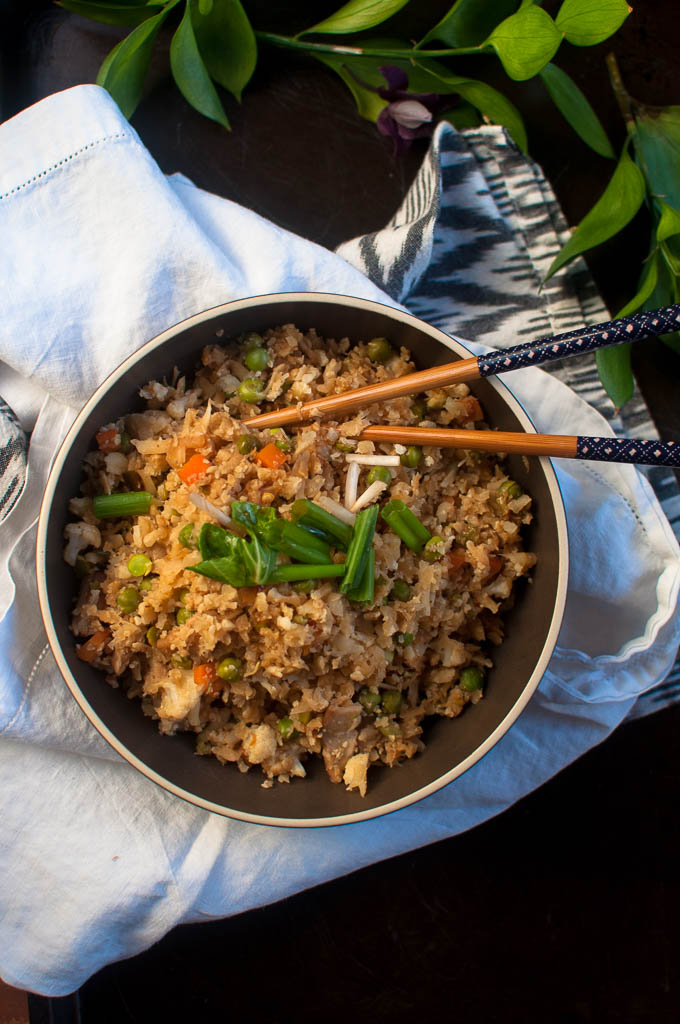 People have been raving about cauliflower fried rice for some time now, but I held out because I'm naturally skeptical. Could cauliflower ever taste like rice??? Hmmmmm….(doubting face). When I was growing up, Wednesday nights was when my father took my brother and I out to Sing Wu, our local Chinese restaurant. This was a special night since our parents were divorced and I got to see DAD but also because I could eat my FAVORITE dish…….Fried Rice. Oh how I savored that rice. Could cauliflower ever compare to that special memory?
Cauliflower rice vs. Brown rice 
Now that I'm avoiding carbs (no rice) I decided to give this cauliflower rice a try –  And I'm SO GLAD I did!!!! (One for risk taking – yay!!)  Not only is cauliflower much lower in calories and carbs than brown rice but the taste is transformative. It blew me away!!
Calories and Carbs, lets compare: 
Cauliflower has 25 calories per cup vs. 218 for a cup of brown rice.
Cauliflower has 5g of carbs per cup vs. 46g for a cup of brown rice 
Making Cauliflower Fried Rice
Making cauliflower fried rice is quick and easy. You can find pre-grated cauliflower at Trader Joes, but I prefer using my hands to cook and it only takes a few minutes to grate by hand or in a food processor. Using your hands lowers anxiety and guarantees the freshest cauliflower. So, switch on some music and grab your box grater (but be careful not to grate your fingers).
Wash cauliflower and carve out the stem.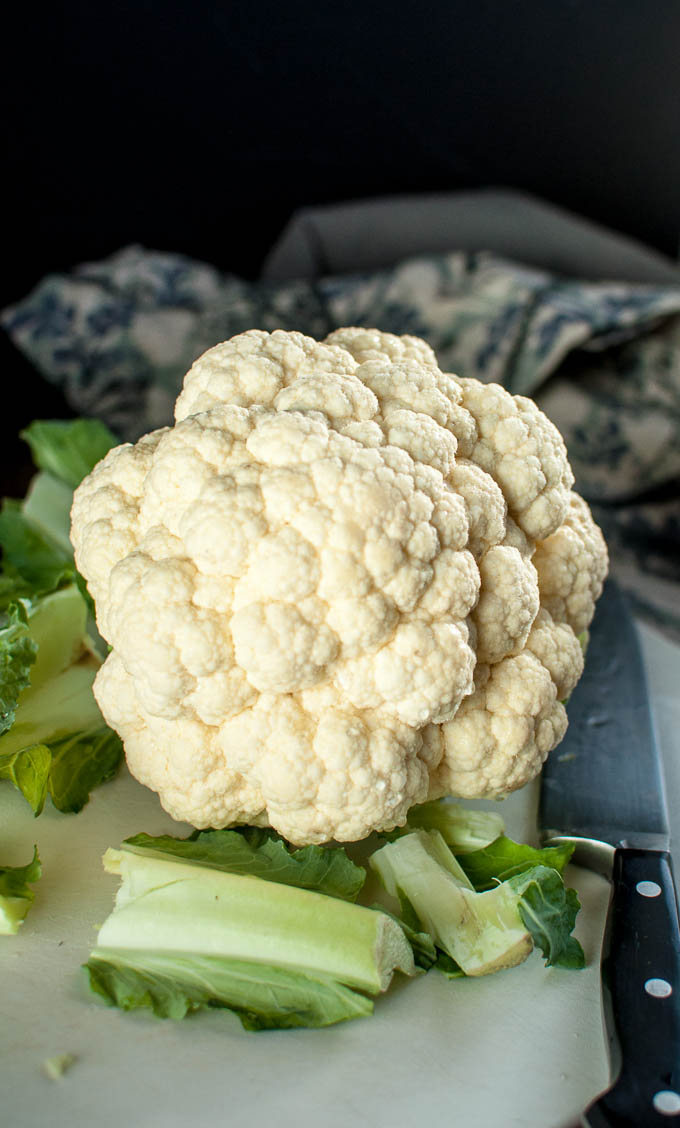 Break it into large florets.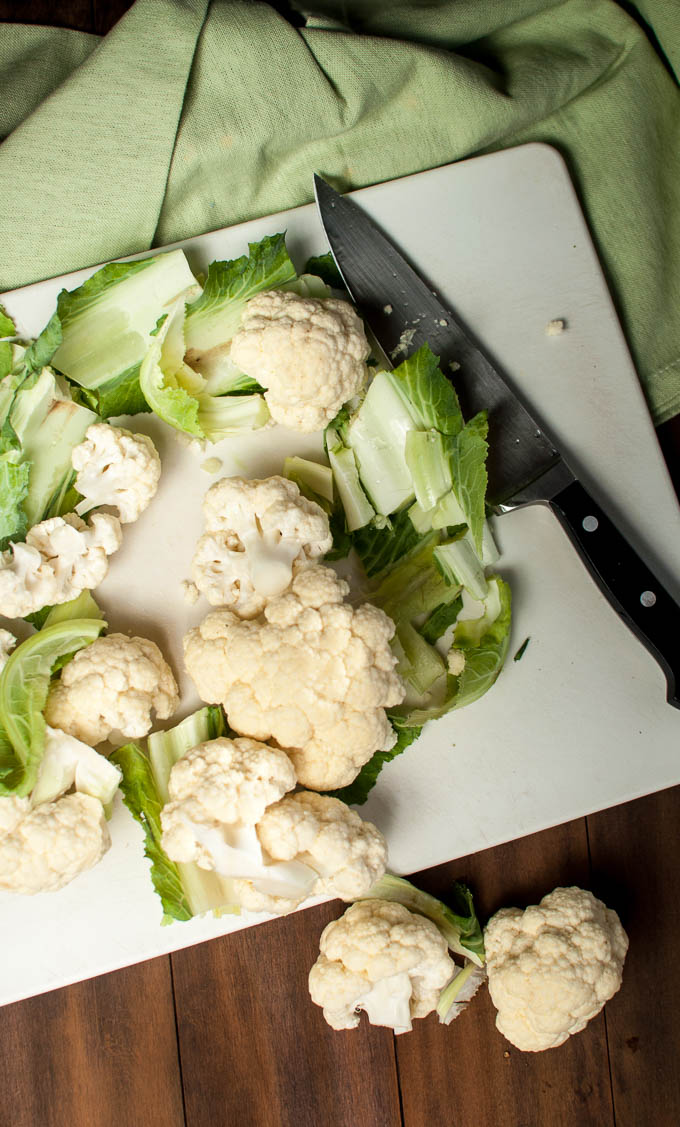 Use a large bowl and box grater to shred the chunks of cauliflower. It only takes a few minutes.
In a large pan stir fry your ingredients and add your sauce.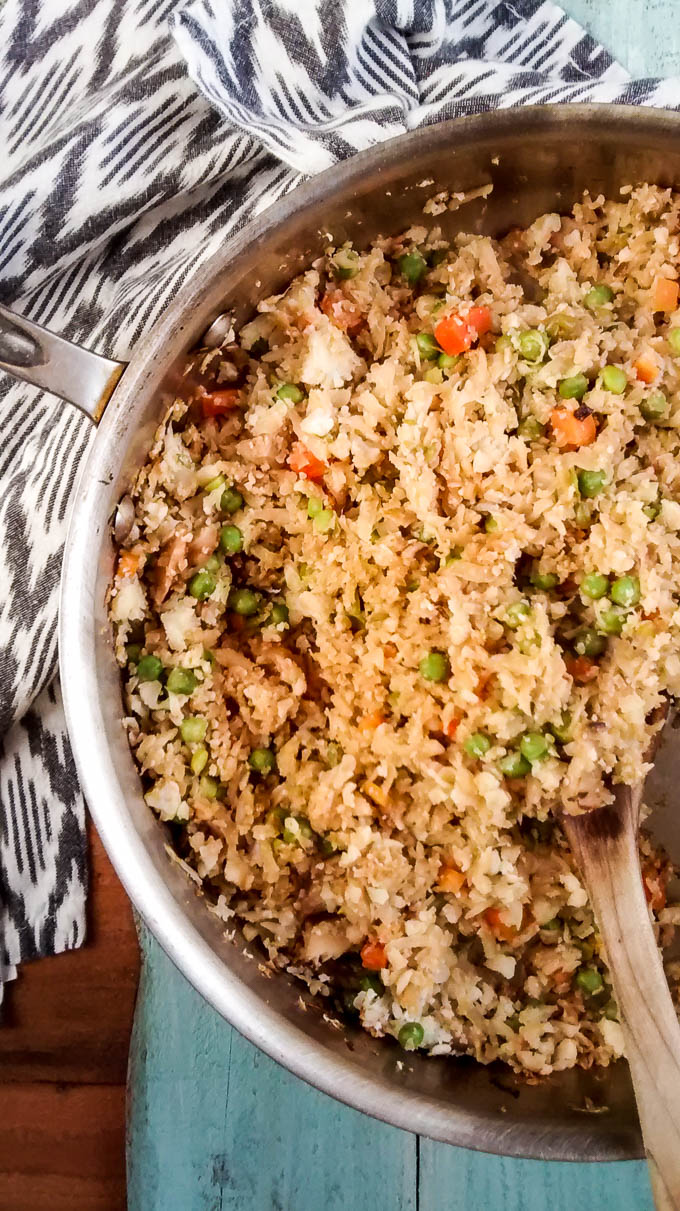 Now grab your chopsticks and ENJOY!!!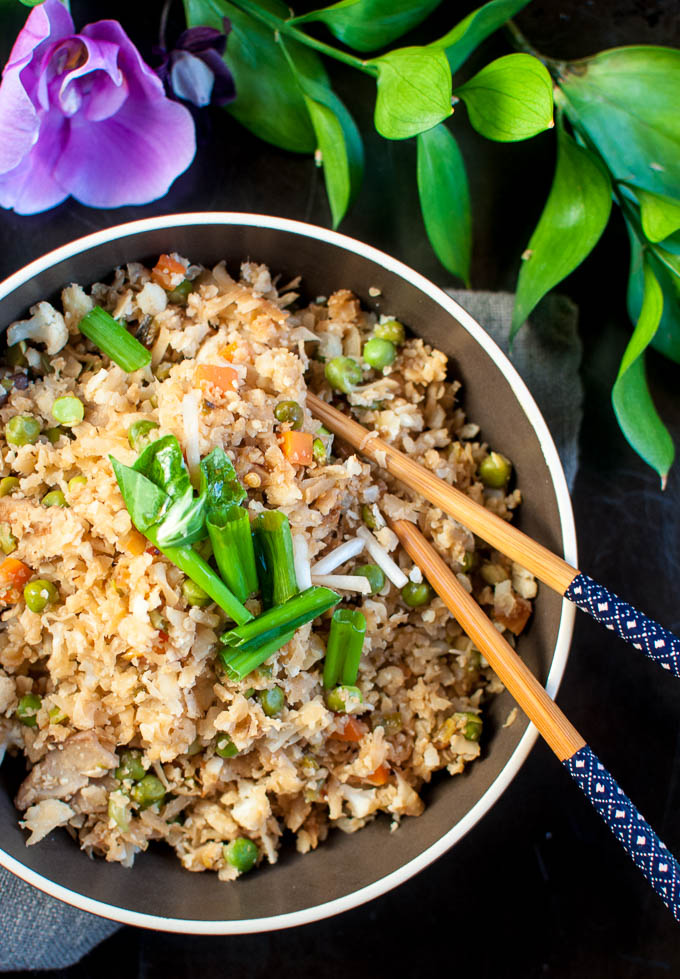 Most cauliflower fried rice recipes include eggs, but I'm confident this fried rice is just as good without them. I add fresh English peas for protein (Trader Joes sells fresh hulled ones), shiitake mushrooms for flavor, cubed carrots for color and bean sprouts for texture. I also like to add scallions, baby bok choy and my favorite easy pan fried tofu.
Recipe for Egg-less Cauliflower Fried Rice
This egg-less cauliflower fried rice comes together in 20/30 minutes from scratch. It's healthy, delicious and gives you a serving of vegetables that mimics rice. I play around with the vegetables sometimes adding more and sometimes just stirring up the cauliflower with a shallot or half a sweet onion. See what works best for you. Like regular fried rice, I enjoy this as leftovers, but some may find it gets soggy. You can always reheat it in a pan with a dash of oil.
Ingredients:
1 head cauliflower washed, cut into florets and shredded into rice-size bits with a box grater or food processor
3-4 thinly sliced scallions  (green part sliced on a thick diagonal)
3 shiitake mushrooms washed, stems removed and thinly sliced
1/2 cup English peas (fresh if possible)
1/2 cup carrots cut into small cubes
Handful of bean sprouts washed
2 baby Bok choy thinly sliced
(optional) crispy tofu (see recipe here)
To Make the Sauce: 
1/4 cup rice wine vinegar (I use half rice vinegar and half champagne vinegar)
2 tablespoons toasted sesame oil
2 tablespoons Tamari (I use low sodium)
1 tablespoon Braggs Liquid Aminos
1 – 2 tablespoons coconut nectar or maple syrup
Directions:
De-stem the cauliflower and cut head into large chunks. Using a box grater, shred the chunks into rice size bits (I do this in a large bowl to minimize the mess). Using a fresh tea towel, press any water out of the cauliflower (you can use paper towels but they rip so be careful). Prepare the other vegetables and set aside.
Heat a large skillet over med-high heat. Add 1-2 tablespoons of toasted sesame oil. Add scallions and shiitakes and stir fry for 4/5 minutes. While these are cooking prepare the sauce.
Add the peas, carrots and cauliflower and cook for 5 minutes. Add the sauce, sprouts, Bok choy and tofu if using and cook a few more minutes or until tender.  Taste and adjust as needed.