I'm always excited to try a new cookie recipe. Especially ones that are vegan and gluten free…so, when I came across this Tahini Chocolate Chip Cookie recipe by Blissful Basil I HAD to try it!!!! Just looking at her photos made me want to dive into the computer screen!! However, the recipe calls for a full cup of tahini which is a lot for someone like me who covets tahini. What if this failed miserably? Would I waste an entire cup??? Not only has tahini gotten so expensive, but running out of it would constitute a domestic crisis.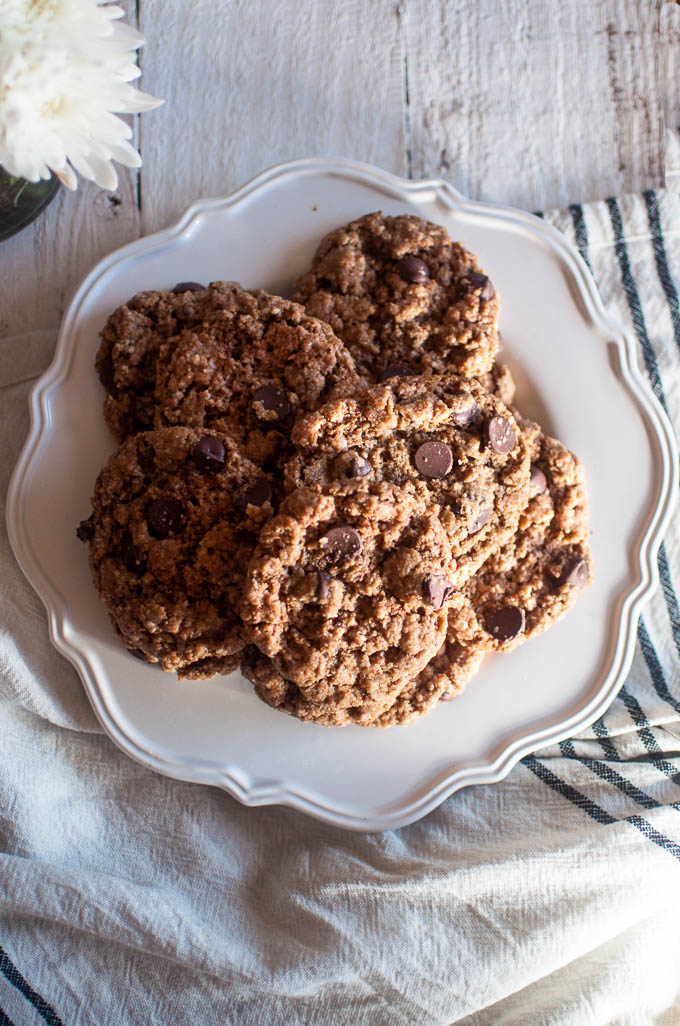 As sesame paste (tahini) keeps rising in popularity (and cost) it's being used for more than just hummus and Buddha bowls. Just look at all the reviews for this Salted Tahini Chocolate Chip Cookies recipe (non-vegan) in the NYT! It gets 5 stars from over 1800 reviewers!! Well, if you've ever tasted Halvah, a middle eastern candy made from sesame paste, then you know that creaming it with sugar or honey yields a deliciously unique TREAT!! Add chocolate and sweet oats to get a slightly nutty, salty, decadently rich cookie with gooey chocolate chips.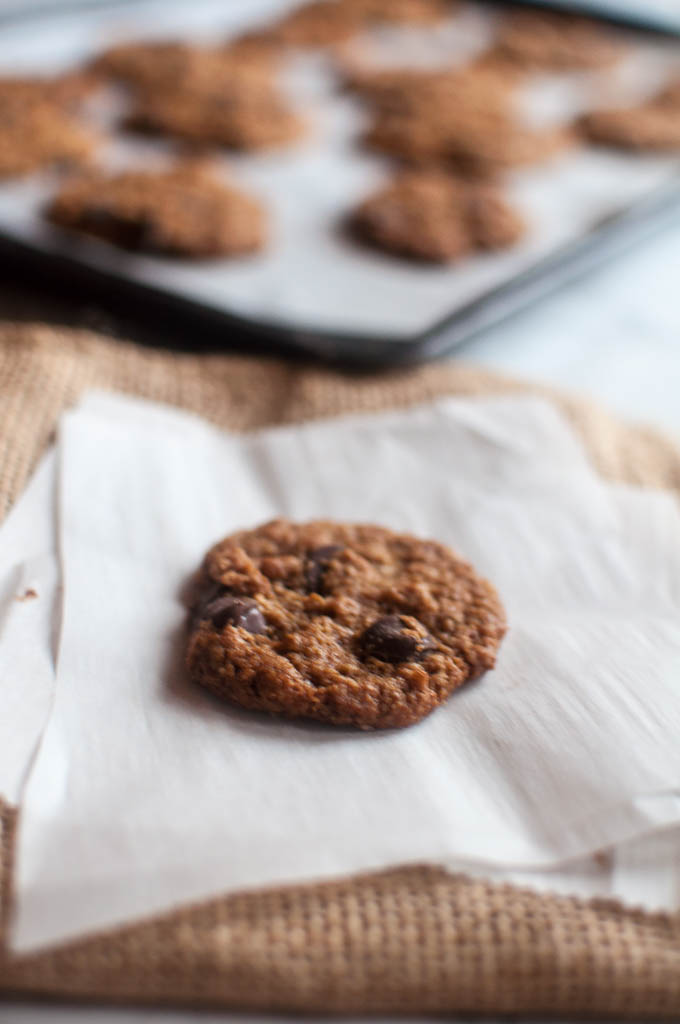 Tahini Varies
One thing you will find while making these sinfully good tahini chocolate chip cookies, is that different brands of tahini yields slightly different results. For example, the tahini from Trader Joes is sweeter and less chalky than the 365 Organic tahini from Whole Foods but the Trader Joe's tahini produces a more "delicate" cookie that falls apart easily (well – someone has to eat those broken off parts). I've tried to compensate by adding more oat flour and/or less water. But those batches were a bit too "dry".
I'm tempted to add a flax egg or a tablespoon of absorbent coconut flour or fluffy 1:1 gluten free flour,  but am hesitant to "risk it" – the original recipe is hard to beat!!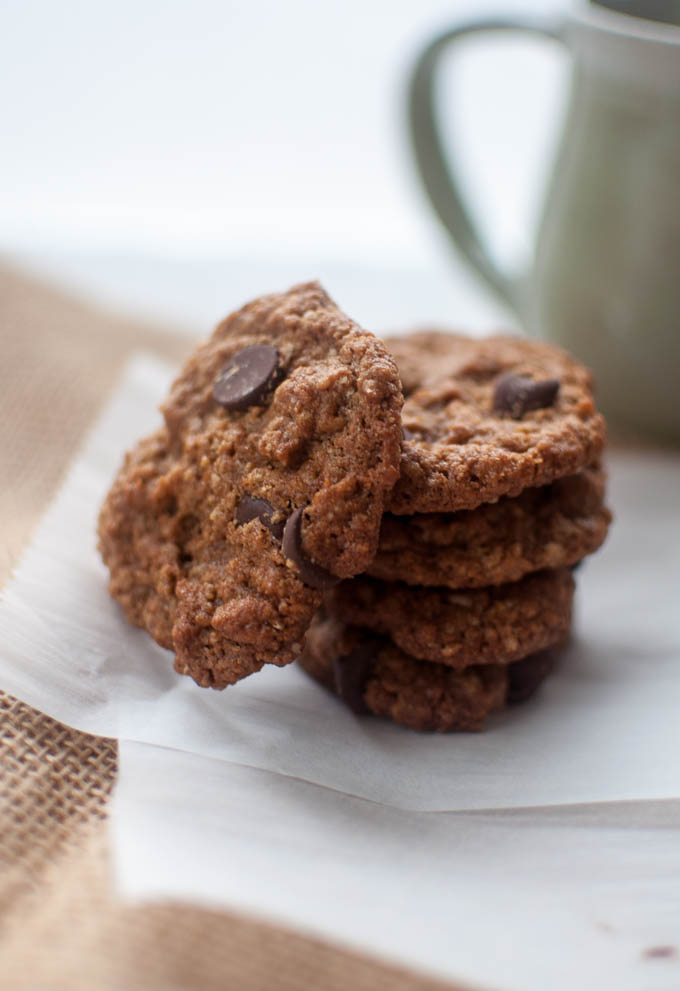 Vegan Gluten-Free Baking
Vegan, gluten-free baking is trickier than using traditional ingredients like butter, eggs, and all purpose flour, but I really enjoy the challenge — or the fact that I can eat the raw dough without worrying about salmonella poisoning. Also, my husband turned gluten-free a few years ago so I like to bake for him. He said these are, "guest worthy" — a positive endorsement from him.
For more vegan, gluten-free desserts try these other recipes: rich blondies, fruit crisp, chocolate chocolate chip cookies, and my all time favorite trail mix cookies.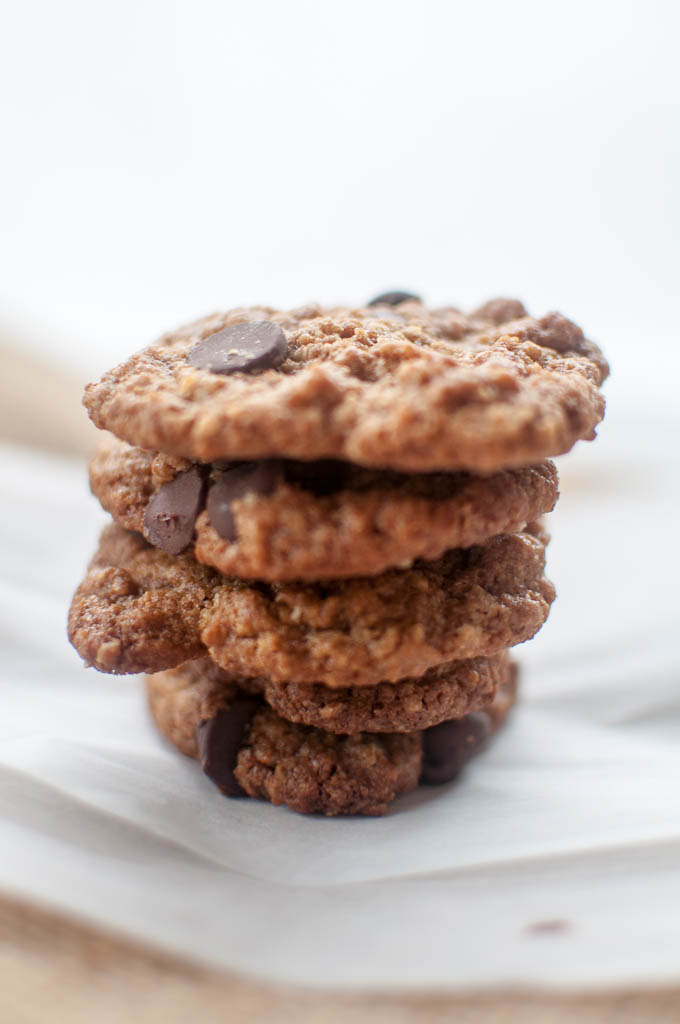 Blissful Basil
Ashley from Blissful Basil is responsible for this wonderful recipe. Her entire site is stunning and will inspire anyone interested in healthy food whether they are plant based or not. Ashley's photos are incredible and she organizes recipes by dietary preference like "gluten-free", "vegan" or "raw vegan" so it's easy to find what you want or just browse and be inspired to try something new (like these cookies!!)
I also like that Ashley is a psychologist since that is my education and interest too. I love understanding the mind/body connection and how a healthy diet supports us mentally, physically and emotionally.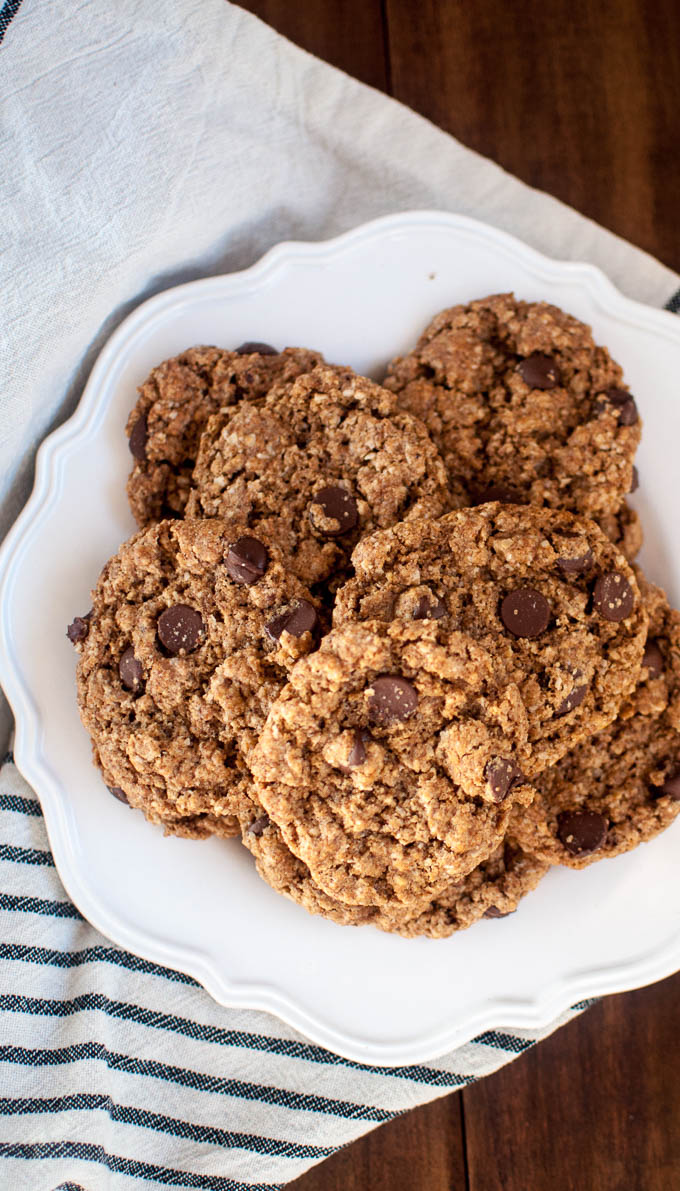 I am posting a link to the original recipe since my attempts at improving the cookie texture hasn't satisfied me yet. The tahini adds a slight nutty/salty flavor and the coconut sugar tastes like caramel. These cookies are soft and have lots of melting chocolate. They are a nice twist on traditional chocolate chip cookies!!!
***If the cookies are too soft once they've cooled, pop them in the fridge.
Tahini Choclate Chip Cookies by Blissful Basil
Enjoy!!