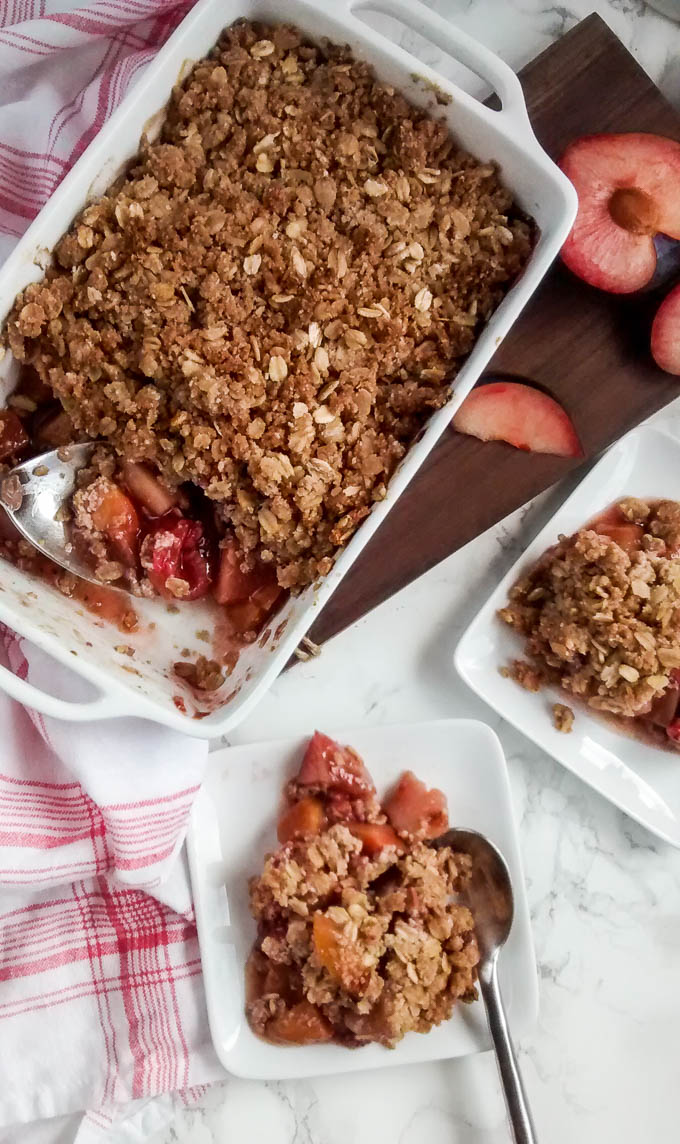 I LOVE fruit crisps!! Especially, peach. They are lighter than pies and have that irresistible granola crumble on top. I don't often cater to my sweet tooth, so it's rare that I will make one. But, as the end of summer approached, I wanted to celebrate the peaches, plums, nectarines and raspberries that would soon be out of season. With company coming that Friday, I decided it would be perfect.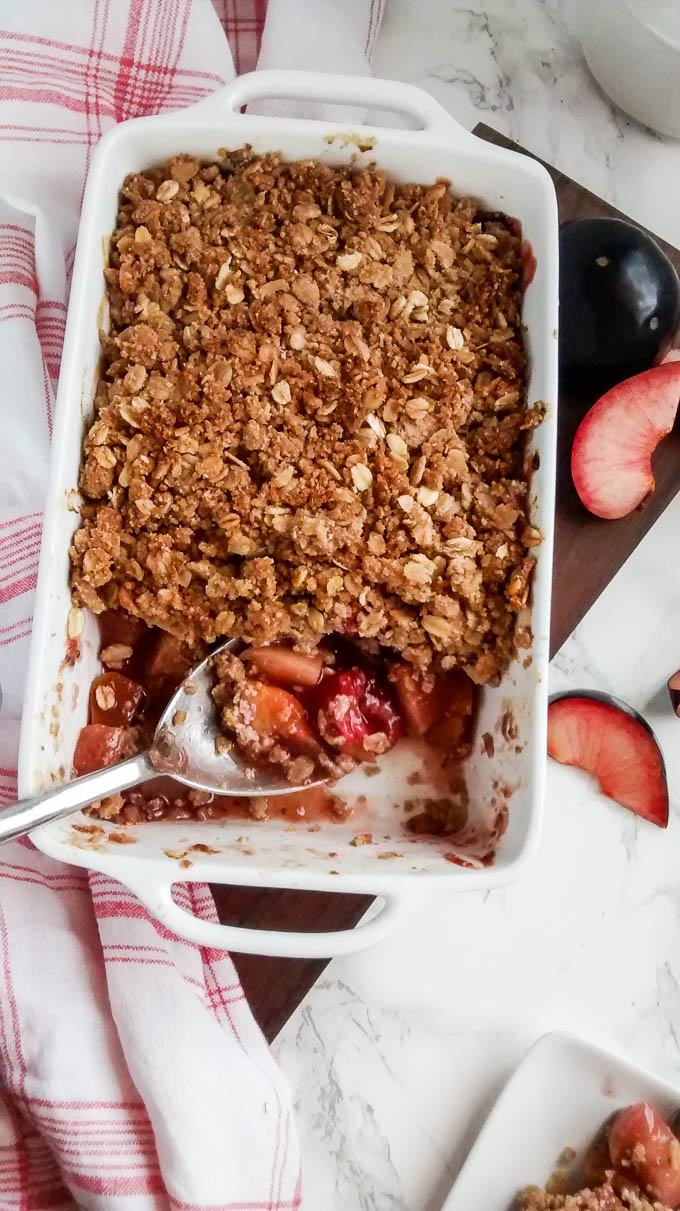 I bought the best fruit I could find and turned to my favorite vegan baker, Anglela Liddon from OhSheGlows for the best recipe. Not only do I have confidence in her cooking (she's seriously a genius) but she aims for lower sugar desserts and sneaks in healthy ingredients like Chia seeds. My taste buds and I were eager to try this summer delicacy.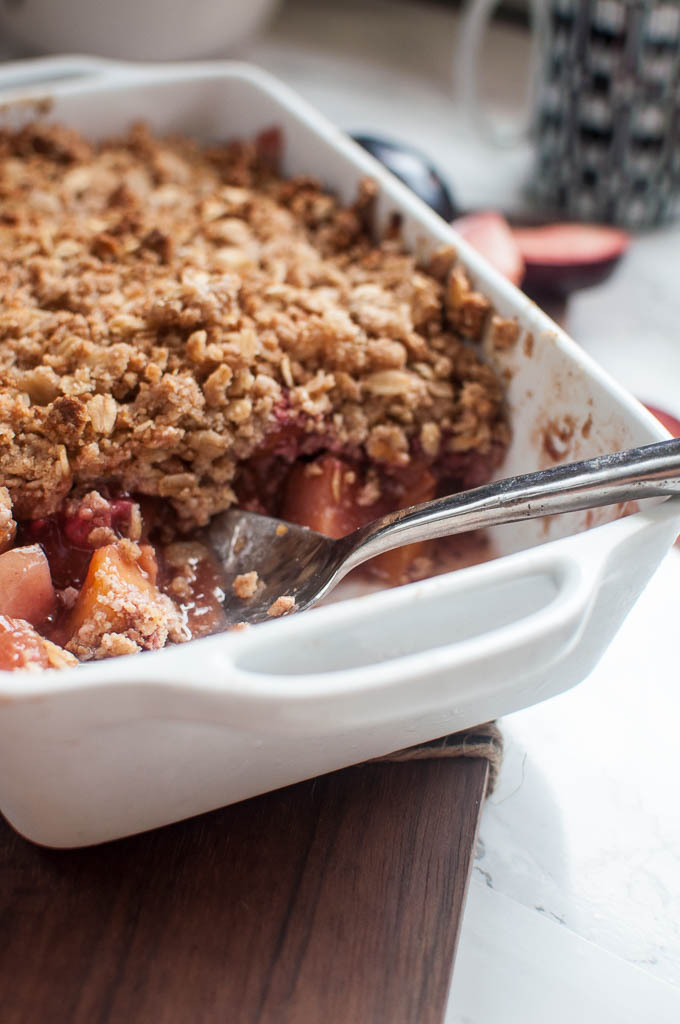 What I hadn't planned for was how HOT it was that day. The air was still and sultry. Our house was sweating and Kiki, the cat, tried to stretch herself away from her fur. My sad plastic fan offered no relief. So what did I do??? I turned on the oven and went forward with my plan (I'm a strong believer in doing what you say you are going to do).
My guests arrived as this golden crisp cooled on the counter. The oven heat was still noticeable and my poor friends were melting!! Even our patio, which is normally cool and breezy, was airless and muggy. But this didn't keep us from sipping cocktails and embracing the vibrant conversations that filled the evening air.  Eventually, the temperature dipped a smidgen and offered a whisper of relief. We were having a delightful time.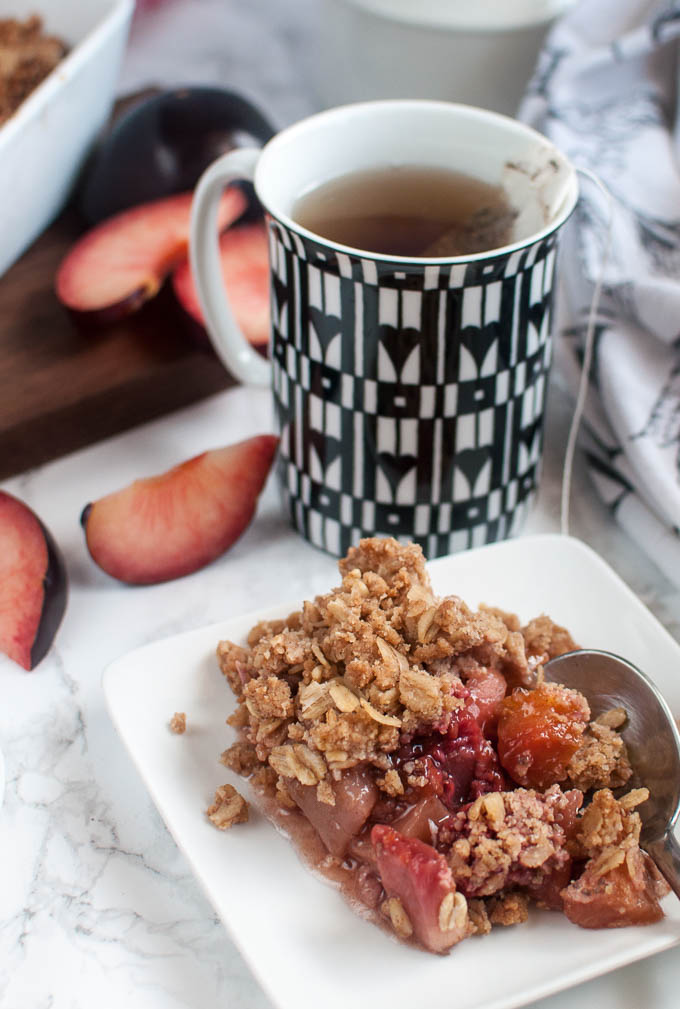 Not everything goes as planned when you have company and its important to go with the flow so I ended up NOT serving this 5 star vegan fruit crisp that night. I did however, dig into it the next day. The combination of peaches, nectarines and plumbs mixed with ruby raspberries complemented the oaty golden topping and challenged my willpower to set down my fork.
For anyone who likes delicious fruit crisps, I urge you to try this quick, impressive dessert. It's ideal to serve company or bring as a thoughtful and creative hostess gift. Especially at the end of summer when fruit is making its' grand finale.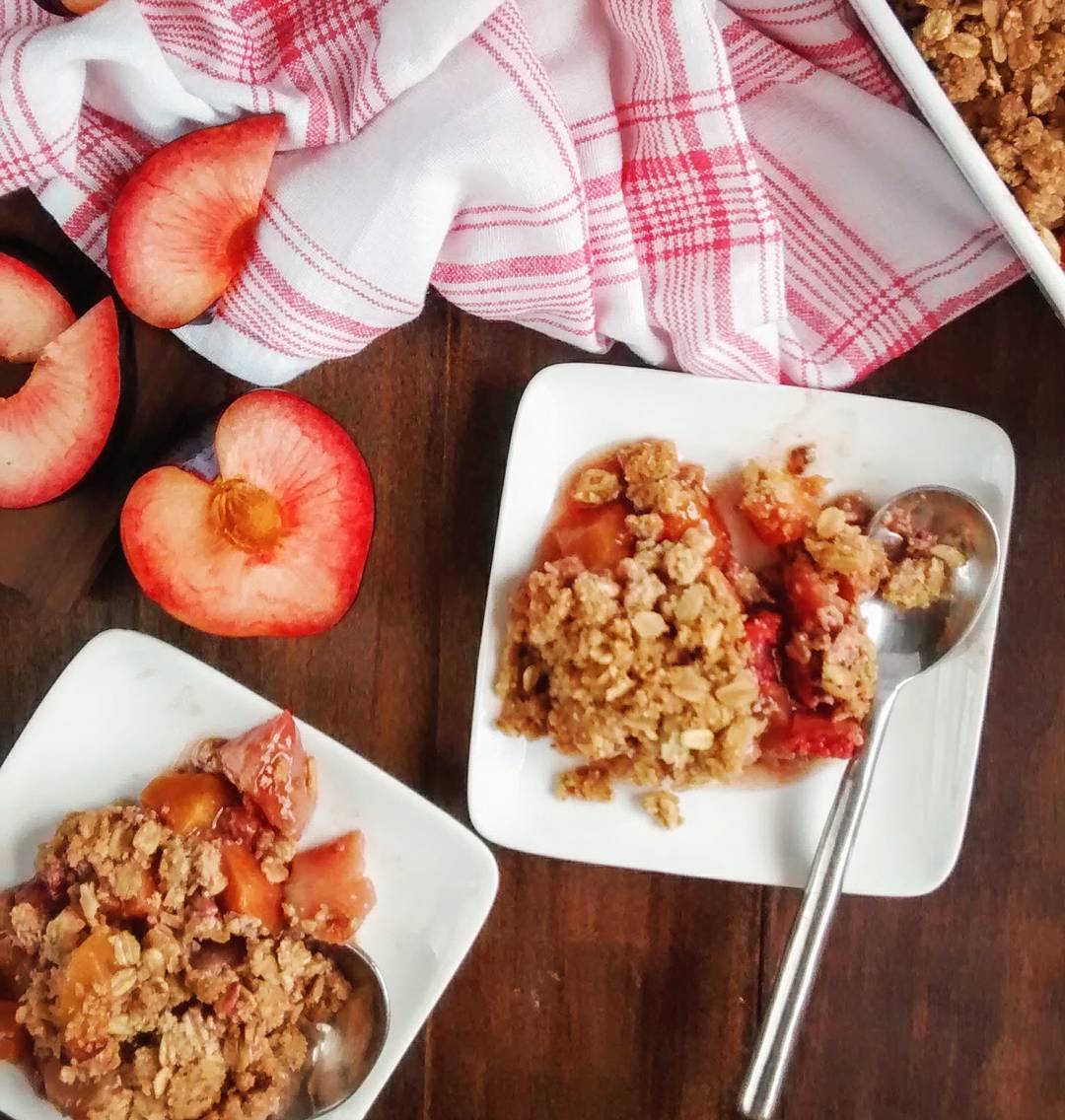 Recipe: Delicious Vegan Fruit Crisp
Recipe from the brilliant Angela Lidden at OhSheGlows
Serves 4-6
I used 1 peach, 2 nectarines, 2 plums and a carton of raspberries but otherwise followed her recipe word for word. Had I found riper peaches and apricots, I would have used that. This is lovely after dinner, but it's also nice in the morning with tea.
See recipe here.