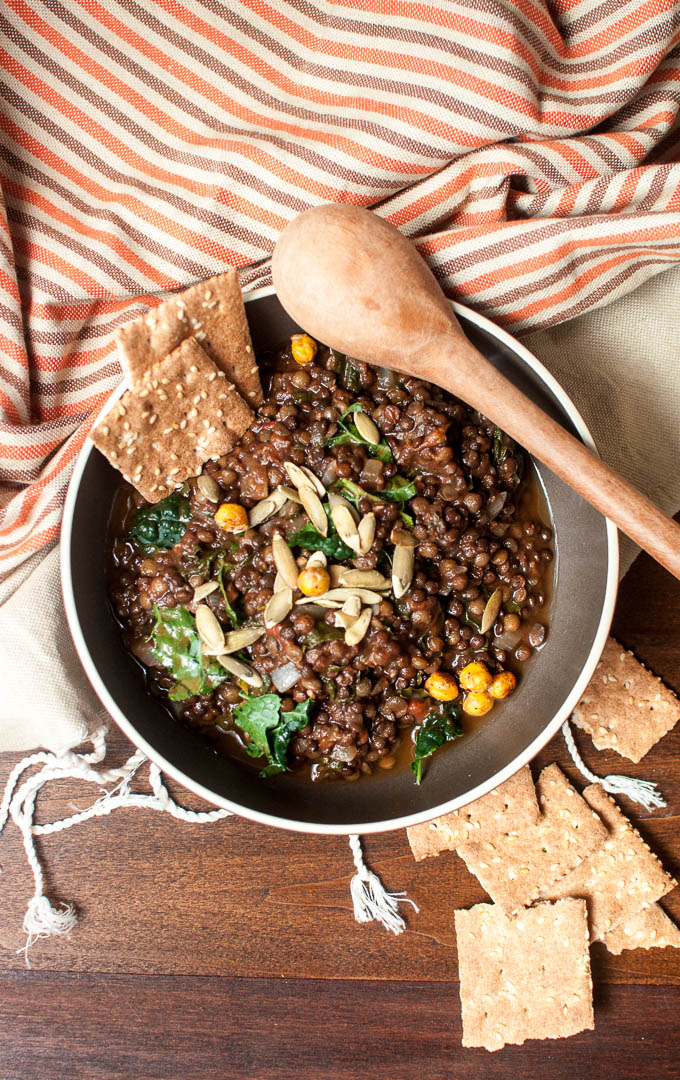 Do you ever get stuck when deciding what to serve your dinner guests? I do! Actually, I'm terrible at it. I fret and overthink it until I'm paralyzed. It's a bad habit that can interfere with the joy of having company. This guest worthy French Lentil Soup will stop all that fruitless worry. It's easy, delicious, healthy, and pretty enough to share with even your pickiest guests.
I used think that dinner parties had to look like a spread in Sunset magazine. You know the ones that look effortless but in reality are a ton of work. I'm not sure if I got tired of the pressure to host "perfect" dinners or simply got over myself but recently I've adopted a more pragmatic approach. I try to stick to my mantra that "less is more". It takes self-restraint on my part because I worry about not having enough food and variety (you know I want EVERYONE to be happy). But this scaled back approach turns out to be better for everyone. I don't kill myself by overdoing the food preparation and my (polite) guests don't roll home in an over-stuffed food coma.
One element I do implement to make guests feel welcome is to ask about dietary and food preferences. As a vegan, I know how uncomfortable it can be when your hosts don't know your're vegan. It's nurturing to accommodate my friends who avoid carbs or gluten as well as my dear friend who hates cilantro.
I've also learned to ask about food allergies. I made this mistake once before and put a friend in the hospital for 3 days. He never mentioned a nut allergy but then again, I never asked! (Boy was that awkward!)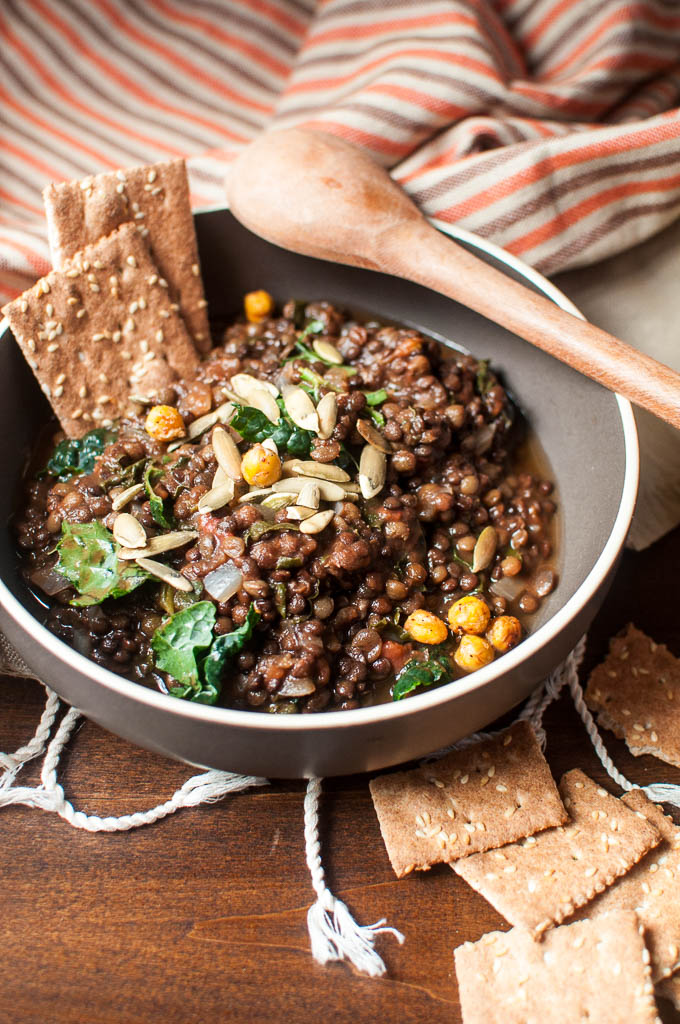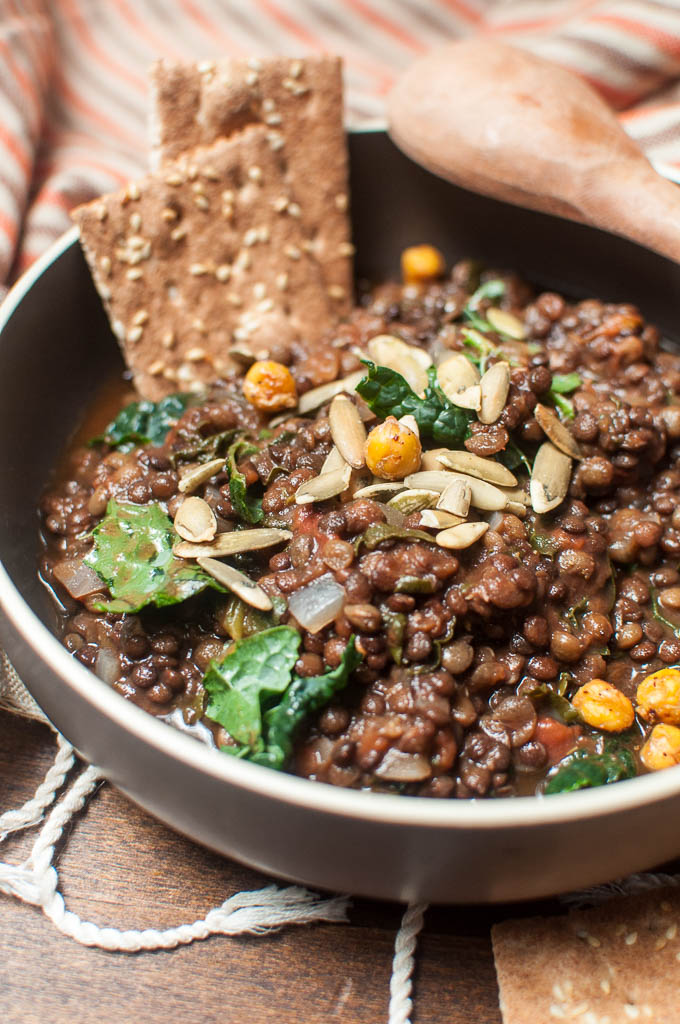 Serving a delicious soup accompanied by a wonderful salad like the everyday kale salad or grilled vegetables is plenty of food. Especially with a complimentary appetizer such as fresh hummus  (regular or roasted red pepper) served with warm crusty bread and crudites.
Like the French, these lentils are sophisticated, fun and elegant. They are high in fiber, protein and iron yet fat and cholesterol free. They are more flavorful than brown (green) lentils and retain their shape better. There is no need to pre-soak them and they cook quickly. Lentils are also easier to digest than other beans.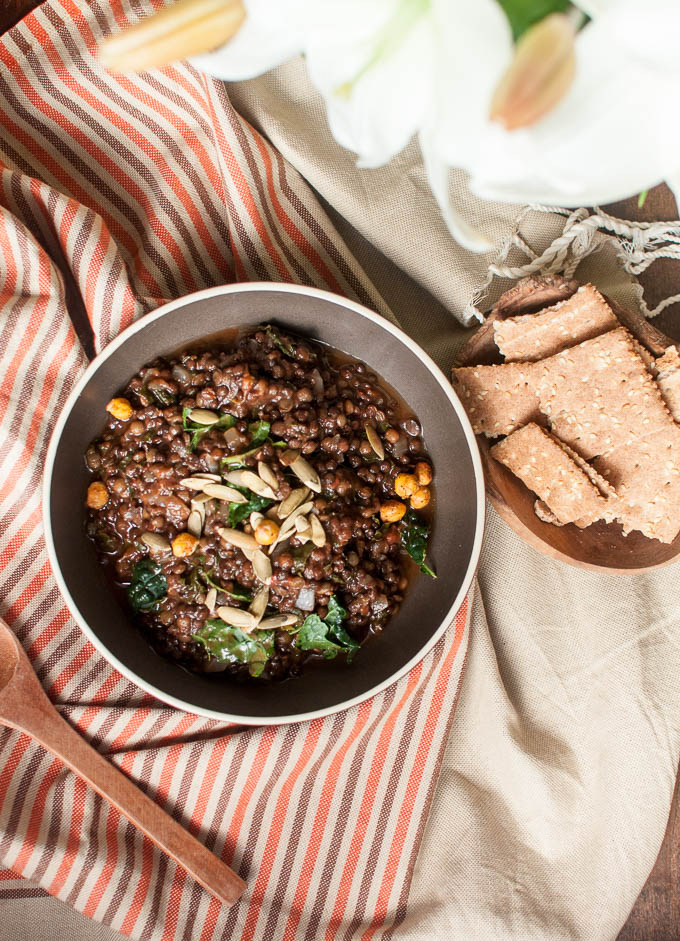 When food blogs first emerged, Heidi Swanson's 101 Cookbooks was one of my favorites. She's an amazing photographer and makes whatever she's eating look incredible. Her cooking is sophisticated without being complicated and it's easy to omit the dairy in order to veganize a recipe.
If you aren't planning to have company, then you get to enjoy this soup throughout the week. It holds up well and re-heats nicely. To freshen it up, throw in a few freshly torn kale leaves while re-heating.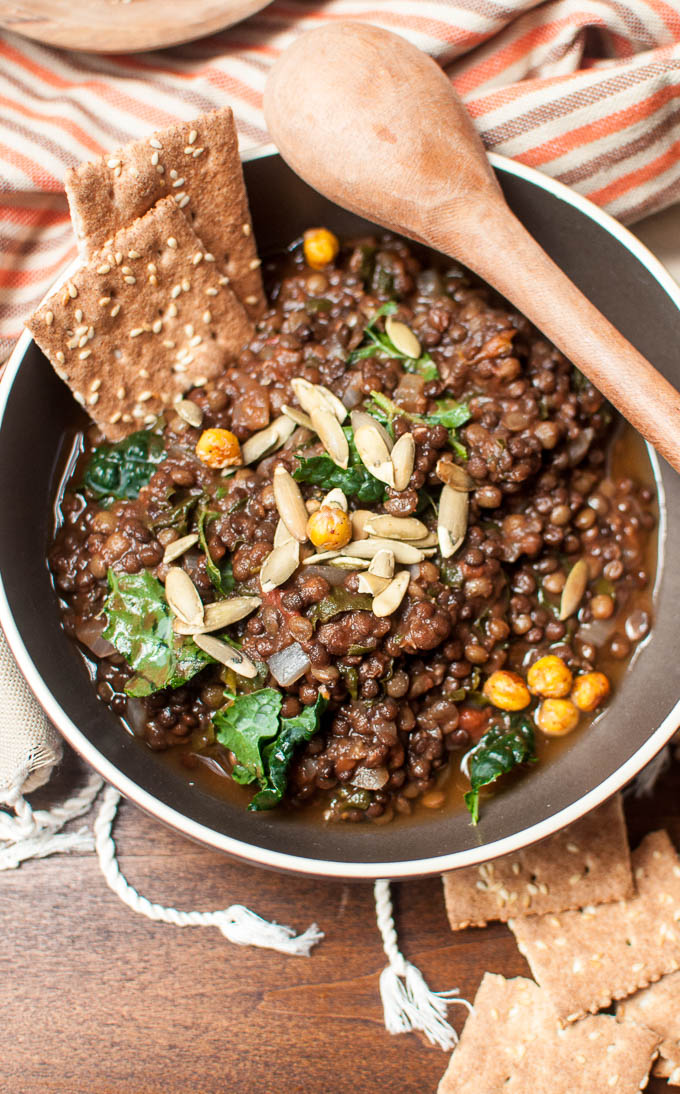 Recipe: Guest Worthy French Lentil Soup
This wonderful recipe is lightly adapted from 101 cookbooks
Makes a generous pot
Ingredients: 
1 cup French lentils
1 cup black beluga lentils (or you can use all French lentils)
1 tablespoon olive oil
1 large onion – chopped
1 teaspoon fine grain salt
1 28 oz can crushed tomatoes
6 cups water
3 cups kale (or greens of choice) washed, deveined and finely chopped  (I find kale holds up well)
Possible toppings:
Raw pepitas (pumpkin seeds) add a nice crunch
Crunchy roasted chickpeas (**see recipe below)
Directions:
Bring 6 cups of water to a boil in a large saucepan. Add lentils and cook for 30 minutes.
In a large soup pot, heat oil over medium heat and add your onions and salt and saute for a few minutes. Add the tomatoes, lentils, and see if it needs more liquid. If so, add water 1/2 cup at a time until you reach the desired consistency (usually no more than 2 cups). Bring to a simmer and let cook 15 more minutes. 5 minutes before serving, add the chopped kale and mix into the soup. Taste and add more salt and pepper if needed. Toss on your favorite topping and serve in pre-heated bowls.
**Crunchy Roasted Chickpeas:
This recipe comes from Oh She Glows and is handy to keep a batch in the fridge to add to salads and soups.
1 1/2 cups cooked chickpeas
1 teaspoon olive oil
1/2 teaspoon fine grain sea salt
1/2 teaspoon garlic powder
1/4 teaspoon cayenne pepper
Preheat oven to 400 ⁰ F and line a baking sheet with tin foil.
Rinse and dry your chickpeas with a paper towel. Place chickpeas on the baking pan and sprinkle with olive oil. Roll around to coat.
Add spices and do roll around again to coat.
Bake in oven for 20 minutes. Roll around and bake for another 10 – 15 minutes until golden/brown color.
Remove from oven and let cool. They will crisp more as they cool.