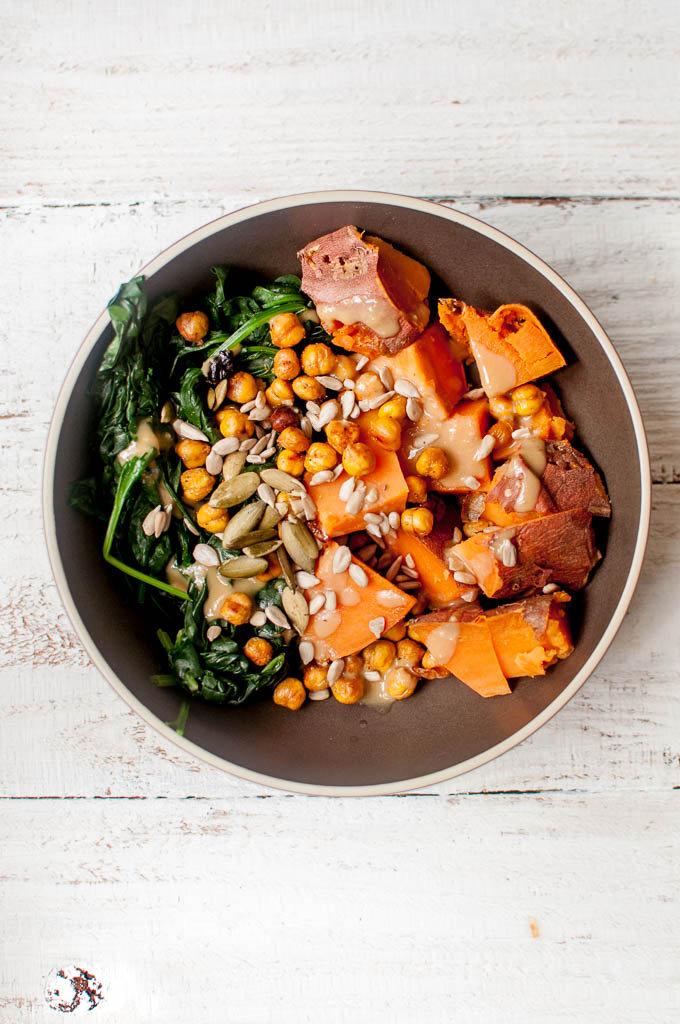 I love greens. Spinach, kale, swiss chard, bok choy, broccoli, rappini, etc. and Buddha bowls are a great way to incorporate more greens into your diet. My goal is to have greens with every meal (ideally). But this doesn't always happen so I like to enjoy them in salads, smoothies and Buddha Bowls.
The thing about greens is that once you start eating them daily, your body will want more of them. Swiss chard, kale and spinach are so nutritiously dense, they perk up your body like a plant watered with chlorophyll. My husband, who was not a big vege eater, now requests steamed greens and kale salads. And when I travel and don't get my full allotment of greens, I can't help but fill my fridge with them immediately upon my return.
Buddha Bowls are a delicious combination of nutritious and healthy ingredients. They typically include a protein, a super vegetable, a grain or carb, and a zingy dressing to pull it all together. Buddha bowls can be simple like this one, or more complex depending on what you have available. The sky's the limit.
Steamed Green Super-vegetables. Kale, spinach, swiss chard, broccoli, sprouts.
Starch. I love roasted sweet potatoes or kombucha squash (because they add a wonderful sweetness and buttery consistency).
Beans. Here I've used crunchy chick peas but I love using spicy black beans, regular chick peas, mung beans, adzuki beans or lentils.
Rice or Quinoa.  I've omitted this here because I was too hungry to make quinoa but I like to use a combination of brown rice (has much higher nutritional value than white) and quinoa. Or just brown rice but you can also try Wheatberries, Buckwheat groats, or Millet or omit the grain altogether.
Protein. This can be crispy oil free tofu, edamame or Hemp seeds.
Additional veges such as shredded carrots, avocado, chopped pan fried zucchini or broccoli sprouts.
Yummy dressing. I love this light Tahini dressing from Angela Liddon and almost always have a batch on hand. You can also top with hummus, pesto or a tahini miso dressing (yum).
Nuts and seeds. These add more protein, a nice crunch and pretty topping. I use a mixture of raw pumpkin, sunflower, and Chia seeds. Raw almonds and/or cashews are great to sprinkle on top too.
Buddha bowls allow you to be creative and are fun to throw together. I like to keep some of the ingredients on hand so I can make one quickly. For example, I typically have crouton chickpeas and roasted sweet potatoes on hand for salads. Plus, I am rarely without a jar of my favorite "light" Tahini dressing. Then, all I have to do is steam some greens and assemble.
On a side note: This tahini dressing (recipe below) is my absolute favorite and I pour it on salads and steamed or roasted vegetables all the time. It even makes broccoli taste terrific. I also keep my seed mix in a bag in the fridge to add to chopped fruits, salads, soups, and veges.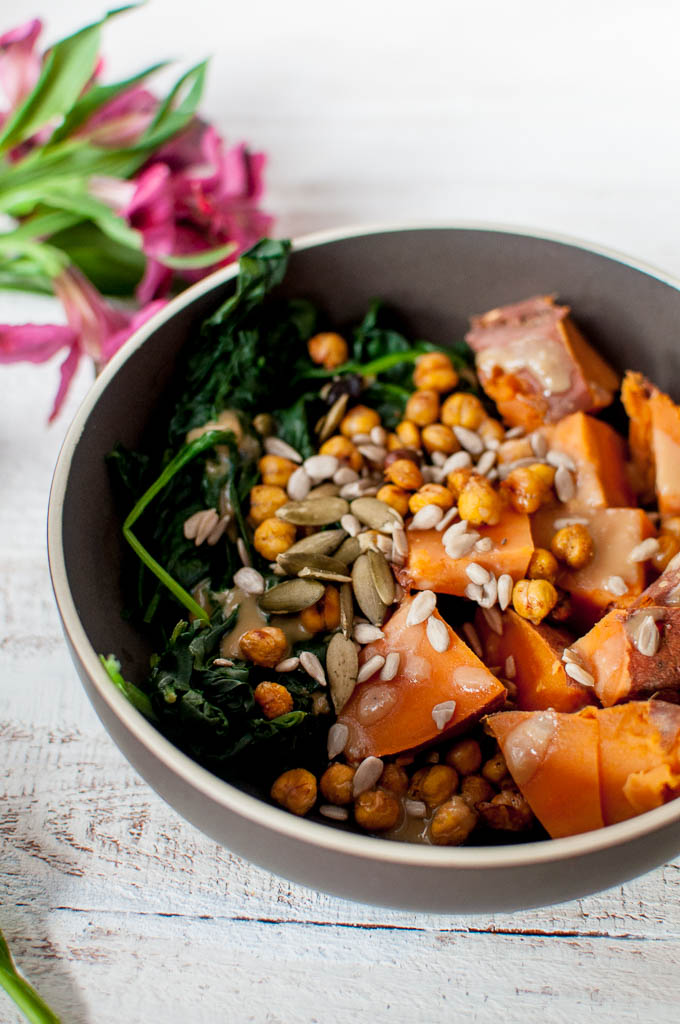 Grain Free Buddha Bowl 
Make each element of the Buddha bowl and assemble. Top with dressing (see recipes below) and mixed seeds (chia, sunflower, pumpkin) or protein of your choice (edamame, tofu, hemp seeds etc.).
Enjoy each delicious bite with the mindfulness of the Buddha.
Roasted Chickpeas: 
To prepare chickpeas. Place 1 1/2 cups (I make the whole bag and use the extra for making hummus) of uncooked chickpeas in a large bowl covered generously with water. Soak for 1-2 hours (until they expand). Rinse, drain and place chickpeas in a large pot with just enough water to cover. Bring to a boil and spoon off any foam. Cover and reduce heat to low. Cook for 1:15 minutes or until chickpeas are soft.
Ingredients: 
 1 1/2 cups cooked chick peas 

1 teaspoon extra-virgin olive oil

1/2 teaspoon fine grain sea salt

1/2 teaspoon garlic powder

1/8 to 1/4 teaspoon cayenne pepper (optional)
Directions: 
Preheat oven to 400°F. Line a baking sheet with tin foil.
Place chickpeas in a paper towel or tea towel and rub dry. Put chick peas on the lined baking sheet and drizzle with oil. Roll to coat. Sprinkle on the garlic powder, salt, and cayenne. Roll again to coat (you may need to do this with your hands).
Roast for 20 minutes at 400°F, then gently roll the chickpeas around in the baking sheet. Roast for another 10 to 20 minutes, until lightly golden. Chickpeas firm up as they cool.
Another fantastic recipe from Angela Liddon at Oh She Glows.
Roasted Sweet Potatoes (2 ways)
Sweet Potato Chunks 
Preheat oven to 400° Fahrenheit and line a cookie sheet with tin foil
Wash 3 sweet potatoes (leave skins on)
Cut in half lengthwise and in half lengthwise again (you should have long quartered strips). Now cut horizontally into chunks.
Put chunks into a large bowl and add a tablespoon of olive oil. Mix with hands to coat. Add salt and pepper and mix again to coat.
Pour onto the lined baking tray. Separate so pieces aren't touching.
Bake for 30 – 40 minutes. Fork should glide easily in.
I allow the potatoes to cool on the baking sheet if they are sticking. If you remove them too soon, you may tear them. However, they are soooo delicious, I often gobble them up while they are cooling.
Roasted Whole Sweet Potatoes (oil-free version)
Preheat oven to 400° Fahrenheit and line a cookie sheet with tin foil.
Scrub 1 large or 2 medium sweet potatoes and cut off the ends.
With the tines of a fork, pierce the skin 3-4 times, turn 1/4 and pierce again. Repeat on 4 sides.
Place potatoes on lined baking sheet and bake in oven for 45 minutes- 1 hour (until they are soft).
Steamed Spinach/Greens:
Prepare one large bunch of spinach by swooshing it in a large bowl of water to clean. Remove stems if you like (I don't mind leaving them on). Prepare kale or greens of choice by rinsing and de-steming.
Add about 3 inches of water to a large steamer pot. When boiling, add the greens and cover to steam for 4-5 minutes. Greens should be wilted and bright green. Do not overcook.
"Light" Tahini Dressing:
I use a hand blender for this recipe but you can use a regular blender too. Add the following ingredients to a pitcher or blender and blend until smooth. This recipe comes from Oh She Glows.
1/2 cup fresh lemon juice
1/4 cup Nutitional Yeast 
1/4 cup Tahini
3 tablespoons olive oil
1/2 teaspoon of sea salt
Bit of water to thin
Optional 1-2 garlic cloves (garlic is too strong for me so I omit it)
Or
Miso Tahini Dressing:
I love this recipe too but double it if you'd like leftovers. Recipe comes from Deliciously Ella 
In a mug or glass measuring cup- mix together the following ingredients:
1 Tablespoon Tahini
1 teaspoon miso (I usually use Red or Chickpea miso)
1/2 teaspoon Cayenne pepper
Juice of 1 lemon
1 Tablespoon olive oil
Pinch of salt
Water to thin
Mix until smooth and creamy. Add water to thin if necessary and adjust seasonings to taste.