As the summer comes to an end, I feel a yearning for light soups. The air is cooler and the sun's arc is shifting. But I know summer is really over when vendors at the farmers market sell the last of their summer tomatoes for a mere dollar a pound.
It seems that flavorful tomatoes are hard to come by these days. Many are tasteless. So when I happen upon a sweet one, I cherish it. No chance of roasting or cooking these valued gems. I savor them raw to experience their full tomato glory. But now that the heat of the summer sun is passing and I can get juicy tomatoes at a deep discount, I happily buy a bag to make this light and charming end o summer roasted tomato soup.
Welcoming Fall
This is one of my favorite summer to fall meals. Each spoonful combines the intensity of summer with the warmth and cozy spirit of fall. It's the perfect transition soup. The recipe is simple and comes together quickly but the rich flavors, make it seem like you spent all day in the kitchen. All you do is slice tomatoes, red peppers and sweet onion and put them in a baking dish with olive oil. Top with herbs, salt and pepper and roast for 30 minutes. Then blend with a little vegetable broth and splash of vinegar until you get a smooth consistency. Serve in your prettiest bowls.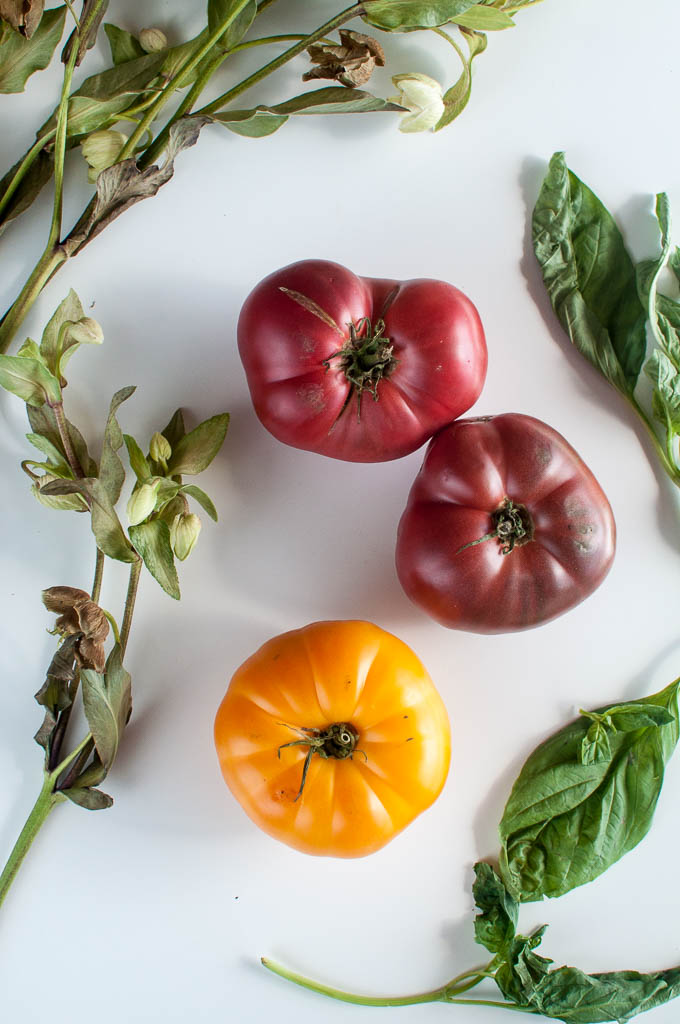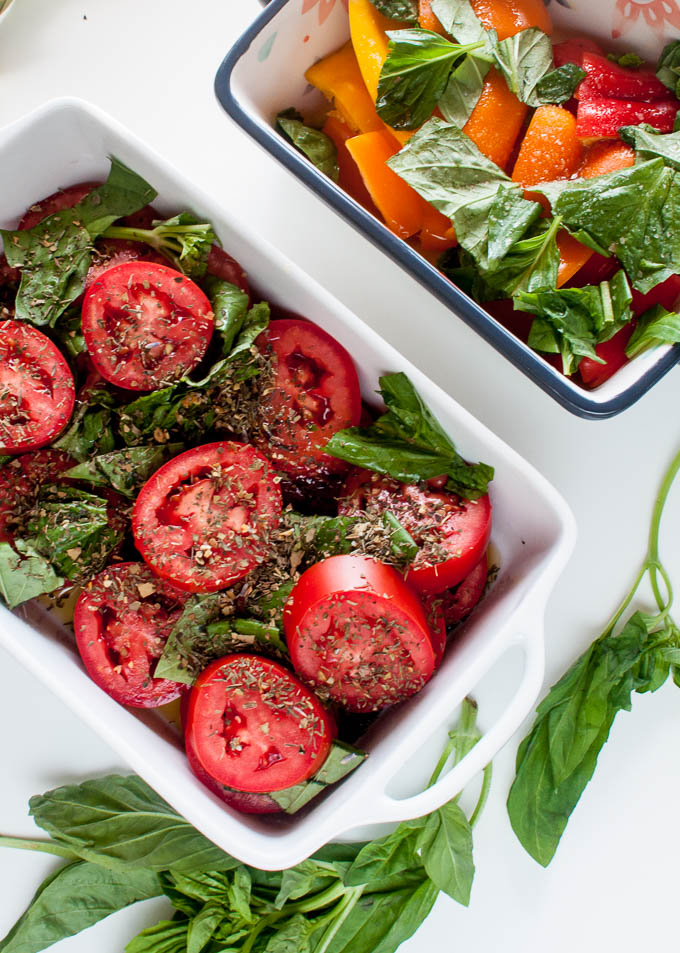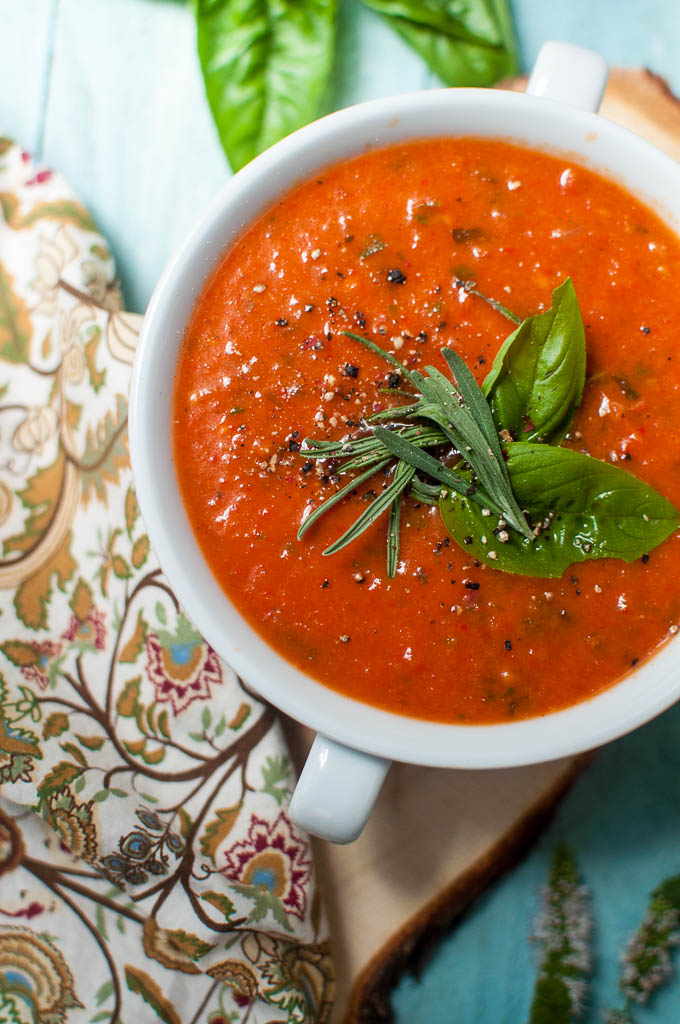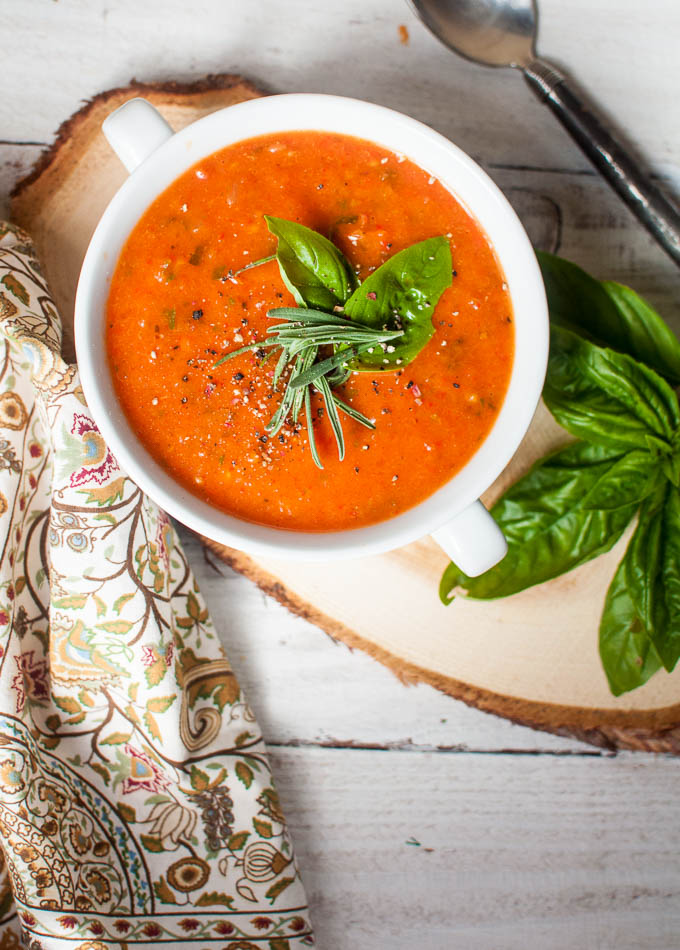 I love how rich and complex this soup tastes. It makes a great light meal served by itself or with a simple butter lettuce and avocado salad. But for a heartier option, there's nothing like dunking in pieces of hot crusty whole grain bread.
Recipe: End of the Summer Roasted Tomato Soup
Takes 10-15 minutes to prep and 30 min to cook.
Serves 2-3
Recipe credited to Deliciously Ella (but it is no longer featured on her website).
Ingredients:  
8 Plum or other tomatoes cut into thicker round slices (get the best tomatoes you can find)
3 Red bell peppers (or 12 mini sweet peppers) cut into 8th s (stem and seeds removed)
1 sweet onion thickly sliced (optional)
Olive oil
1 bunch Basil or other fresh herbs such as Thyme, Rosemary, and Oregano
5 bay leaves
1-2 teaspoons champagne vinegar
1/4 – 1/2 cup of vegetable broth  (or bouillon cube)** (optional) Note: the tomatoes generate liquid so adding more depends on the consistency you want. I add a bit of broth to thin the soup but with wonderful tomatoes, this is often unnecessary).
Salt and pepper to taste
Directions:
Preheat oven to 400 degrees °F. Cut the tomatoes into thick, round slices and the red pepper lengthwise into 8ths removing the stem and seeds.  (If you are using small sweet peppers, remove tops and slice in half the long way). Peel away outer layer of the sweet onion then cut in half.  Cut halves into into thick slices.
Cover the bottom of an ovenproof dish with olive oil and layer your vegetables adding salt and pepper to each layer.  Top with a splash of olive oil, fresh basil and herbs. Scatter the onion on a cookie sheet lined with tinfoil.
(Note: I use 2 small roasting dishes – 1 for the peppers, another for the tomatoes).
Bake in the oven for 30 minutes.
Heat 1/2 cup of water (or vegetable broth) on stove top and add vegan bouillon cube. Lightly boil until it dissolves completely. Set aside.
When the tomatoes, peppers and onion are done, put them in a blender (be sure to remove the herbs). Add champagne vinegar and small amounts of vegetable broth and blend until smooth (being careful to hold the lid on tight). Add more salt and pepper to taste. Garnish with fresh herbs.
**I'm using the Organic Gourmet Low Sodium Vegetable Bouillon or making homemade vegetable broth.