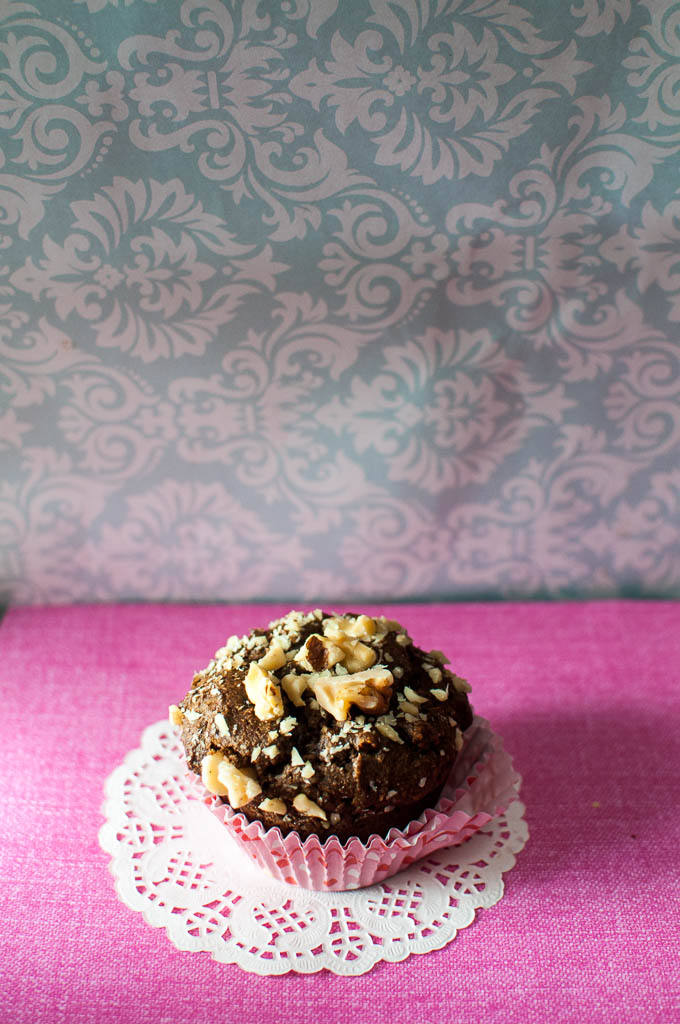 The summer has ended and Fall is in the air. The cooler mornings have me shutting the windows and putting on my heavier robe. I love this time of year. The light is softer and the summer chaos is gone. The beaches clear out and the sun rises a little later. It's the perfect time for making end of the summer vegetable soups and baking. These Vegan Spiced Muffins tick all the boxes. They are easy to make, taste amazing and no fancy equipment is needed. And the best part is that your house will smell heavenly.
I've made these as muffins and bread and each have their merits. The muffins are adorable and self contained in their own little jackets. And really, what's cuter than a muffin? The bread is slightly more sophisticated and great to slice up anytime of day.  Make whichever you are feeling at the moment. I loved serving either with a hot mug of tea and homemade raspberry chia jam.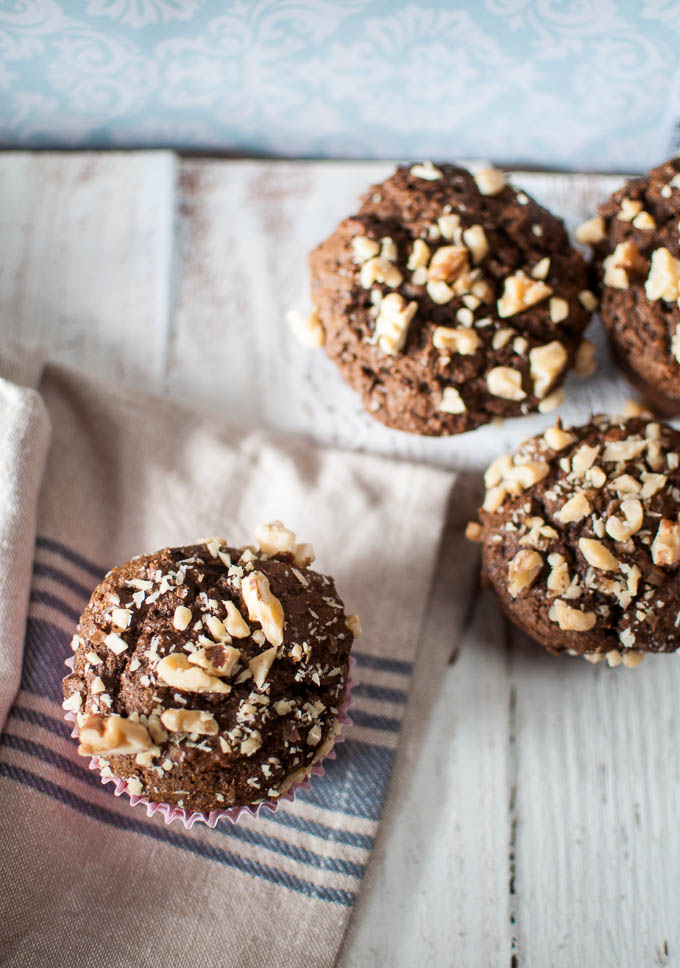 The pumpkin pie spices mixed into these yummy muffins will remind you of Fall, but why limit these comforting notes to one season? These muffins are a tasty treat year round. They make excellent hostess or house warming gifts too. Get a cute basket (Try Whole Foods, Cost Plus, Pier One Imports or TJ Maxx), a pretty napkin or tissue paper and your favorite organic jam.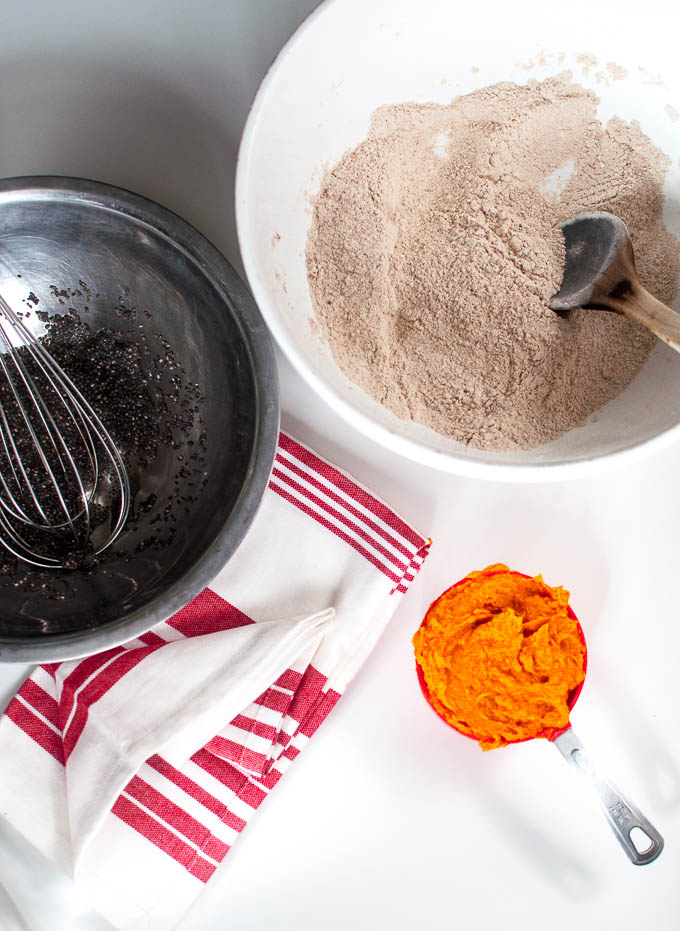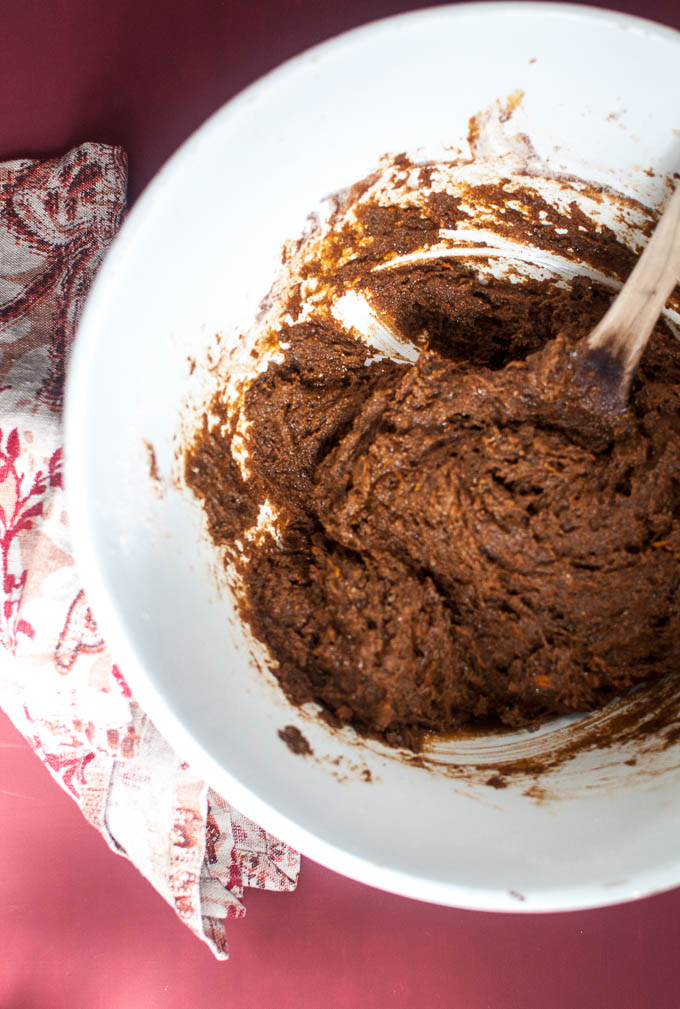 Vegan Pumpkin Pie Spiced Sweet Potato Muffins (or Bread) 
This recipe comes from Angela Liddon's Pumpkin Gingerbread Muffins with one minor change. I use fresh sweet potato puree rather than pumpkin puree from a can. I also add a teaspoon of carob flavor (optional) to intensify the rich flavor. I recommend making the sweet potatoes in advance. It's easy but requires a little planning.
Roasted Sweet Potatoes – this can be done the day before. 
Preheat oven to 400° Fahrenheit and line a cookie sheet with tin foil.
Scrub 1 large or 2 medium sweet potatoes and cut off the ends.
With the tines of a fork, pierce the skin 3-4 times, turn 1/4 and pierce again. Repeat on 4 sides.
Place potatoes on lined baking sheet and bake in oven for 45 minutes- 1 hour.
When cool, peel of skins and mash the pulp with fork or immersion blender until it is smooth and free of lumps.
Recipe: Vegan Pumpkin Pie Spiced Sweet Potato Muffins (or Bread) 
Makes 9-10 muffins or 1 bread loaf
Dry Ingredients:
1 2/3 cups whole-grain spelt flour

1 tablespoon pumpkin pie spice 

1 teaspoon carob powder (optional- but adds a rich flavor)

1 teaspoon baking soda

1 teaspoon baking powder

1/2 teaspoon fine sea salt

1/2 cup coarsely chopped walnuts to sprinkle on top
Wet Ingredients:
(It's best to blend these when they are at room temperature)
1 tablespoon chia seeds

3 tablespoons water

1 cup sweet potato puree (about 1 large sweet potato skins removed)

1/3 cup melted (but not hot) coconut oil 

3 tablespoons pure maple syrup

1/2 cup packed brown sugar

1/4 cup blackstrap molasses
Directions:
Turn oven to 350° F and line a muffin tin with paper liners or grease with coconut oil.
In a medium bowl, whisk together the chia seeds and water and set aside to thicken.
In a large bowl, whisk together the dry ingredients (spelt flour, pumpkin pie spice, carob powder, baking soda, baking powder, and salt).
In the same bowl as the chia mixture, whisk together the wet ingredients (chia mixture, sweet potato purée, oil, maple syrup, brown sugar, and molasses) until smooth. It's best when all ingredients are at room temperature.
Add the wet mixture to the dry ingredients and stir until just combined. No patches of flour should remain but don't overmix. The batter will be pretty thick.
Divide the batter equally between the 9-10 muffin liners. They should be about 3/4 full or a bit more.
Sprinkle chopped walnuts on top and gently push down.
Bake the muffins for 20 to 24 minutes until a toothpick comes out clean.
Cool the muffins in the pan for 5 to 10 minutes, and then transfer each muffin onto a cooling rack until completely cool.
**If baking bread: generously grease a standard size bread pan with coconut oil so bread can be easily removed. Add batter and smooth out. Sprinkle with chopped walnuts. Bake in middle of oven for 45 minutes or until a knife inserted in the center of the bread comes out clean. Cool bread in pan for 10 minutes before extracting and transferring to a cooling rack. If the bread is sticking, run a sharp knife along the inside perimeter of the pan to loosen.