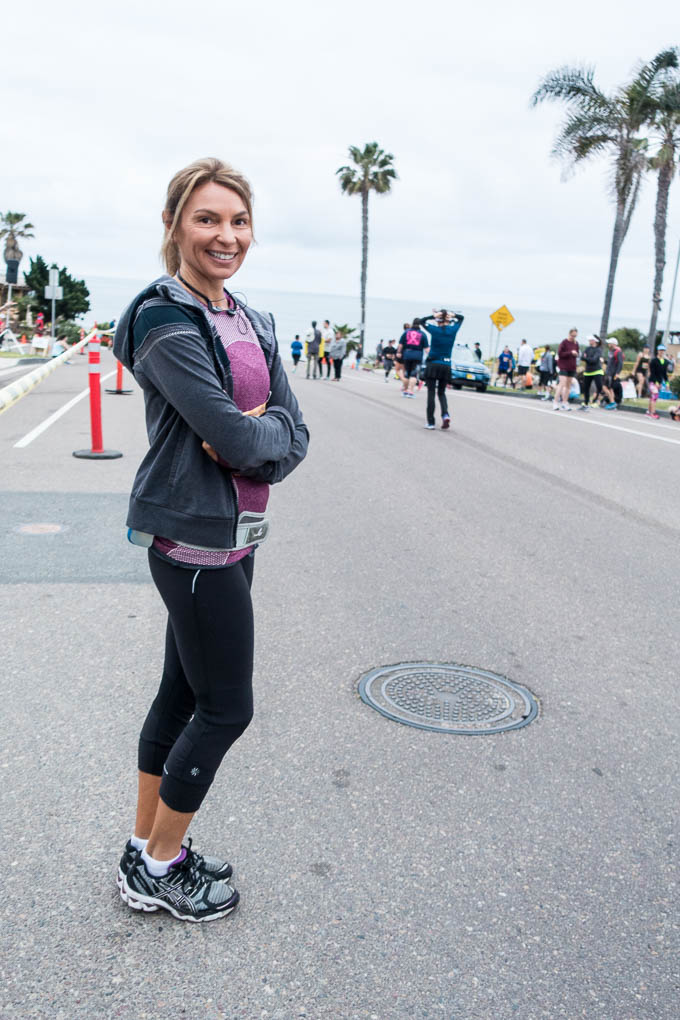 Yesterday, I completed the inaugural Encinitas half marathon. The beautiful 13.1 mile course parallels the Pacific Ocean and was mostly flat with a few long inclines and two short, steep hills.  Over 5,000 high spirited runners came from all over to challenge themselves to finish. The energy was palpable.
I've heard people declare that they could never run a half marathon and I think to myself, "not true". If you follow a good training program (I like Hal Higdon), then it's pretty amazing to watch yourself rise to the occasion. Your lungs, heart and muscles all click into gear elevating your strength and stamina to new heights. But training also helps you build an inner resolve as your concentration and confidence grow too.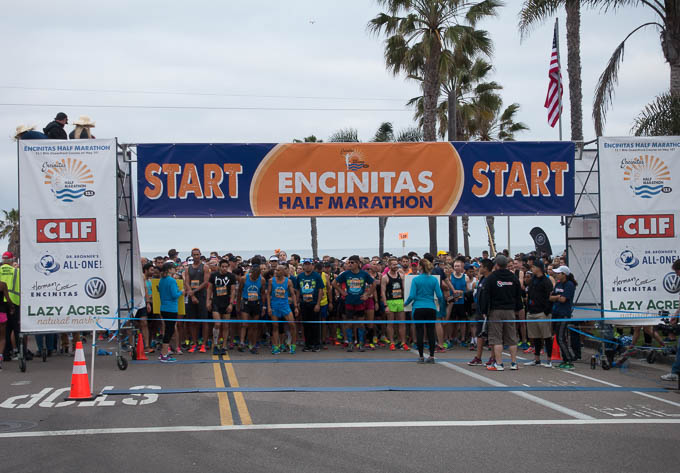 I used to think that only "real athletes" ran these races, but now everyone participates so there is no need to be intimidated. There runners in their 80's, mom's with strollers, men and women of all ages and skill levels.
As we all stand behind the starting line, the air is filled with excitement. The runners are prepared and ready!
Doing a race like this is a lot of fun but it also delivers positive physical and emotional benefits. So, if you are thinking about running a half marathon, I encourage you wholeheartedly. Here are some rewards to consider: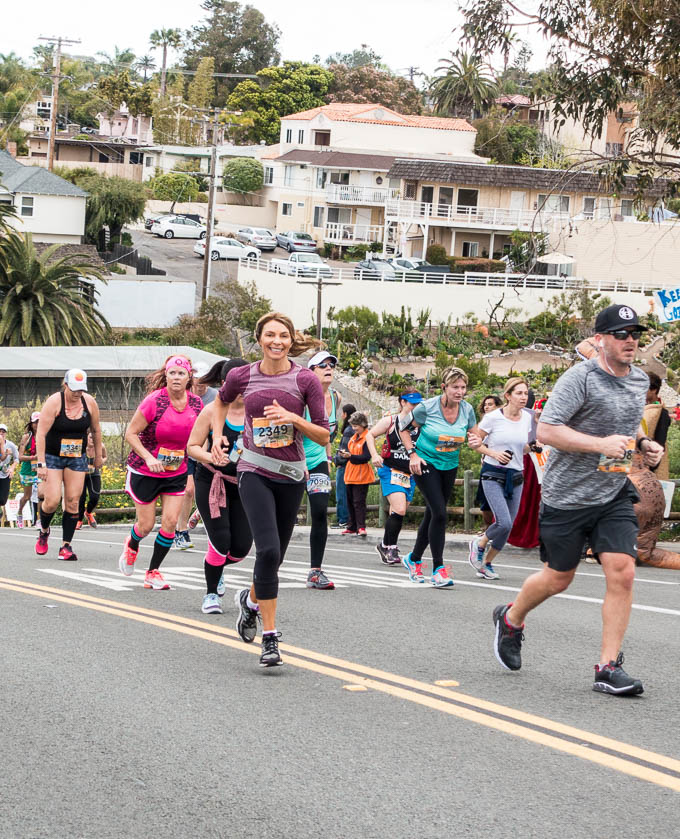 5 Exciting Benefits of Running a Half Marathon
Pushing ourselves helps us grow.  It is so easy to stay in our comfort zone. Play it safe. Go about our business just trying to get through each day trauma-free. But it is easy to become too complacent. Running a half marathon is a great way to break-up your routine and challenge yourself. It feels fantastic. I was so proud of myself the days I ran in the rain.
Working towards a goal deepens concentration. In our phone-centric world, it is becoming harder and harder to build concentration. So? Why is concentration important anyway? According to this definition, "Concentration is the ability to focus the attention on one single thought or subject, excluding everything else from the field of awareness." Therefore, a trained mind is less distracted and helps you stay centered. Managing The ability to manage your thoughts and energy creates greater inner peace and happiness in everything you do. Training for a half marathon requires focused attention and discipline. These are the building blocks for peace and joy.
Running builds confidence. Running a half marathon requires discipline, commitment and perseverance. Traits that build confidence. According to an article in The Clymb, "Every time a run is completed, whether it's a training run or a race, there is a feeling of accomplishment awarded to the runner." This is a gift you give to yourself and it changes you. I had a few challenges during my training and seeing how I dealt with them boosted my bravery and resourcefulness. I love this blog entry written by Samantha G. in the Daily Mile (click here).

You'll get in good shape. Your lungs expand, your heart pumps blood more efficiently and your muscles push your further from home. Training for a half marathon takes between 3 – 6 months and it can feel like you've never run so much in your entire life put together. But it's a great feeling to experience your body perform like a well-oiled machine. In fact, the first few weeks of training threw me for a loop. I couldn't catch my breath and worried something was seriously wrong (better than acknowledging I was out of shape). By week three, I was breathing with ease. My body found a comfortable rhythm and my legs were stronger. Hills felt easy and distances weren't painful. Getting in shape improved my other exercise classes, my sleep and lowered my anxiety.
It's FUN.  Training (even though I had a painful fall, hip problems, and rain to contend with) was fun. Each week I succeeded at reaching a tangible goal and it felt great. I got up and out early and enjoyed my runs (most of them). People are so kind you feel all their support.
So, what are you waiting for? Look at your calendar, give yourself 3-5 months to train and sign up NOW for a half marathon!!!