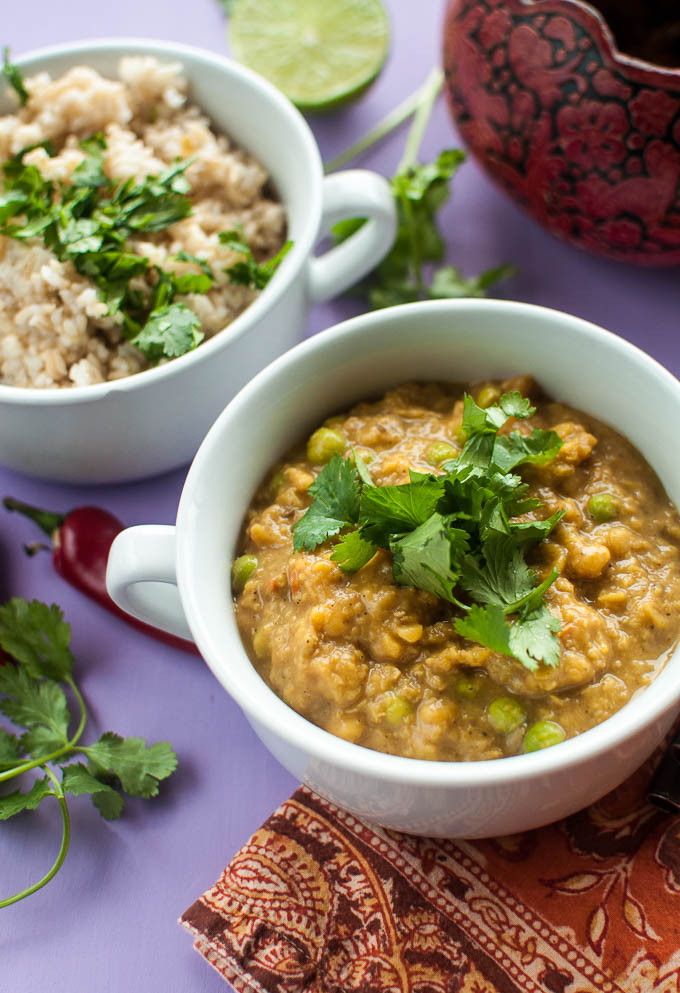 Indian food is one of my favorite cuisines in the world. I love the warming spices in the dals, the lentil and mulligatawny soups, veggie samosas with tamarind sauce, saag aloo, chana masala, aromatic basmati rice, and doughy naan bread. Writing this makes me hungry for Indian food. Indian food is vegetarian friendly so it's typically my back up cuisine when I travel.
I went to India in 2004 to study Ashtanga yoga with Sri K Pattabhi Jois, and honestly, I may have been more excited for the food. Seven weeks of Indian food sounded like paradise to me. What I was not prepared for was how spicy "real" Indian food or shall I say Southern Indian food was. I quickly learned to ask for "no spices" and still my food arrived so hot I struggled to get it down. While most of the other yogi's were getting "sick" of the food in Mysore or craving Italian and Mexican, I was in heaven.
Despite taking a cooking class there and bringing home a bevy of spices, I was convinced that you had to be "Indian" to cook authentic Indian food. No matter how hard I tried, my dals and chana masalas never came out "right". Until, I came across this recipe on Vegan Fat Free Kitchen and it's my go to dal tadka. It's easy to make and tastes "like Indian food". I also appreciate that she makes it vegan by omitting the ghee (clarified butter) and keeps it light by omitting the oil.
I tend to make this in one pot (rather than using a pressure cooker as she suggests). I stir fry the onions and spices first. Then add the lentils and cook it all together. I've made this recipe with and without a pressure cooker and they both come out tasty. The pressure cooker speeds things up so when I am making the stove top method, I soak the beans for a few hours first to cut down the cooking time.
I prefer brown rice to white rice (it's so much healthier) and add 1/2 – 1 teaspoon of whole cumin seeds along with a heavy pinch of cinnamon while it cooks to get a more aromatic outcome.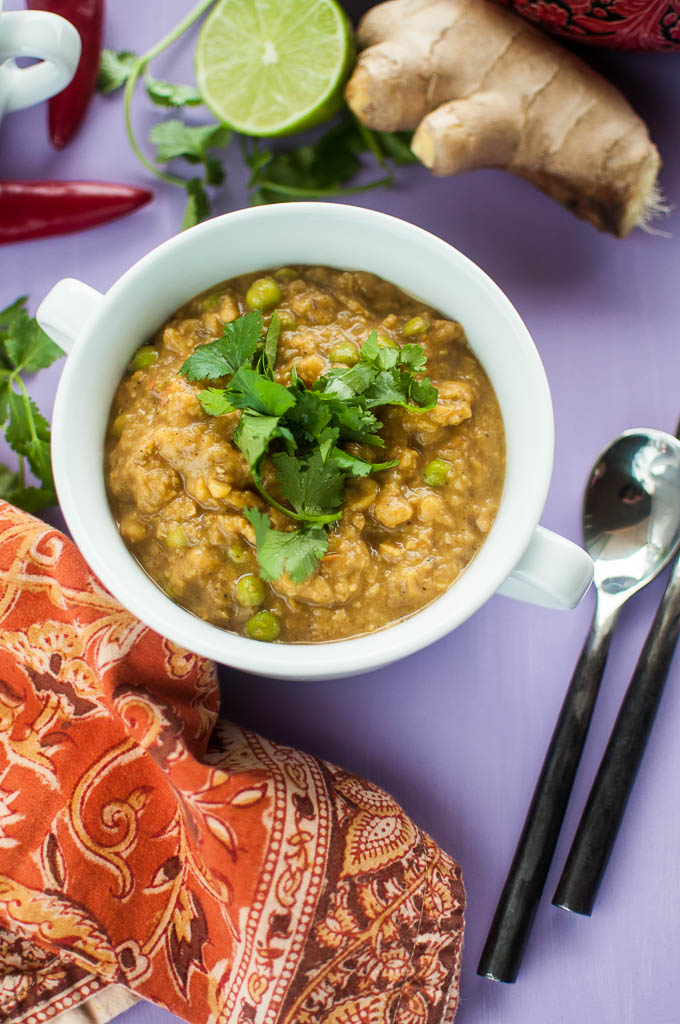 Original Recipe by Susan Voisin at Fat Free Vegan Kitchen. She uses a pressure cooker so I have slightly adapted this recipe using a stove top method.
Ingredients:
1/2 cup split red lentils (masoor dal)
1/2 cup yellow split peas OR additional red lentils
1 teaspoon coconut oil
1/2 large onion, chopped
2-3 cloves garlic, minced
1 teaspoon ginger root, minced
1 large tomato, chopped
1 teaspoon cumin seeds
1/2 teaspoon turmeric
1/2 teaspoon salt (if desired)
1/2 teaspoon garam masala plus more to taste
1/4 teaspoon red pepper flakes (or to taste)
3 cups water
Bag of frozen unsalted organic peas (optional)
Chopped fresh cilantro to top (optional)
Instructions:
Soak lentils and split peas for a few hours-overnight to reduce cooking time.
 In a heavy medium saucepan heat coconut oil on medium heat and add onion, garlic and ginger. Cook 4-5 minutes or until slightly brown.
Add tomato and cook for 2 minutes.
Turn heat to low and add spices. Cook for another 2 minutes stirring occasionally so spices don't burn.
Add the lentils and water and peas and bring to a boil. Once boiling, reduce heat to low and cover. Cook until lentils are soft stirring occasionally. Add water if lentils get too dry (45 min – 1 hour).
Check the seasoning of the lentils and add additional salt and garam masala to taste.
Serve plain or over rice with chopped fresh cilantro.