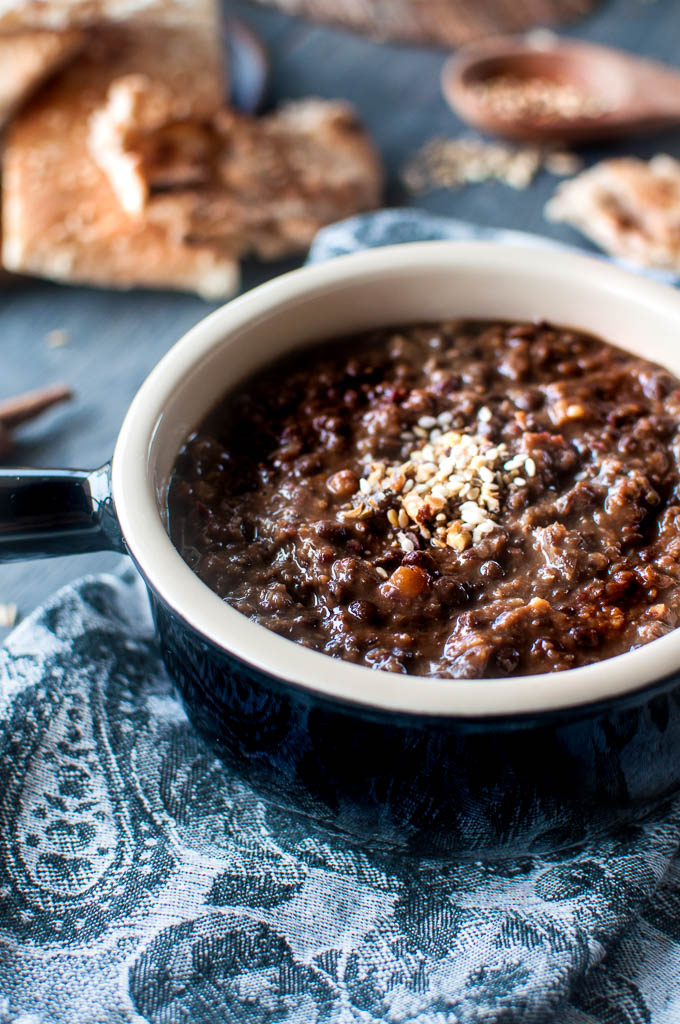 Indian food has always been a comforting staple in my life. I was raised on 6th St and 2nd Ave across from "Indian Row" in NYC. On special nights, my mom would take us to our favorite dark restaurant 3 steps below street level. I remember walking through the jingling bell door, hearing the exotic music and smelling the foreign spices. There's more:
One time I was in Narita Japan for an overnight layover. Hungry for dinner I walked up and down the streets but every restaurant had fish dangling in the window (bummer). Can you imagine my joy (and relief) when I stumbled open a teeny tiny Indian restaurant with vege friendly food?? Saved by my Indian food knight in shining armor!!! Years later, my husband and I were at our favorite Indian restaurant when he suggested we, "take our relationship to the next level". At first I didn't understand (this proposal), but after a few bites of Chana Masala, I figured it out. My favorite food, my favorite restaurant and my favorite person. Can it get any more romantic than that???
Then there was India where I got to eat Indian food everyday for 6 weeks (yum)…..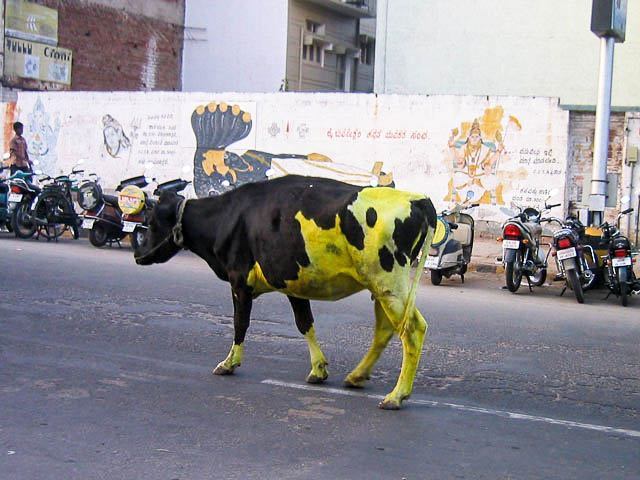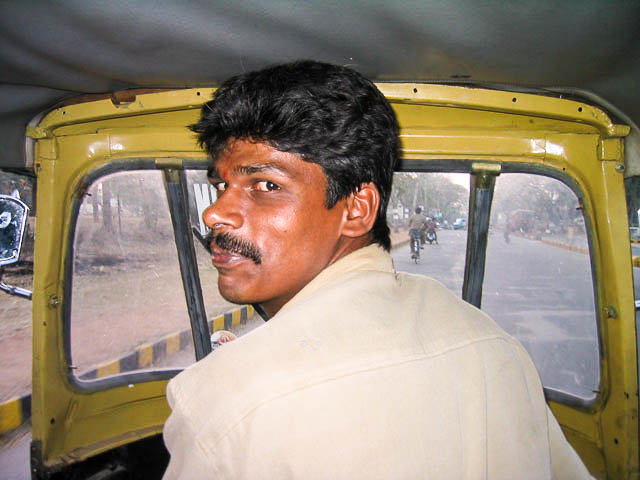 So, it will come as no surprise that I love this vegan Dal Makhani. It's mildly spiced, dark, rich and creamy. Dal Makhani is a humble dish holds that holds a world of warm feelings, comfort and joy.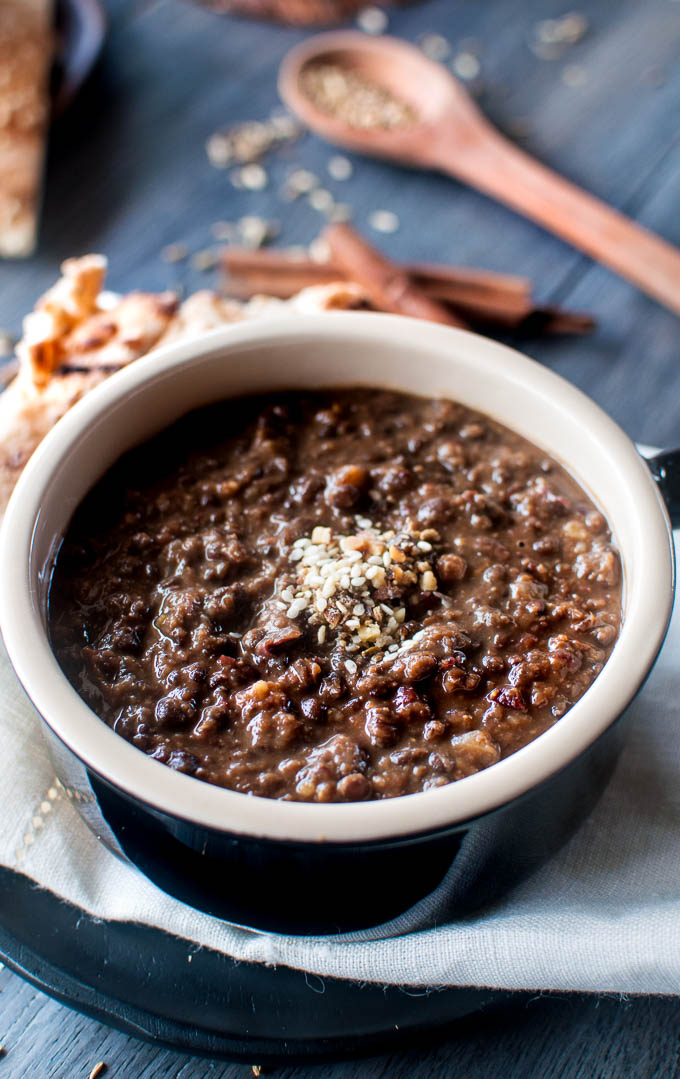 Using Ghee  
Traditionally, Indian food is prepared with Ghee or Indian clarified butter. Ghee has a very distinctive flavor and impressive health benefits (see article here):
Its lactose and casein free which is good for those who are lactose intolerant or allergic to milk.
It contains vitamins A, D, E and K
It is considered a body cleanser
Ghee is used in Ayurvedic cooking to:
Reduce inflammation
Improve digestion
Help with weight loss
Strengthen bones
Enhance gut biome
Because of Ghee's positive qualities I occasionally eat dishes with it but since I prefer to avoid dairy, I typically substitute coconut or olive oil.
Here are a few pictures of me in Mysore, India studying Ashtanga yoga with Sri K. Pattabhi Jois.
Making Dal Makani Vegan and a Funny Story
Dal Makhani comes from the Punjab region of India and is a staple in Northern Indian cooking. It consists of black lentils, red kidney beans, spices, ghee and cream. Since I don't eat cream, I use almond or coconut milk instead. I find the flavor is still rich and creamy. Because the kidney beans require extra cooking, I make them the day before in a pressure cooker. I've often considered omitting the kidney beans entirely but I chicken out in the end. You can use organic drained canned beans if in a pinch. I've also cut way back on the peppers. It's easier to add more heat, but I've ruined several batches that were too spicy.
I served this dish to British friends visiting from London (who KNOW good Indian food). They finished their bowls and asked for more. I was on cloud nine…(they aren't even vegan).
One quick story: I LOVE the Mulligatawny soup they serve at our favorite Indian restaurant Mother India. We used to go pretty much every week, so they knew us well. One day, I mustered the courage to ask for the recipe. The waiter gave a big smile and disappeared into the kitchen.  Several moments later, the chef emerged with a small piece of paper with "the recipe":
Lentils
Onions
Tomatoes
Ginger
Spices
There were no measurements, no instructions. I laughed thinking he was joking!! Then I realized he's been cooking this soup for so many years —  he undoubtedly doesn't use a recipe.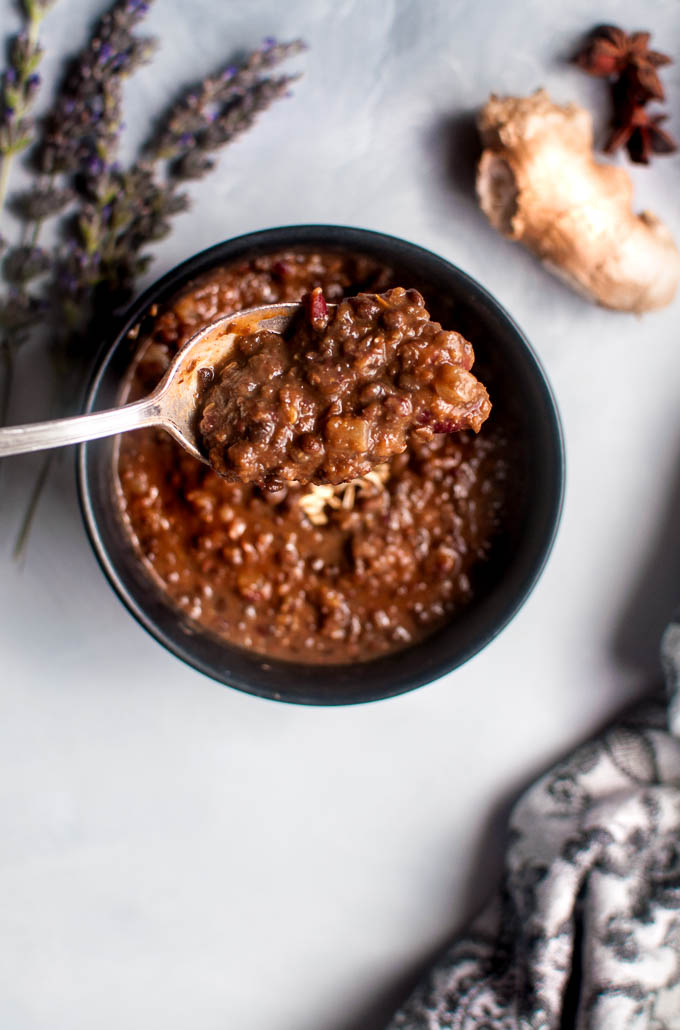 Recipe: Vegan Dal Makhani
Creamy black lentil dal with warming spices. Serve plain or over rice.
REMEMBER to soak beans overnight. If cooking them separately, soak in separate bowls.
Ingredients:
Part 1 
1 cup black lentils (I buy these at whole foods)
½ cup red kidney beans (I cook these the day before because they take longer to cook)
3 cups water (4 cups if cooking beans together)
½ teaspoon turmeric
¼ teaspoon chili flakes
2 teaspoons sea salt
Part 2 
1 teaspoon whole cumin seeds
½ teaspoon fennel seeds
1 onion finely chopped
1 inch piece of ginger finely minced
¼ green jalapeño pepper finely minced
2 teaspoons ground coriander
¼ teaspoon cayenne
¼ teaspoon chili powder
1 teaspoon Garam masala
2 medium tomatoes finely diced
½ cup (or more) Unsweetened vanilla Almond milk or coconut milk
Directions:
Pre-soak beans in a bowl of water overnight.
Prepare the kidney beans: I use a pressure cooker to prepare the beans in 20 minutes however, to cook on stovetop place soaked beans in a pot and cover with water. Bring to a boil for 10 minutes then simmer beans for 50/60 minutes or until tender (I find they can take longer so I use a pressure cooker).
Cook the lentils: Drain and transfer black lentils to a large pot. Add 3 cups water, turmeric, chili flakes and sea salt. Bring to a boil, reduce heat to low cover and cook, stirring occasionally, about 1 hour until beans are soft.
Temper the spices: In a frying pan, add a few teaspoons of coconut or olive oil over medium heat. When hot, add cumin and fennel seeds and stir fry for a minute or two. Now, add chopped onion and cook until it starts to brown. Next, add ginger, green chili, coriander, chili powder, and cayenne. Stir fry 1 minute. Stir in chopped tomatoes and garam masala. Cook stirring occasionally, until the tomatoes thicken (about 10 minutes).
Stir cooked kidney beans and tomato mixture into the lentils. Add almond milk and cook for another 10/15 minutes. Mash some beans against the side of the pot.