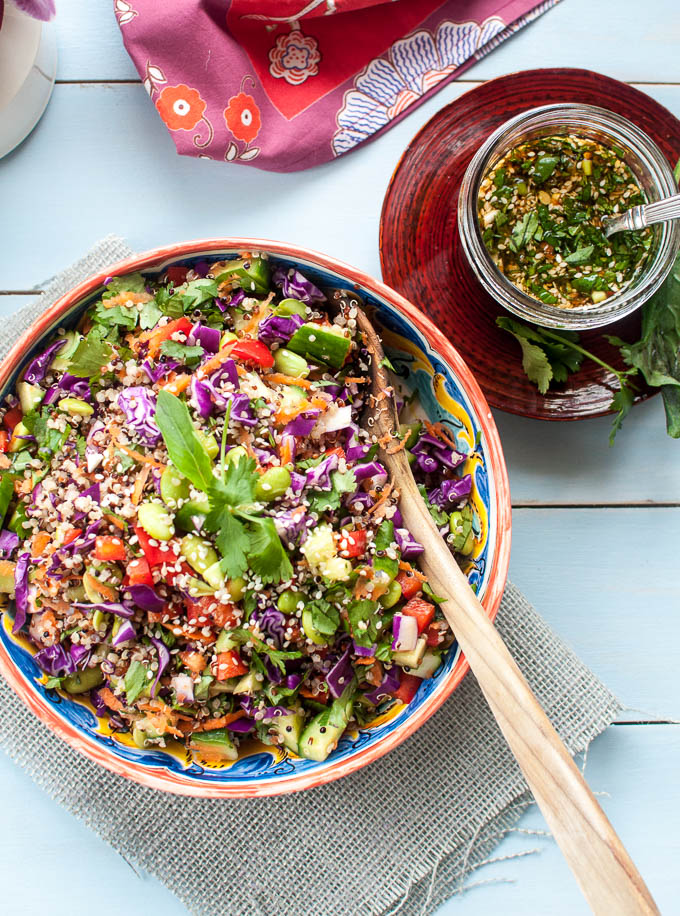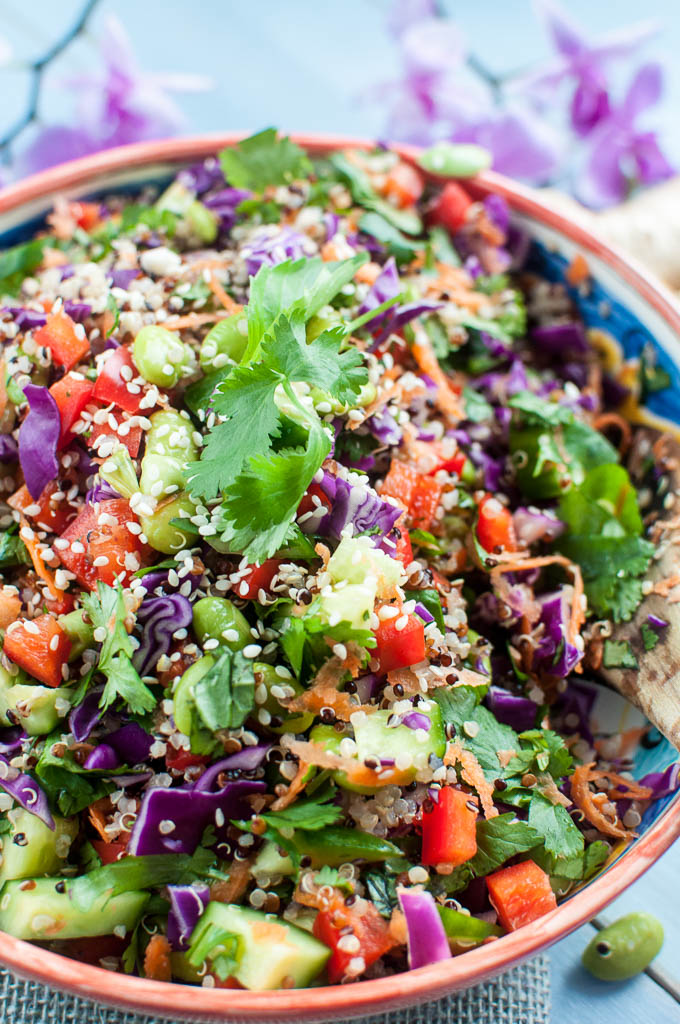 I am loving this Quinoa and Edamame Asian Chopped Salad right now. I often get obsessed with new salads and they become the only thing I want to eat. So I make a big batch and keep it in the fridge adding it to greens, Buddha bowls, or scooping spoonfuls into a bowl when I want something light and delicious. You know what they say about eating the rainbow! Well, this rainbow in a bowl is snappy, crunchy, tangy, beautiful and HEALTHY so it checks all of my boxes. Throw this salad together for your family, guests, or a potluck/BBQ.
I love salads that incorporate raw purple cabbage. It is high in fiber, has a ton of beneficial minerals and vitamins and is believed to fight cancer. Other beneficial ingredients include hydrating cucumber, vitamin-C rich red pepper and detoxifying cilantro. And the quinoa and edamame give this salad a ton of plant-based protein.
1 cup of shelled edamame has 22 grams of protein, 18 grams of fiber, and 20% iron. If you are scared of eating soy, you can read this article.
1 cup of quinoa has 4 grams of protein, 5 grams of fiber, 30 % magnesium and 15% iron. Quinoa is a gluten-free seed that contains lysine and 8 other amino acids making it a complete protein. For more on the benefits of quinoa, read this article.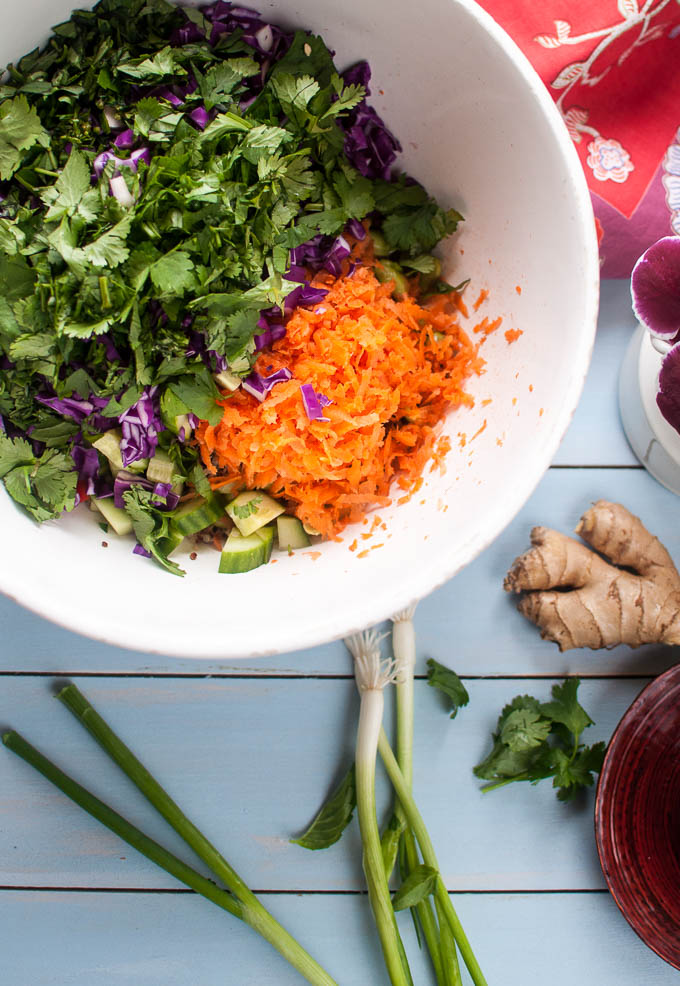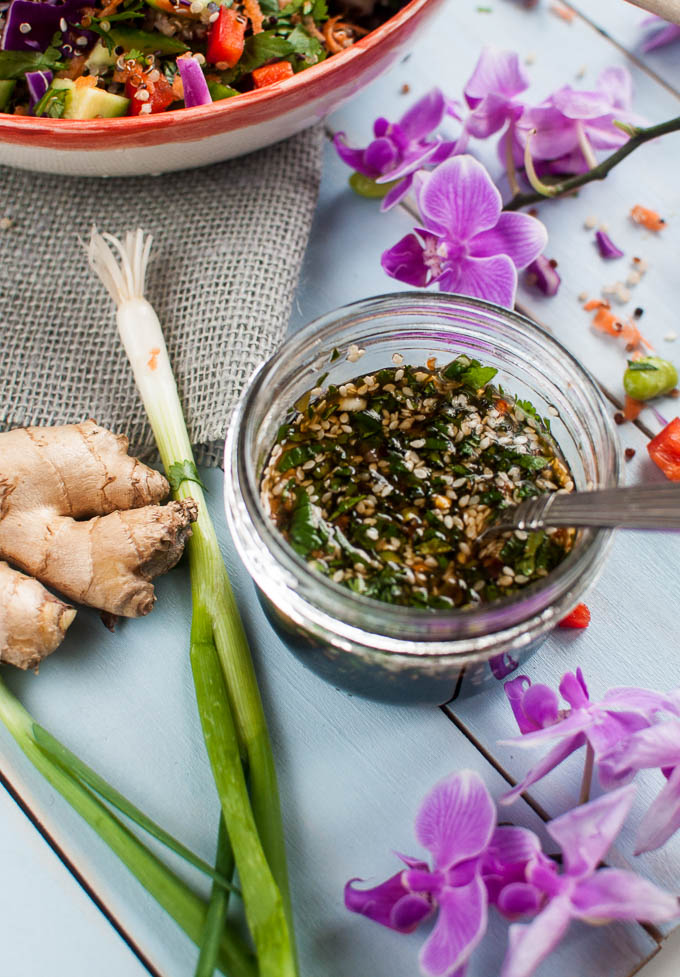 The quinoa soaks up the tangy dressing and it's chewy texture compliments the crunchy, peppery cabbage. The bright green edamame is smooth and calming and makes the salad pop visually. I think the ingredients in this salad are versatile so you can adapt it as you please. Add chopped baby bok choy, broccoli or sugar snap peas.
I've tried many great chopped Asian salad recipes but this one is my favorite so far. It's easy to make and the dressing is zesty without overpowering the vegetables. This recipe comes from the brilliant couple blog Two Peas & their Pod.  Check out their fun website with it's abundance of tempting recipes.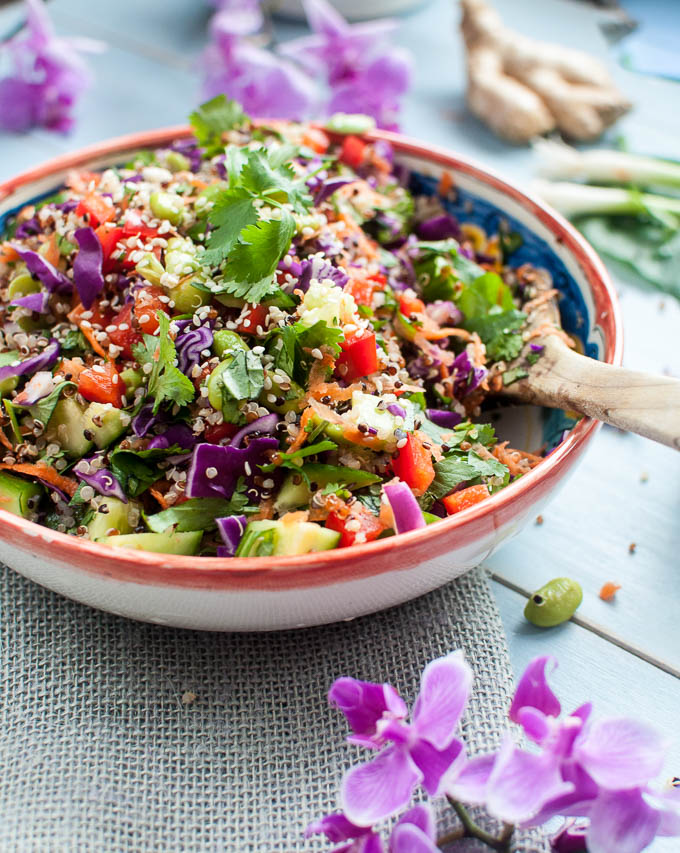 Recipe: Quinoa and Edamame Chopped Asian Salad
I followed the recipe exactly as it's written  Quinoa and Edamame Chopped Asian Salad.
Serve with thinly sliced avocado and sprinkle with sesame seeds.
If you plan on eating the salad during the week, keep the dressing separate and add it right before serving. I like to scoop this over chopped fresh lettuce or kale to get extra greens.