Picture yourself sitting at a primitive wooden table with your toes in the warm Mexican sand dipping tasty chips into this deliciously addictive roasted tomato salsa while sipping an icy cold Pacifico served with a fresh wedge of lime. The aqua blue ocean stretches out before you and festive Mariachi music plays on a small radio. Ahhhhh Mexico….a return to the simple pleasures.
My favorite Roasted Tomato Salsa is easy to make and packed with flavor. You will start inventing dishes to use it on. Sometimes, I imagine serving it as a soup. And the BEST part about this roasted salsa is that it's completely VEGAN and HEALTHY (my kind of food).
I admit that jarred salsa is convenient and I buy it occasionally, but it it never comes close to making salsa fresh. The charred tomatoes and smoky caramelized onions give it a rustic, Mexican flavor. The gentle warmth from the jalapeno on the back sits on the back of your tongue while the cool cilantro and tangy vinegar keeps you wanting more. Whoa…. you'll be instantly transported to the Mexican sunshine.
When learning to make salsa from scratch, I turned to Rick Bayless, the famous chef of Chicago's, Fontera Grill. Rick spent 6 years in Mexico studying local ingredients and cooking techniques and he's behind the elegance of this humble cuisine. Along his culinary journey, he began practicing yoga and cooking healthier so his book, Everyday Mexican has ways to prepare recipes without meat and dairy.  This rustic tomato salsa recipe is my absolute favorite!!! I go through phases where I make it frequently especially in the summer. But my husband and I can't resist it so it doesn't last long.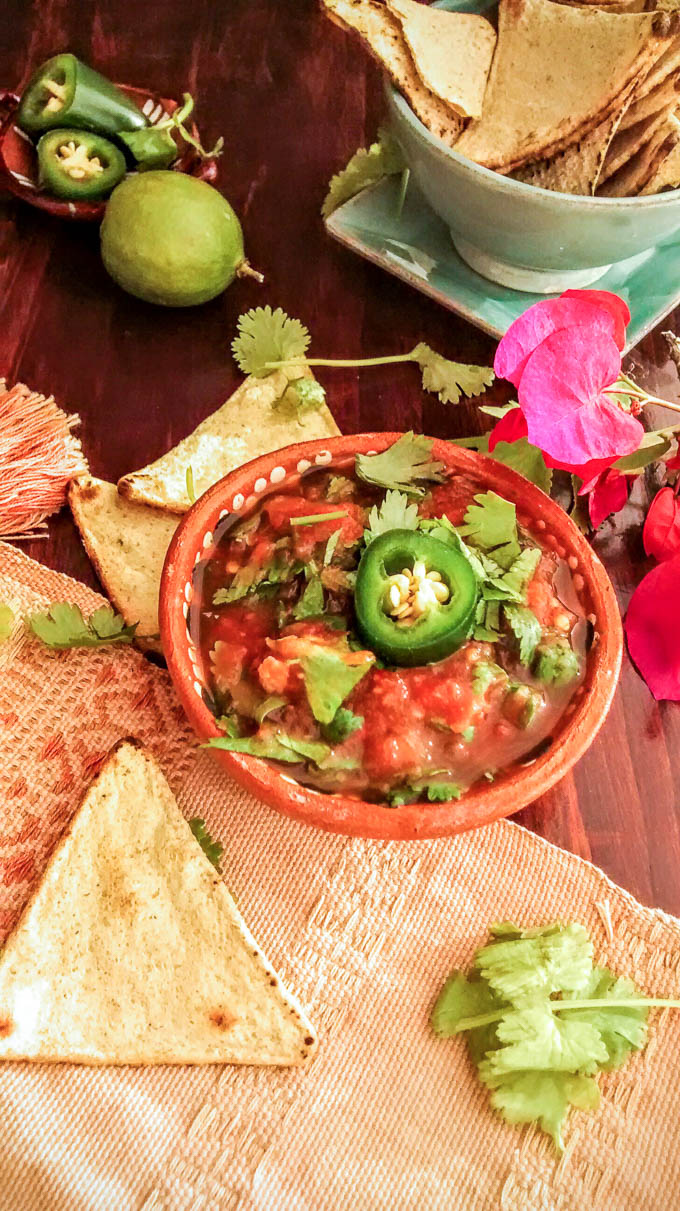 Salsa's Additional Uses:
I love scooping this delicious roasted tomato salsa up with tortilla chips (who doesn't) I must warn you, it's addictive!!! I can easily go through bags of chips. So, a healthier option is to scoop up the salsa with carrots cut on a diagonal to make little "spoons".
Use this salsa to make Spanish rice by substituting half the amount of water with salsa.
I LOVE it on top of Portobello mushroom tacos.  To make: saute sliced Portobellos in olive oil with chopped garlic. Serve on corn tortillas with sliced avocado and salsa……mios dios.
For sublime guacamole – mix 1/4 cup of salsa into mashed ripe avocados.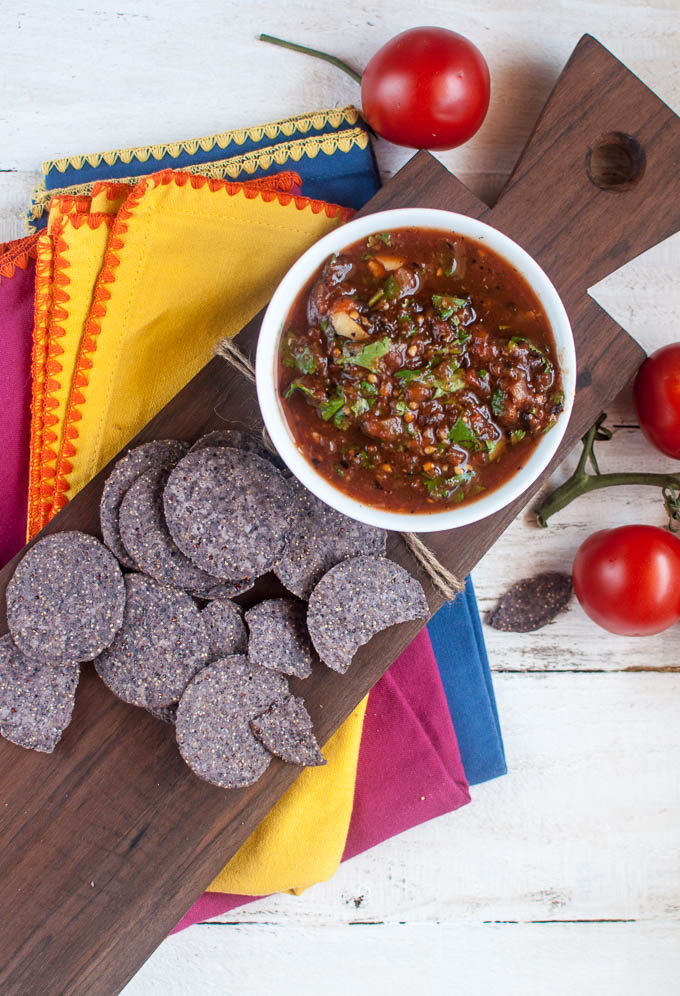 In a hurry? Check out Alexia's 5-Minute Chipotle Salsa 
Recipe: Roasted Tomato Salsa
This recipe was inspired by Rick Bayless Everyday Mexican 
Ingredients:
6 – 8 ripe tomatoes
1/2  fresh jalapeño chile**
1 small sweet or white onion sliced 1/4 inch thick
2 garlic cloves, peeled
A small bunch of fresh cilantro (I like a lot but you can halve the amount)
1 teaspoon fine grain sea salt
1 teaspoon champagne vinegar (or apple cider vinegar)
Directions:
Turn the oven to broil and line a large baking sheet with tinfoil. Place the tomatoes on the baking sheet. Cut off stem and slice jalapeno in half lengthwise. Remove the seeds and add to baking sheet skin side up. Place tray a few inches below the broiler and roast for 7 – 9 minutes.
Use tongs to turn the tomatoes and jalapeno over and broil for another 7-9 minutes until the skins are blackened/charred and skins slide off. Place the tomatoes and jalapeno aside to cool.
Lower oven to 400 degrees F. Separate the onion slices and spread around tray with unpeeled garlic cloves. Bake about 20 minutes stirring occasionally until onions are charred in some places. Remove and set aside.
Peel off and discard tomato skins (I do 1/2 the batch). Add tomatoes to a blender with 1/2 jalapeno, onions, garlic, vinegar and salt. Pulse once or twice until mixed but still chunky.
Add chopped cilantro and stir to combine. Taste and adjust the salt as needed.
**A note about jalapenos: The original recipe calls for 2-3 fresh jalapenos. I find the heat in jalapenos vary widely. Some I can barely taste while others make the entire batch unpleasantly hot. I advise starting with less and adding more if you want.