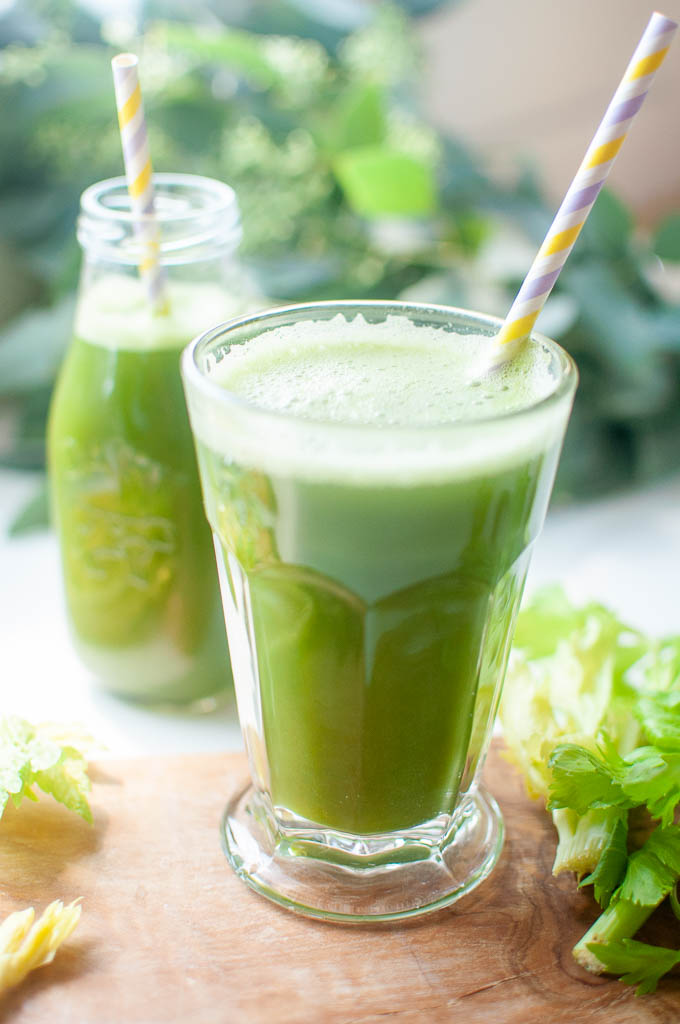 You KNOW celery juice has gotten trendy when the local health food store charged me $8 for a 16 oz cup.…um….no thanks!!! I think I'll make it at home!!! Problem is…..I don't have a juicer!!!! I considered buying one on Craig's list until I learned how EASY is is to make celery juice at home using my ol' trusty (barely working) blender and a nut milk bag……Yippee….
Since I believe drinking celery juice is one of the healthiest habits you can have, making it at home is a huge TIME and MONEY saver (although I saw organic celery priced at $4.99 a bunch…how crazy is that?).
Why Drink Celery Juice? Doesn't it Taste Awful?
The idea of drinking plain celery juice was started by Medical Medium Anthony Williams but celebrities and social media influencers like Gwyneth Paltrow, Miranda Kerr and Kim Kardashian fanned the celery juice flames into wildfire. This bright green juice not only has powerful healing benefits, it's considered, "Instagramable" (unlike photographing dark kale juice..).
As for taste, I expected it to be bitter and hard to swallow but it's surprisingly mild and a little sweet. It reminds me of green tea. Even my husband, who won't touch green juice, can drink it.
Healing Symptoms and Chronic Illness with Celery Juice
Anthony Williams advocates drinking pure celery juice (nothing added) on an empty stomach. He claims that celery (an herb) contains "cluster salts" which cleanse and heal the liver resulting in: clearer skin, better digestion, reduced bloating, sustained energy, clearer thinking, weight loss, and stable moods.
He claims celery juice is the key to healing chronic illnesses like: Hashimoto's thyroiditis, eczema, psoriasis, acne, SIBO, constipation, chronic fatigue syndrome, blood sugar issues, migraines, acid reflux, high blood pressure, addictions, adrenal issues, gout, allergies, and autoimmune conditions. (Read more on this here).
I confess that my skin loves it…
How to Make Celery Juice in an Ordinary Blender
Had I known I could make celery juice at home without a juicer, I would have been drinking it months ago. I'm so happy I can make it at home. This also makes doing his liver rescue cleanse, so much easier.
All you do is toss chopped celery into a blender and whirl until smooth and slushy. Then, use a $5 nut milk bag to squeeze out all the liquid into a bowl (preferably with a spout). Now, I try to drink celery juice in the morning once or twice a week.
Recipe: 16 oz Celery Juice
It's best to use organic celery (or you'll be juicing pesticides) and drink celery juice on an empty stomach. It's tempting to add lemon or cucumber but for the best results, drink it plain.
I don't have a fancy blender so mine requires a little man handling but it works fine. I find using a bowl with a spout makes it easier to pour the juice into a glass. Make this your new healthy habit, especially if you have any skin, digestive, or liver issues.
Ingredients:
1 ½-2 bunches of organic celery washed and cut into chunks
Directions:
Place celery in a blender (adding a small amount of water if needed to get it moving).
Blend until smooth and slushy looking.
Pour mixture into a nut milk bag over a medium bowl and gently squeeze until all the liquid is in the bowl.
Pour juice into a glass and drink immediately.