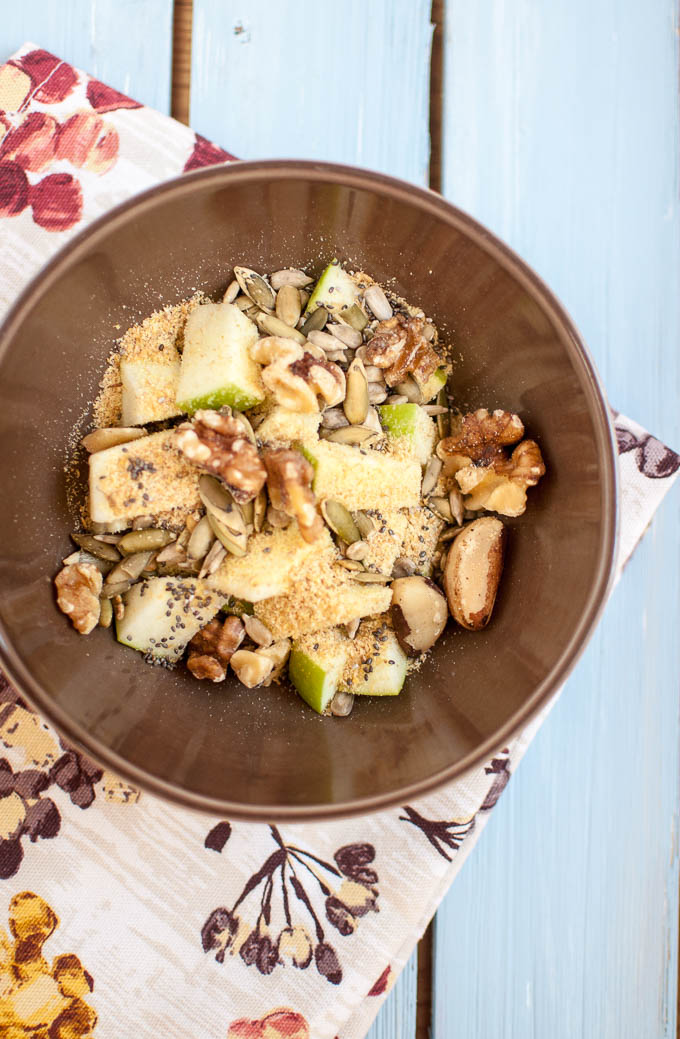 "An apple a day keeps the doctor away" is a phrase we've all heard before. In the past, I didn't care for apples. I'd much rather eat a juicy peach or velvety mango. But now, I crave this fruit/seed combo and can't help but eat an apple a day.  It's my favorite breakfast.
There was a time when I was eating so much fruit that a wise friend gently asked if I was a vegetarian or fruitarian. It was a simple question with a powerful message. I was eating too much sugar.
Fruit has wonderful benefits, but it can increase your sugar intake if you are not careful. I remember how disappointed I felt when I learned how much sugar was in my favorite Jamba Juice smoothie. Yipes!
Because my friend's question continues to dance around my head, I'm mindful to eat more vegetables and choose low sugar fruits and berries (most of the time).
While this combo works with any fruit, the tart crispness of the Granny Smith pairs deliciously with the sweet, earthy taste of the nuts and seeds. Apples also keep well so they are easy to have on hand.
Simply dice your apple (or fruit of choice). Add ground flax for the omegas and lignans (helps with hormonal regulation), my protein seed mixture (for protein, omegas and minerals) and a few nuts (for minerals and healthy fats). I'm in a walnut phase but I adore cashews and almonds too.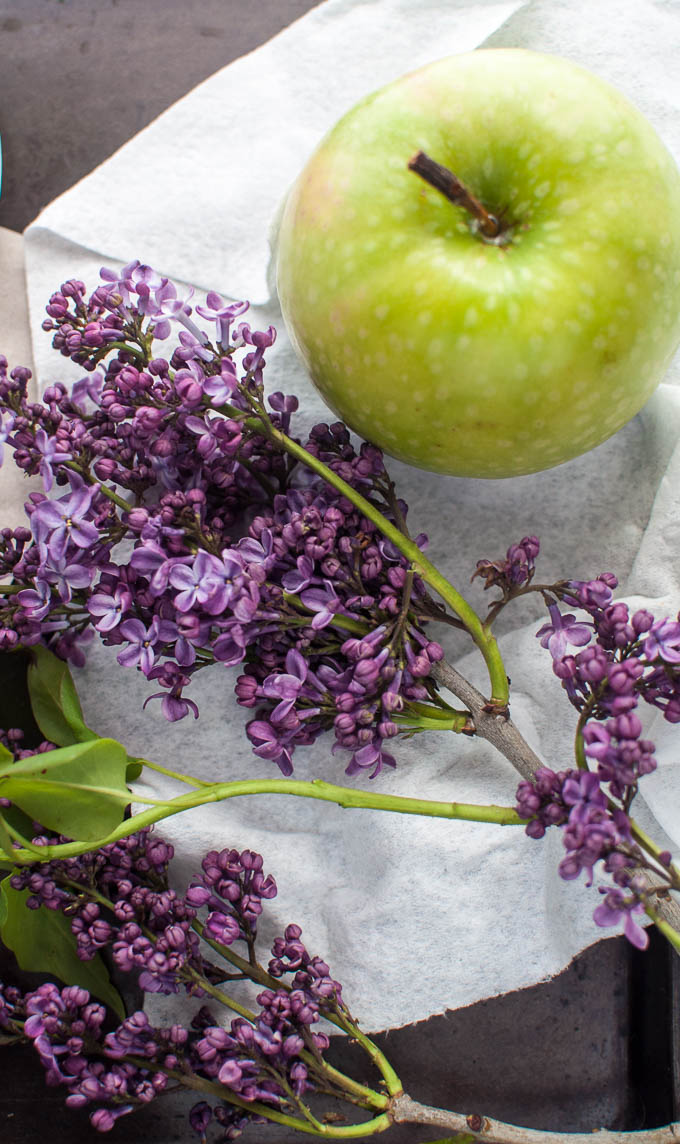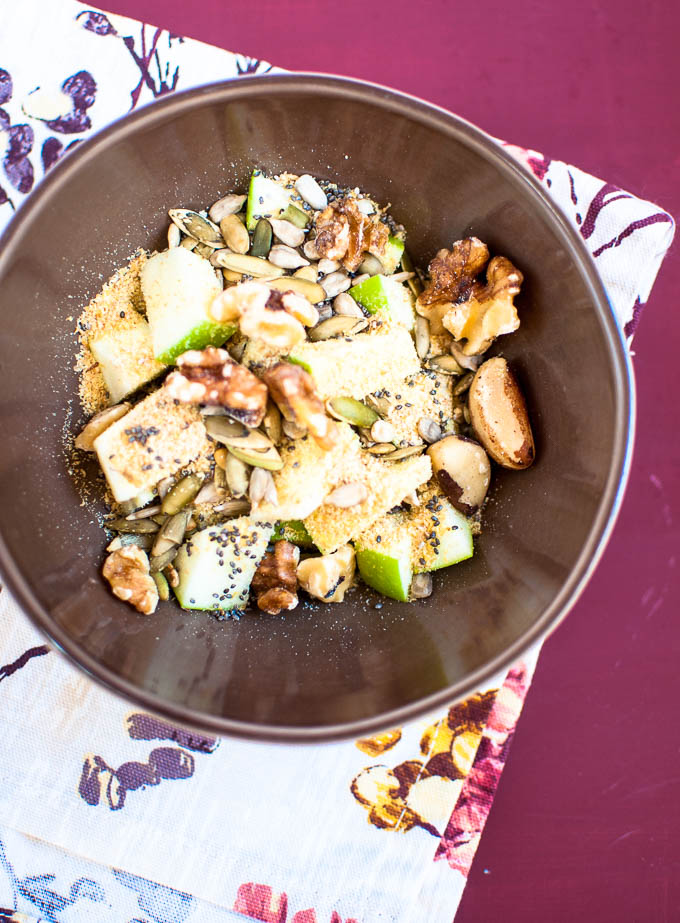 This effortless recipe makes a healthy breakfast, snack or dessert. My favorite fruits to use are: apples, grapefruit, blueberries, mango, and pears. These are all nutritionally vibrant fruits which are delicious.
***Chia seeds stick to your teeth though so you may want to floss after eating.
My Favorite Breakfast
I eat this everyday, if not for breakfast, then for a snack, lunch or dessert. I love it with pears, apples, mangoes, berries, or grapefruit.
Ingredients: 
1/2 large or 1 medium Granny Smith apple (you can also use fresh grapefruit, berries, pears or fruit of choice)
Organic golden ground flax meal (I buy ground flax and keep it refrigerated)
Protein seed mix (1 part raw pumpkin, sunflower and chia seeds)
Nuts such as raw almonds, cashews, or Brazil nuts (I keep all my nuts in the refrigerator as well to keep them from going rancid)
Directions: 
Wash and cut the apple into bite size chunks and place in a medium bowl. (If using grapefruit or other fruit, peel and cut into chunks).
Sprinkle with 2 tablespoons of golden ground flax.
Add 2 tablespoons of the protein seed mix.
Top with a handful of raw almonds, cashews, or brazil nuts.
I am honored to have this breakfast recipe featured on HealthyLeo.com. Please click the link for additional favorite breakfast ideas.