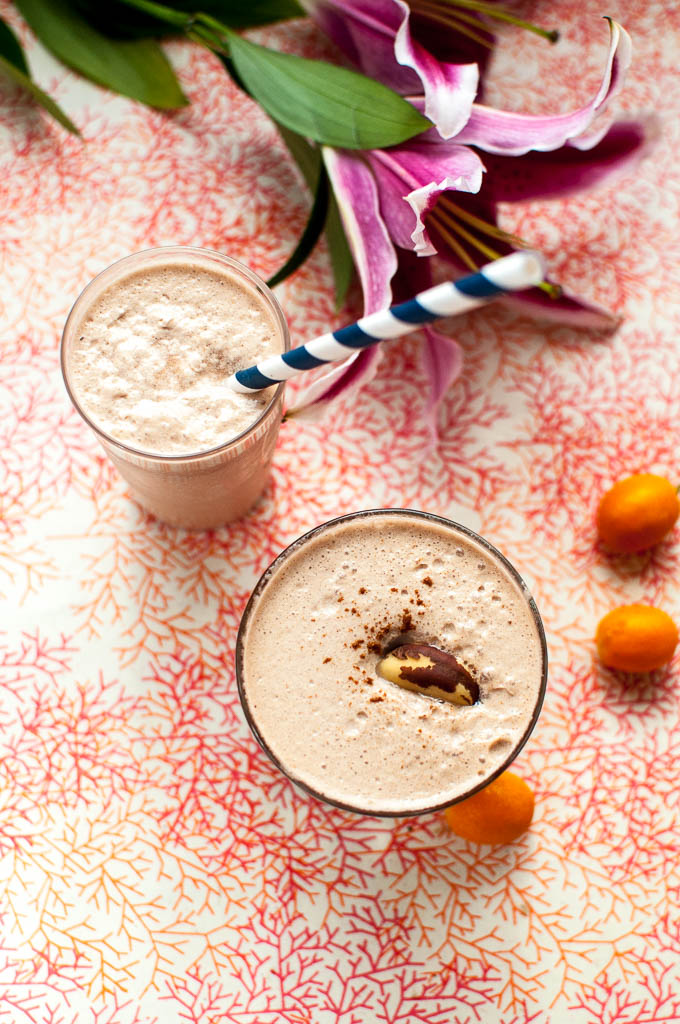 I've been endeavoring to eat more Brazil nuts (or rather seeds) because they are an excellent source of selenium which is good for a healthy thyroid. My goal is to eat two a day but I heard they turn into a velvety smooth milk like cashews.
For a long time, I avoided making nut milks because it seemed complicated and I was certain I didn't have the right gadgets. That was until I  tried homemade almond milk for the first time and was blown away by the taste and texture. It was like drinking a vanilla milkshake that was bursting with life. That day, I ordered a nut milk bag from Amazon and tried my first attempt.
Making your own nut milk is a lot easier than it sounds. And drinking fresh vegan milk is not only a healthy, satisfying experience, but it inspires you to create a variety of  blended treats.
I learned two tricks that make this process easier. The first is to remember to soak your nuts prior to milking them, and the second is to use a bowl with a spout so you can easily pour your fresh milk into a storage jar or bottle (my first attempts were rather messy).
Nut milks require you to squeeze the liquid from the nut milk bag which is what I like to think of as the vegan version of milking a cow.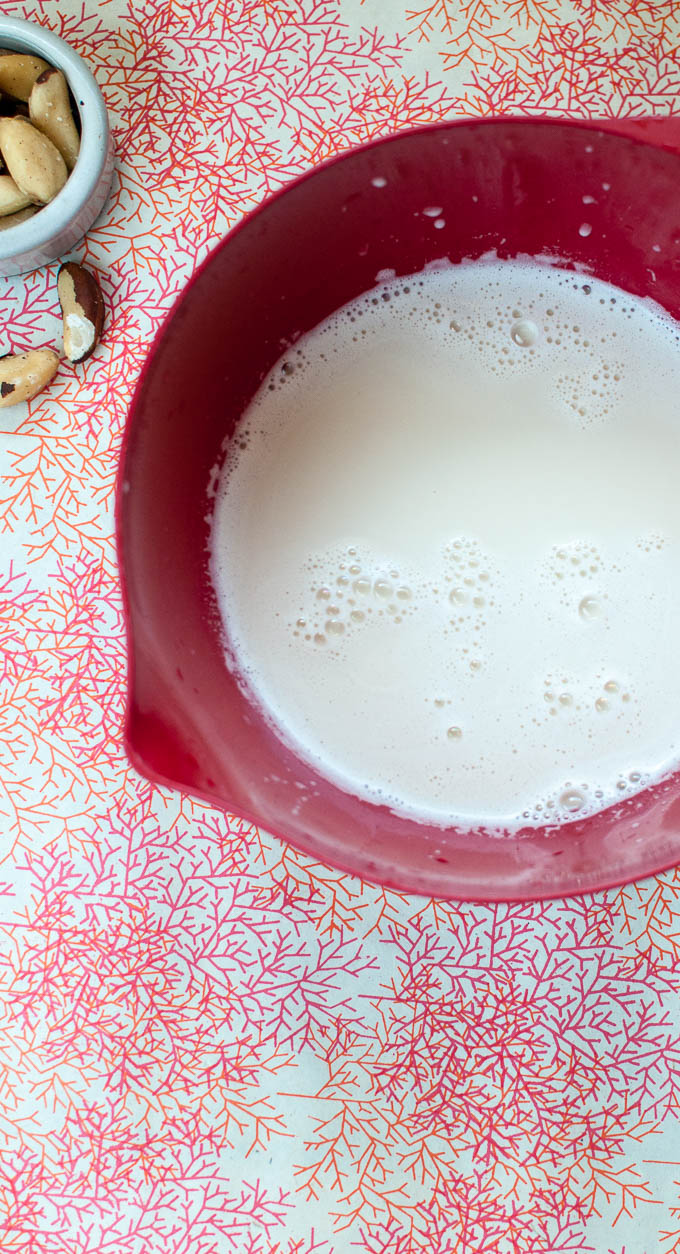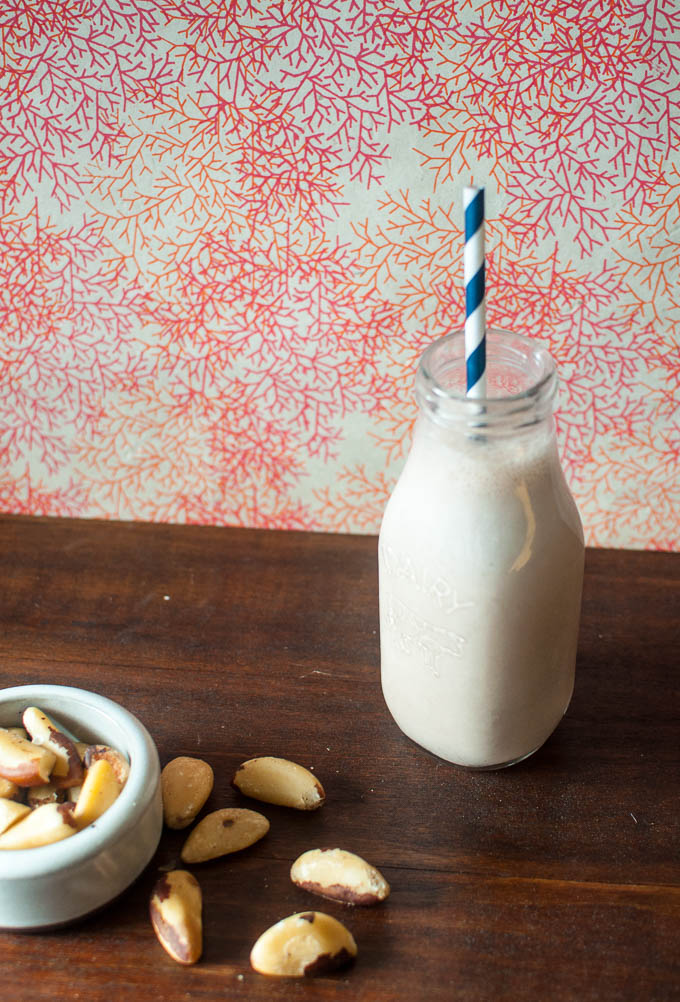 This recipe comes from Kris Carr's Crazy Sexy Juice but really all nut milk recipes are similar. It's pre-soaked nuts, water, a soft date or two, a pinch of salt and splash of vanilla. You can add cinnamon too.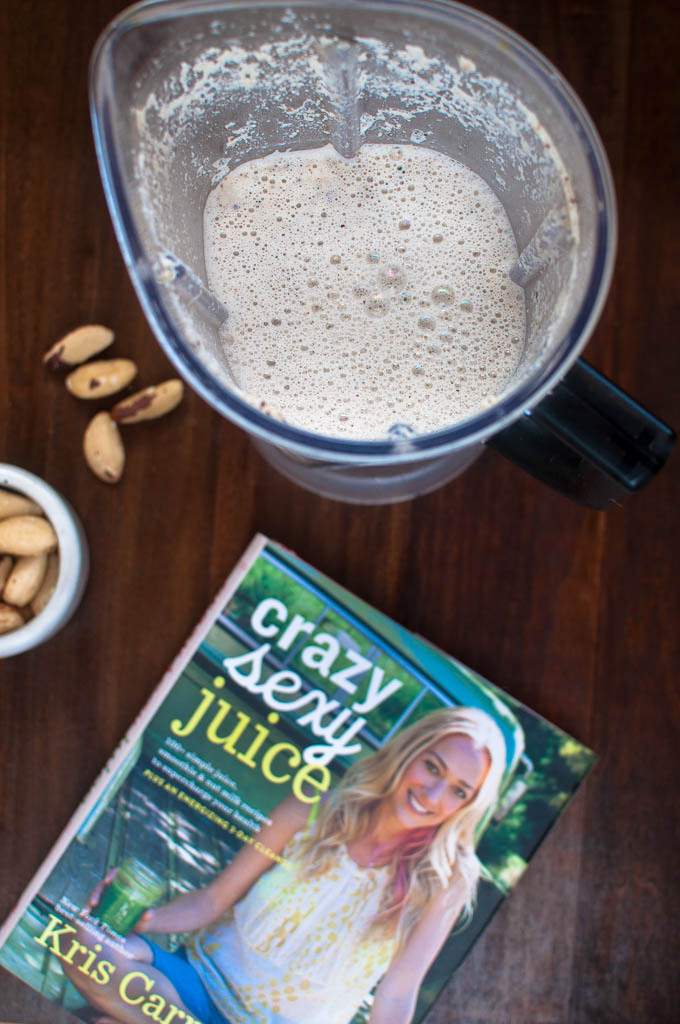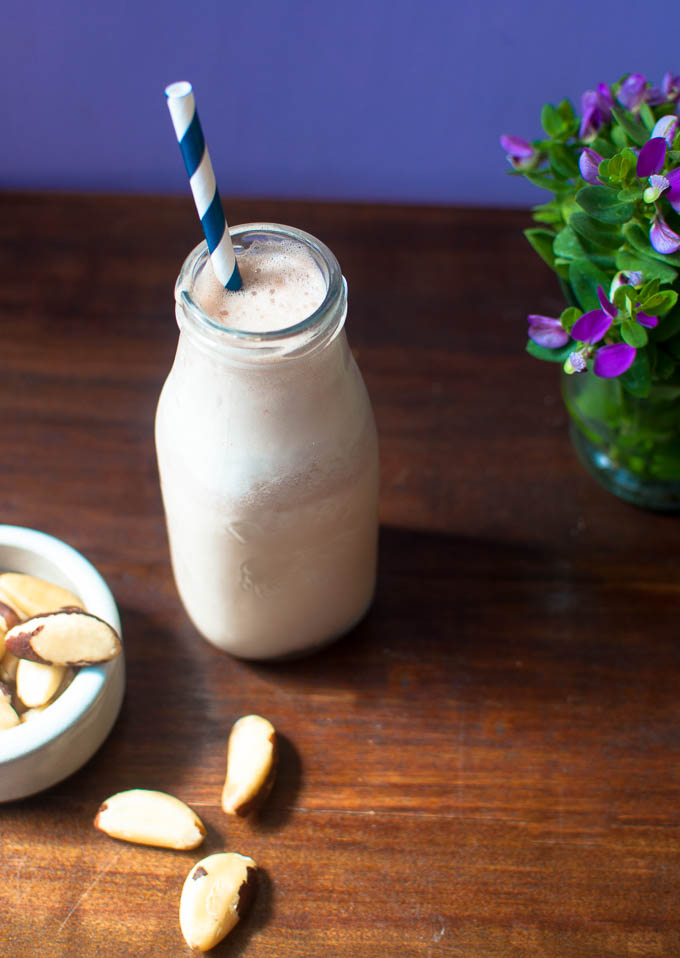 This recipe comes from Crazy Sexy Juice by Kris Carr
Brazil Nut Milk: 
1 cup soaked Brazil nuts (soak in water for 4 hours)
3 1/2 – 4 cups water (the less water, the thicker the milk)
2 -3 pitted Medjool dates (put in water for a few minutes to soften if necessary)
1/4 teaspoon of salt
1 1/2 teaspoons vanilla extract
Instructions: 
Soak dates in a glass with warm water while you prepare the other ingredients. When they are soft, remove pit and add to blender along with the nuts, water, salt and vanilla.
Blend until smooth.
Place nut bag over a medium size bowl (preferably with a pouring lip) and pour milk into bag.Tie the end of the bag and squeeze the milk through. Keep squeezing every last drop until all the liquid comes out into the bowl. You should be left with the nut pulp in the bag.
At this point you can re-blend if you want or pour into a sealed bottle and store in the fridge. Milk is best fresh but lasts 2-3 days. It will separate in the fridge, so when ready to use either shake vigorously or re-blend.
The milk alone is delicious, but I had a bee in my bonnet for a frothy dessert. So I added carob powder, a few frozen banana chunks, cinnamon, cayenne, another date, and ice and whipped myself up a tasty dessert. (recipe below)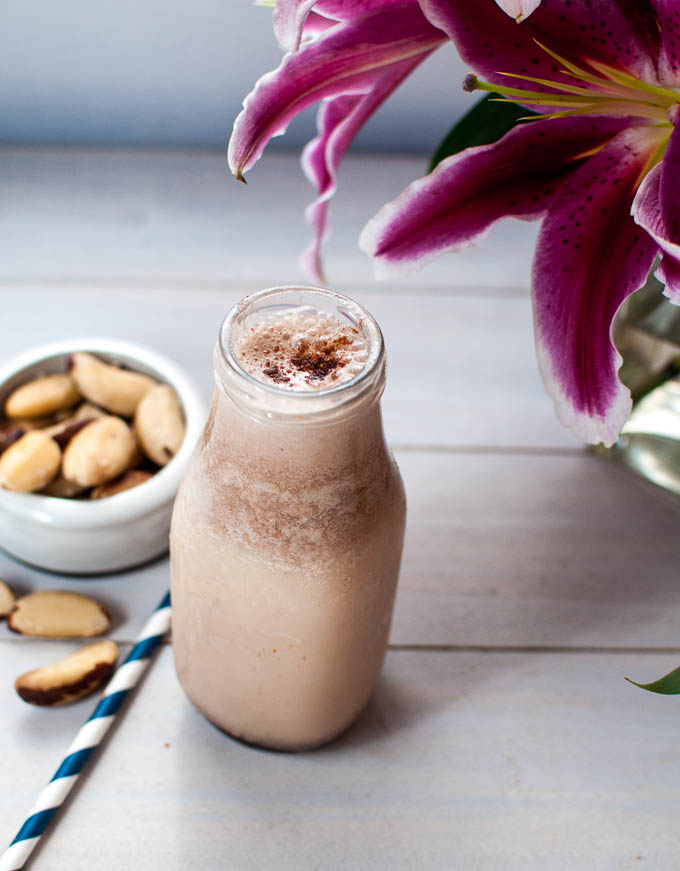 Brazil Nut Froth 
Makes one yummy glass
Ingredients:
1 cup brazil nut milk
4 chunks frozen banana
1-2 pitted medjool dates (soaked in water for a few minutes to soften)
2-3 tablespoons carob powder
1 teaspoon cinnamon
sprinkle of cayenne
3-4 ice cubes
Directions: 
Place all ingredients in a high speed blender and blend until smooth. Top with nutmeg or carob powder and enjoy!