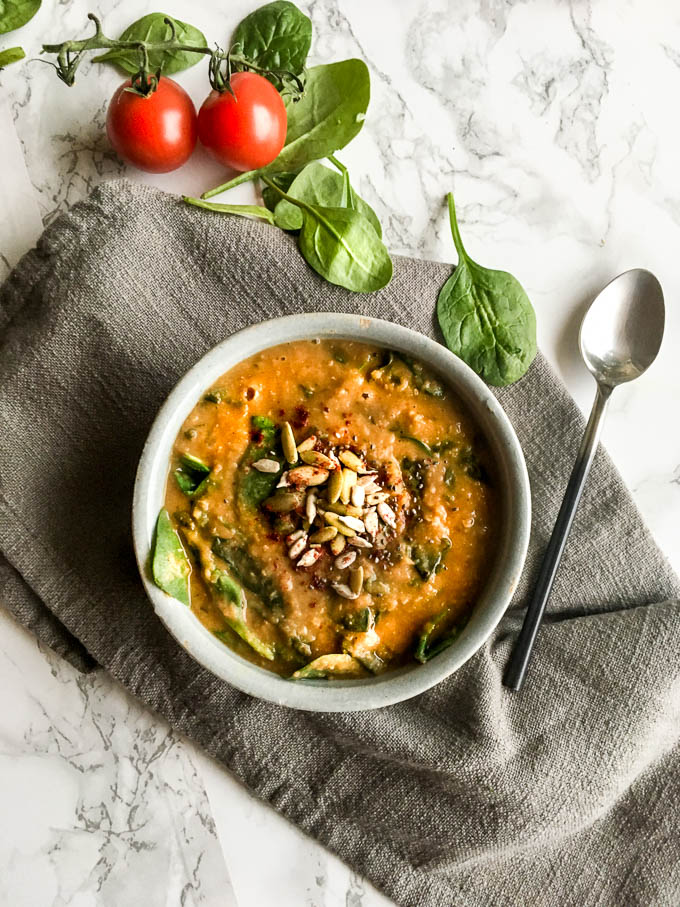 Do you ever go through food infatuations where you want to eat the same thing every day? Well, for the past 4 months, I've been obsessed with this nourishing red lentil and spinach soup!! It's cozy, warm and comforting but also delivers a hearty serving of iron rich spinach (or other dark leafy greens). On Sundays, I prepare a batch that I can re-heat throughout the week. I serve it alone or accompanied by a salad for a highly satisfying and healthy meal.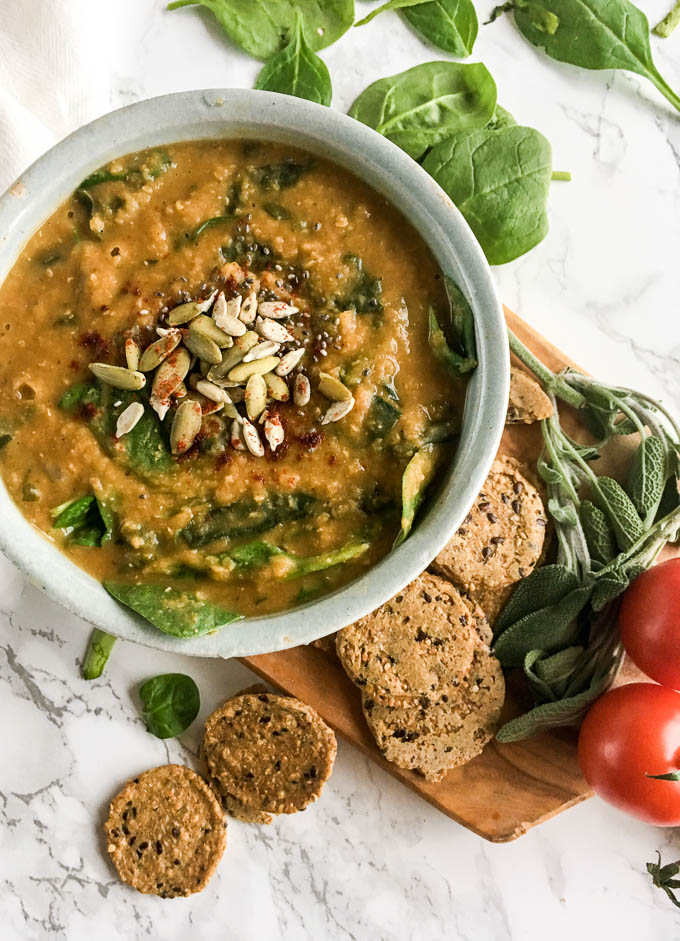 My Favorite Lentils
Red lentils are my favorite lentil. The texture is soothing – like a warm bowl of oatmeal or creamy mashed potatoes and they are easy to prepare quickly. I consider this healthy comfort food!!!
While making this soup, I take a few extra steps that aren't critical but more habitual than anything else. For example, I roast the tomatoes instead of using canned, but organic canned tomatoes would work too. I also pre-soak the lentils for an hour before cooking them because I find they take less time and turn out creamier. However, these extra steps probably don't make a huge difference and could be omitted if time is a factor.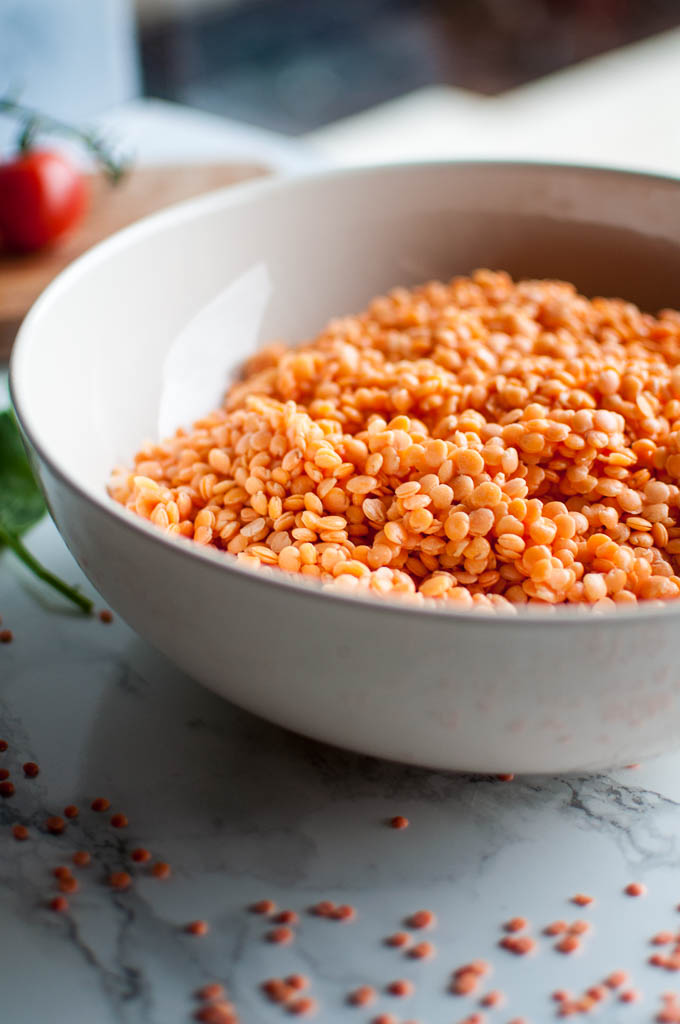 Eating Greens in Winter
Eating greens in the winter months can be challenging when green salads aren't as appealing. So, I call this soup, "a greens delivery truck" because it delivers a boat load of iron rich greens like spinach, Swiss chard or kale, into your day. In fact, I play a game with myself to see how many greens I can add. So, it ends up being more of a stoup = stew/soup.
Dark leafy greens are a serious super-food. In fact some cultures consider dark leafy greens (especially wild greens) to be "medicine". When you start eating them, you will instinctively know why. Both my husband and I crave greens if we haven't had them in a few days. So, this soup delivers!!!
Spinach is mild, almost sweet tasting and more delicate than other leafy greens. (The benefits of spinach). However, spinach doesn't make good leftovers so I only add the amount I need before serving.
Swiss Chard is actually a root vegetable but they cultivate the leaves. It has a mild flavor and works well  sautéed, steamed, and in soups. (More here).
Kale has a stronger "earthier" flavor and it's sturdier than the others meaning it holds up better than the others for leftovers! So, while you can add this at the time of cooking, I think greens taste fresher when added just before serving.
Having Something Fast and Healthy on Hand
One of the things I love most about this red lentil and spinach soup, is that it lasts for several meals. So, when I get home and I'm Starvin Marvin….I just heat some up and have a warm, delicious, healthy meal. In fact, just KNOWING that it's available, helps me plan my meals rather than grabbing quick snacks which are far less nutritious.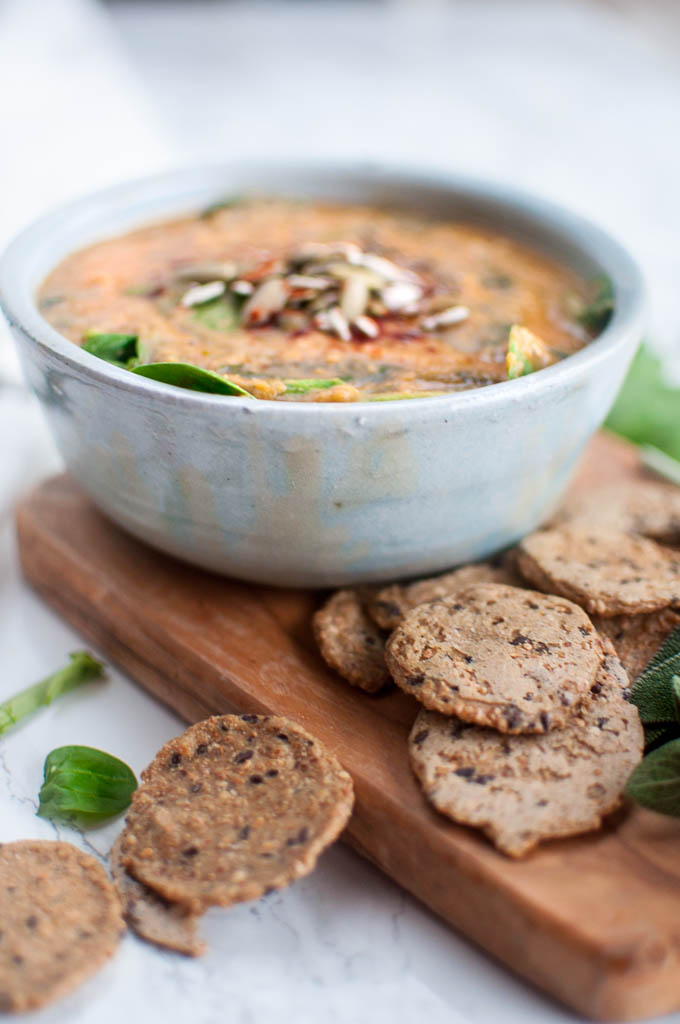 I made this soup for months without a following a formal recipe so writing one down was hard. In other words, use this recipe as a guide, but follow your own intuition! Change up the spices, add other greens, etc. This is not a fancy soup but a great way to warm up, take in leafy greens, and have something fast and healthy to eat when you don't want to cook a big meal.
Recipe: Red Lentil Soup with Spinach
Makes 1 large pot
Prep time: 15 + 1 hour to pre-soak the lentils
Cook time: 45
Ingredients:
2 cups red lentils and soaked in water for an hour then rinsed and drained
6 plum tomatoes roasted and blended (or 1 cup canned)
1 tablespoon olive or coconut oil
1 sweet onion finely chopped
2 garlic cloves minced
Spices: 1 generous teaspoon each: coriander, cumin, cinnamon, sea salt, 1/2 teaspoon smoked paprika
4-5 cups water (enough to cover lentils by an inch)
1 low sodium vegetable bouillon cube
1 cup unsweetened almond milk
A bunch of cilantro rinsed and chopped
2 bunches of fresh spinach or 1 large tub rinsed and de-stemmed. If you plan on leftovers only use what you will need – roughly two handfuls per serving.
(Optional) 1-2 tablespoons of Braggs Liquid Aminos or Tamari
Directions: 
Pre-soak the lentils – Place two cups of red lentils in a sieve and rinse well. Add lentils to a large bowl and cover with water. Soak 1 hour. (I keep them in the sieve and rest the sieve in water for easy removal).
Roast the tomatoes – While lentils are soaking turn oven to broil and place oven rack on the highest position. Place tomatoes on a cookie sheet lined with tinfoil and place on high oven rack. Roast for 10 min on one side then use tongs to turn the tomatoes over and roast on the other side for 5 minutes until skins are black and blistered. Remove from oven. Allow to cool and gently remove the blackened skins (should peel off easily). Use a hand or full blender to puree roasted tomatoes.
Make the Soup –  Once the lentils are swollen, rinse and drain them. Add oil and onions to a large soup pot over medium heat stirring occasionally for 5 minutes. Add garlic and cook for another 5 minutes. Stir to prevent burning. Mix up spices and add them stirring often for 2 minutes (lower heat if necessary). Add lentils, tomato puree and water (to cover by an inch) and vegetable bouillon. Bring to a boil. Reduce heat to low, cover and simmer 30 minutes.
Finish the Soup – Add almond milk and puree soup with a hand or regular blender (optional). Cook 10 more minutes. Throw in cilantro and spinach and adjust seasoning. (I add Braggs liquid aminos or more salt if needed).