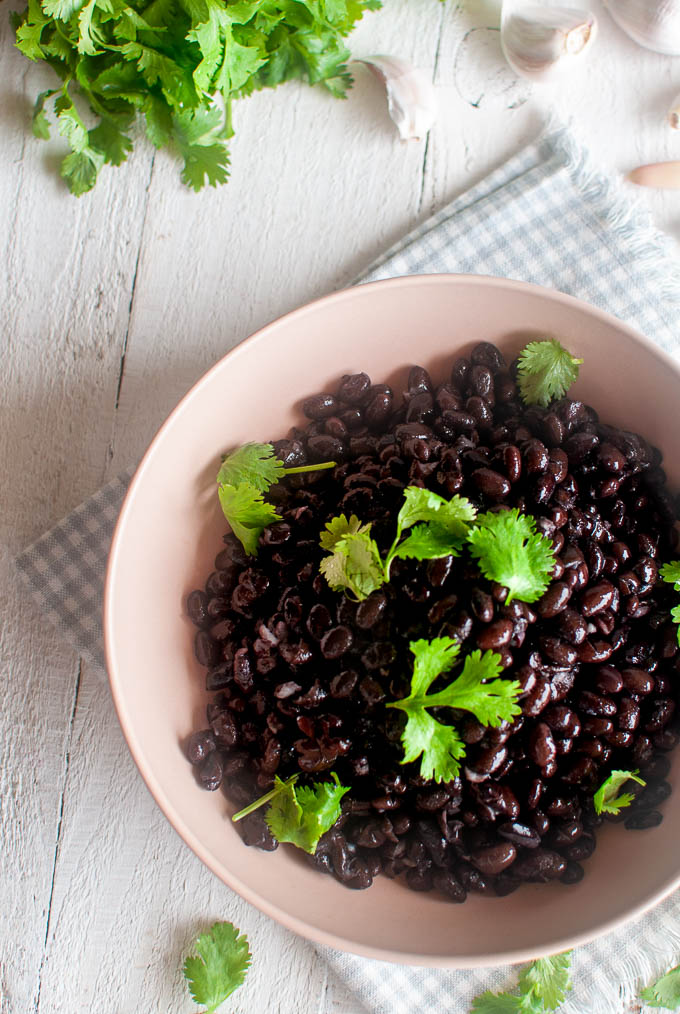 On a warm summer evening in Durango, Colorado, I sat beneath the pines on the deck at my beautiful friend Carrie's home sipping handmade mojitos, hanging out with her family and excited to try the  vegan dishes she was preparing for dinner. Little did I know how GREAT of a cook she was until I tasted her  Killer Vegan Black Beans which accompanied grilled Portobello's and red peppers, muy rico guacamole, and feisty chipotle salsa. My my were the tacos good!! Hands down the best meal I had in a LONG time. I polished off the tortillas then subbed in tortilla chips to scoop up the beans and veggies on my plate. The beans completely addictive (and she's not even vegan).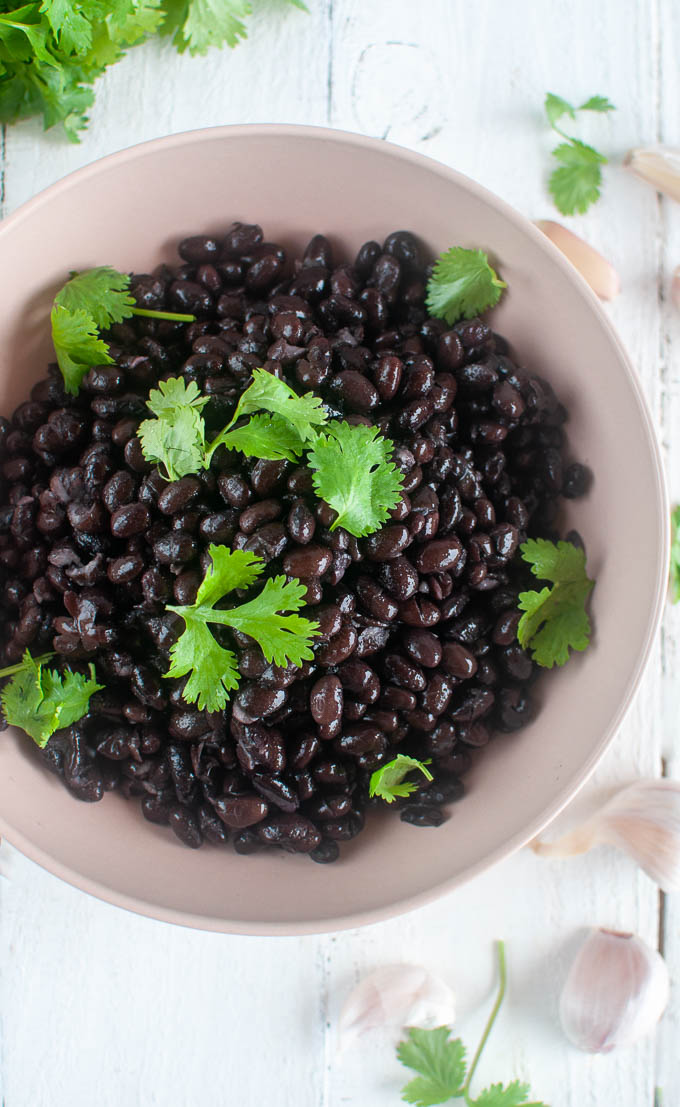 After we left, I was craving the beans badly (like crack). When she texted me the recipe, I had to find the Adobo spice (Wallmarto) and made them immediately.  I love eating them hot alongside a crispy salad or with grilled (or roasted) vegetables. However, they elevate guacamole when served with those tasty dipper corn chips.
Black Beans for Your Well-being  
I became a vegetarian in college and did this by cutting things from my diet.  I cut red meat, then chicken, then fish……. etc. Basically, my diet consisted of simple carbs like bread, pretzels, cereal, and crackers. I wasn't aware that simple carbs spike your blood sugar until it crashes. Because my blood sugar was up and down like a roller coaster I tended to be moody, irritable, emotionally fragile, and hangry (craving more simple carbs and sugar).
I just thought it was "me" until I learned the difference between simple and complex carbs like black beans, whole grains, lentils, and oats.
Simple vs. Complex carbs:   
Simple carbs are sugars, or "fast-acting carbs " that burn up fast, spiking your blood sugar and causing it to crash, leaving you with a craving for—more carbs! They're found in fruits and vegetables, but also in refined (processed) grains, cakes, and other baked goods.  
Complex carbs take more time for your body to digest because they consist of long chains of sugar molecules that your body has to break down for energy. These carbs take more time for your body to digest and therefore, keep you full longer. 
So, to stabilize my moods and eliminate the drama I got serious about what I ate. Not only did I lose weight, but more importantly, I felt better. I was more balanced, less stressed and less reactive. Changing what I ate was a huge shift for me.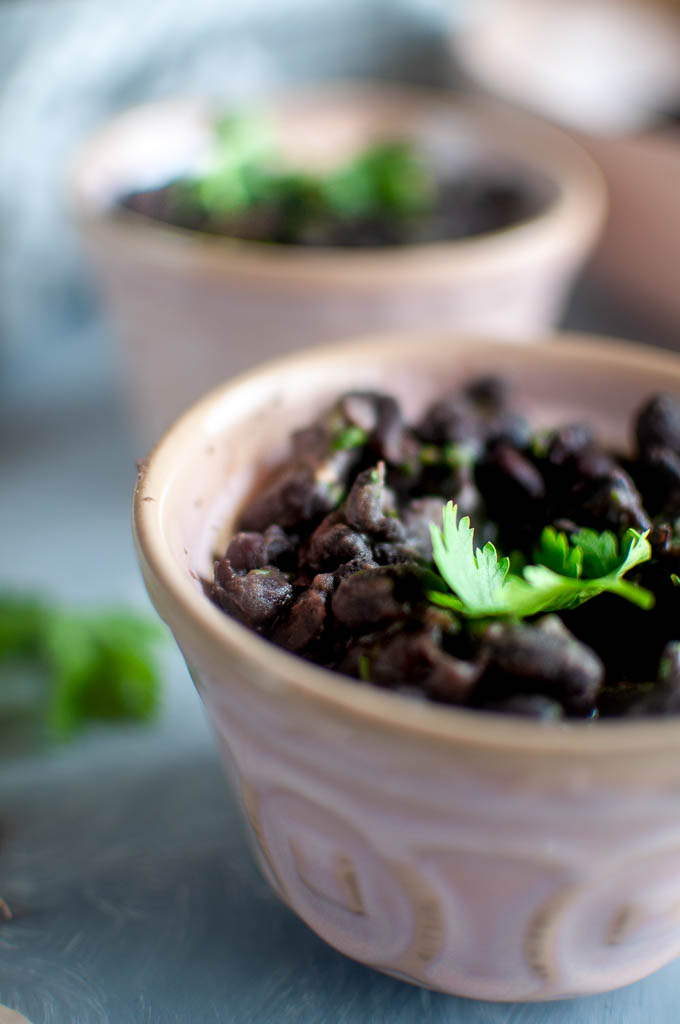 Canned or Dry?
When I first began cooking with black beans, I only used dried beans and cooked them for hours on the stove. Eventually, I got a pressure cooker and preparing beans went from long hours to mere minutes. Wow!!!
For this recipe, you can use either. Canned beans offer convenience and the ideal consistency however, cooking beans from scratch is fresher and eliminates unwanted added salt, BPA lined cans etc.

Only 5 Ingredients
Black beans— 1 cup dried or 2 cans (preferably organic with no added salt). Save 1 cup of liquid.
Goya Adobo spice – (Politics aside) this Goya Adobo spice blend is a combination of salt, garlic, tricalcium phosphate (anti-caking), black pepper, oregano, and turmeric. I had my doubts, but there is NO indication it contains MSG however, feel free to make your own: recipe here.
Garlic –  cooked until golden.
Olive oil – Your favorite olive oil works well.
Cilantro – Because of its detoxing nature, its best to purchase organic cilantro.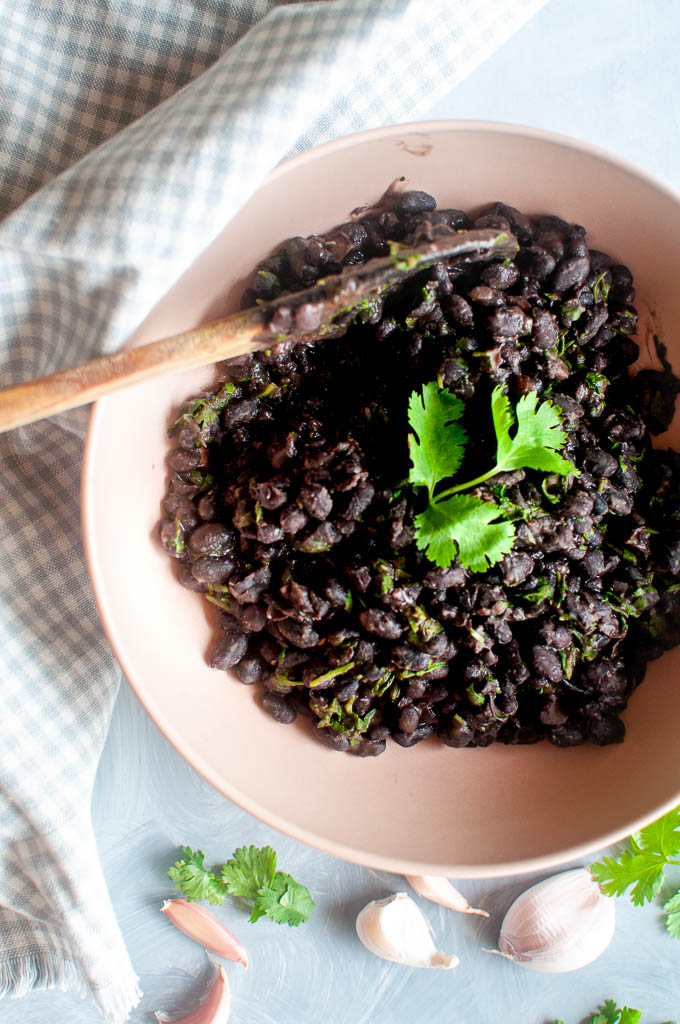 Recipe: Killer Vegan Black Beans
Thank you Carrie for this wonderful recipe!! Make these beans for your friends and family or just keep them all to yourself (like me). Serve as a base for tacos with grilled veggies (Portobello's or squash) and guacamole, or sprinkle over salad (my favorite). Add to steamed vegetables with quinoa, sliced avocado and tahini dressing.
Tips: Carrie says Goya black beans are the best however, If you are against Goya products for political reasons, get organic black beans preferably without salt and make this Adobo spice blend (recipe).
**To Use Dried Beans. Soak 1 generous cup dried beans in water for 2 hours until they swell up. Rinse and add to a large soup pot. Add enough water to cover beans by 1-2 inches. Bring to a boil (use a spoon to remove any foam). Cover and simmer for 1 – 1 ½ hours or until beans are tender. Save 1 cup liquid when you drain the beans.
Ingredients
3 garlic cloves minced
2 tablespoons olive oil
3 cups cooked black beans (2 cans or 1 cup dried -see above**) rinsed – save 1 cup liquid
1 ½ teaspoons Adobo Spice Seasoning (key ingredient)
1 bunch cilantro rinsed and chopped
Directions
Rinse black beans saving 1 cup liquid and set aside.
Heat a large frying pan on medium heat and add olive oil.
Add garlic and stir until lightly golden in color ~ 3 minutes (be careful not to burn).
Stir in black beans, 1 cup liquid and Adobo spice.
Cover and simmer on low for 25 minutes.
Stir in chopped cilantro and adjust spices as needed.
Store in an airtight container in the refrigerator for up to 5 days.