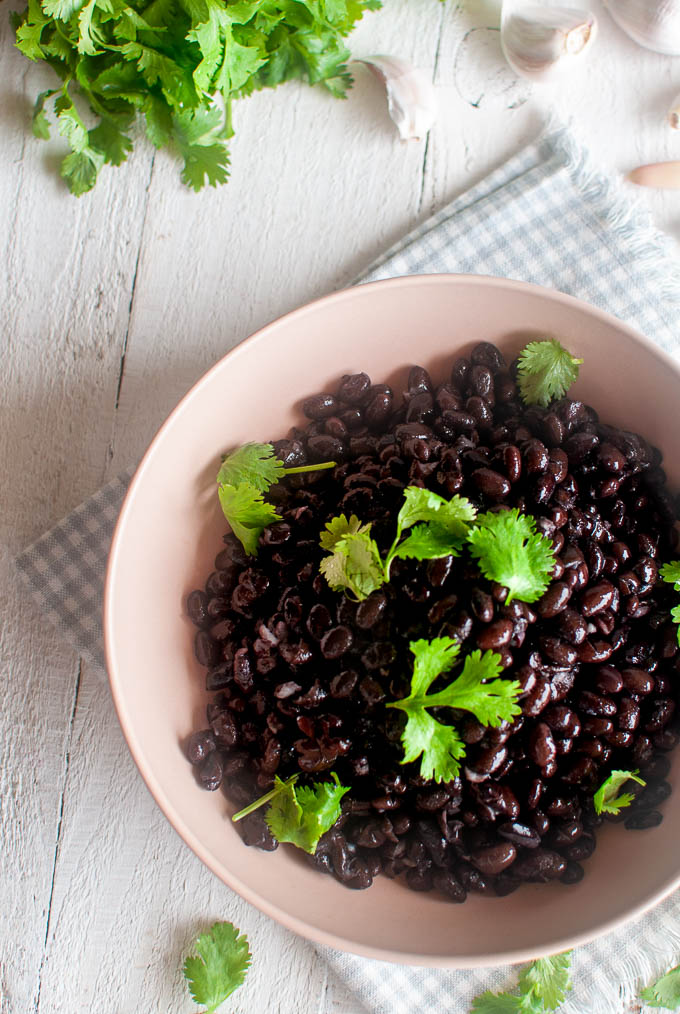 On a warm summer evening in Durango, Colorado, I sipped mojitos on the back deck of my friend's home overlooking a den of pines.  Not only is she an amazing cook, but she surprised me with vegan grilled vegetables, these Killer Vegan Black Beans and guacamole!  I feasted on handmade tacos until we ran out of tortillas. The beans were so delish,  I needed the recipe.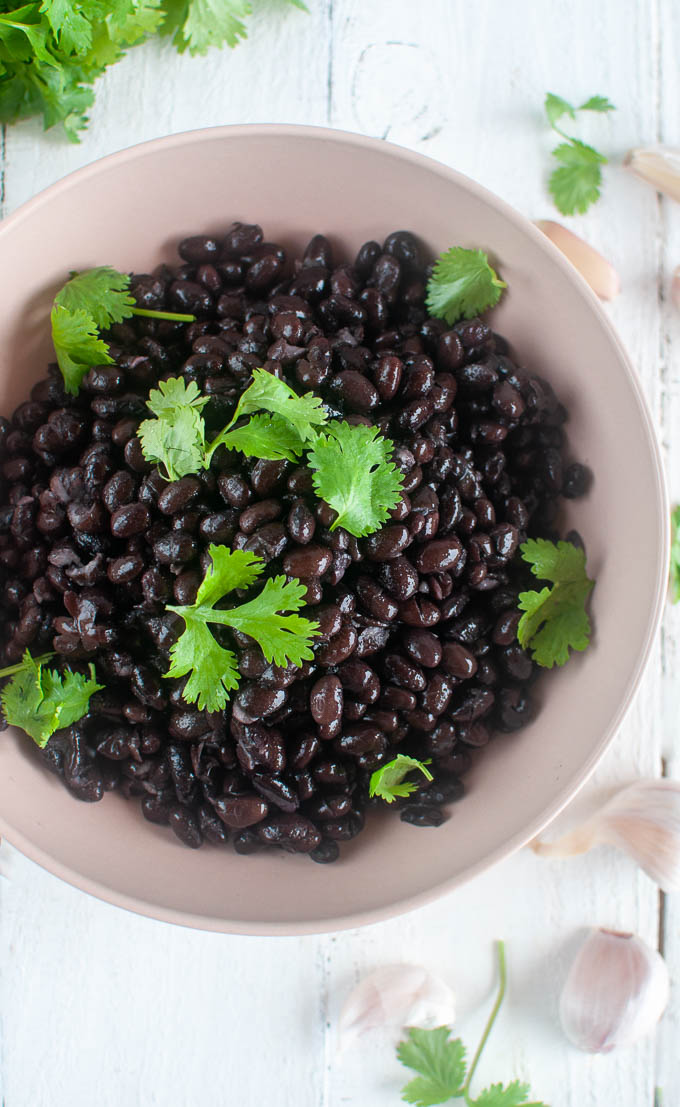 I made the beans the day she sent me the recipe!  There are only a few ingredients but finding the Adobo spice took some effort. (I finally found it at Wallmarto).
Black Beans are a Healthy Carb!
As a teen, I turned vegetarian but knew little about nutrition. I ate mostly simple carbs, like: bagels, pretzels, cereal, and crackers. Simple carbs are processed quickly so they give you a burst of energy (spiking your blood sugar) and then you crash. According to Stanford health, "Sugar crashes can cause such symptoms as: hunger, irritability, fatigue, anxiety, headaches, etc. I remember feeling "hangry" much of the time until I learned about complex carbs.
Complex carbs consist of long chain sugar molecules which take longer to digest. This keeps your blood sugar levels stable, you feel full longer, and you get benefits from these nutritional  foods. Some of the best complex carbs are: Quinoa, black beans, 100% whole grain bread, Oatmeal, barely, acorn squash and other plant based foods.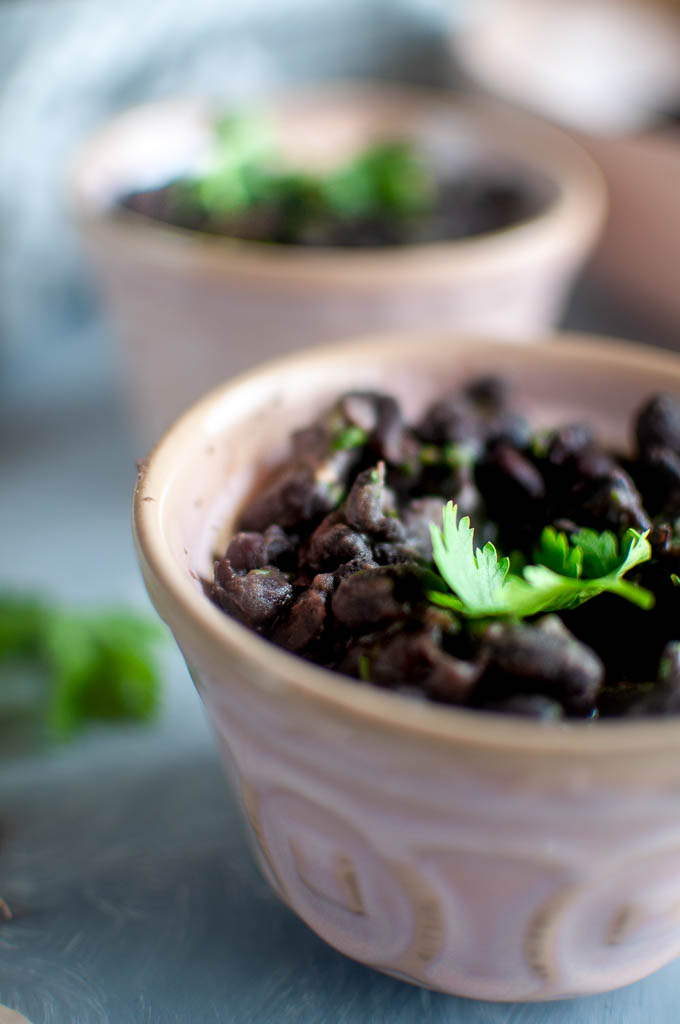 Only 5 Ingredients
Black beans— canned or dry is up to you. Canned beans have the perfect consistency but I like organic no salt. Or use 1 cup of dried beans soaked for at least 2 hours.
Goya Adobo spice – (Politics aside) this Goya Adobo spice adds a great flavor to the dish and according to my research, there is no MSG in this blend.  You can also make it yourself recipe here.
Garlic –  cooked until golden.
Olive oil – Your favorite olive oil works well.
Cilantro – Because of its detoxing nature, purchase organic whenever possible.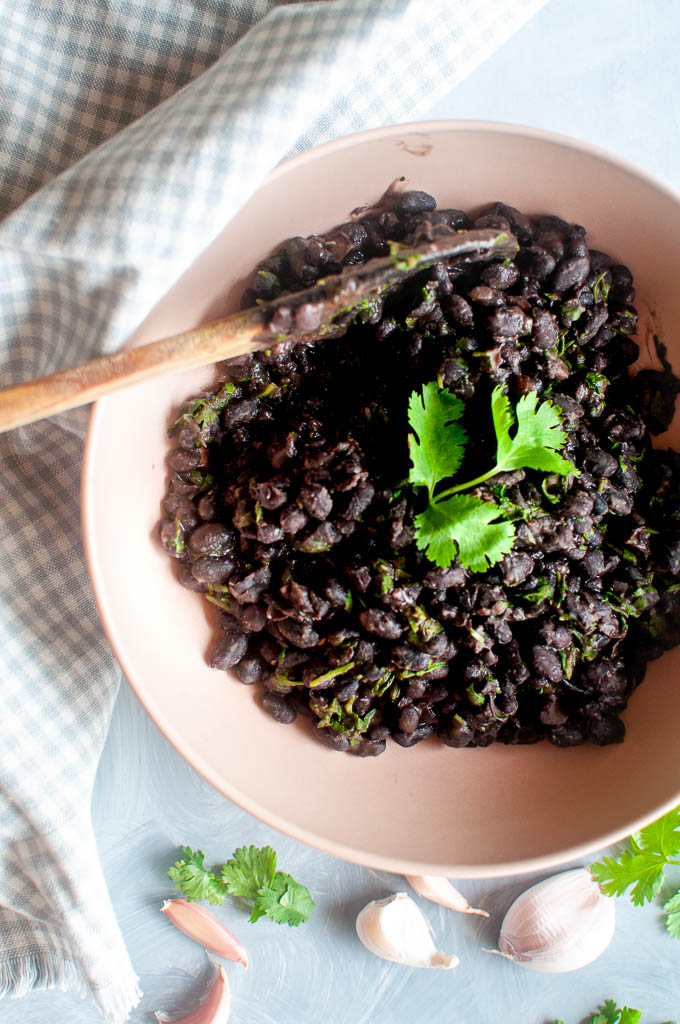 Recipe: Carrie's Killer Vegan Black Beans
Thank you Carrie for this wonderful recipe!!
Make these beans for your friends and family or just keep them all to yourself (like me). Serve as a base for tacos with grilled veggies and guacamole. Sprinkle on salads. Or add to your favorite Buddha Bowl.
Tips: Carrie says Goya black beans are the best for this recipe. I use organic black beans  with no added salt. If you can't find Adobo spice, you can make it yourself: Adobo spice blend recipe.
**To Use Dried Beans. Soak one cup of dried beans in water for 2 hours until they swell up. Rinse and add to a large soup pot. Add enough water to cover beans by 1-2 inches. Bring to a boil (spoon off any foam). Cover and simmer for 1 – 1 ½ hours or until beans are tender. Save one cup of liquid then drain the beans.
Ingredients
3 garlic cloves minced
2 tablespoons olive oil
3 cups cooked black beans (save one cup of liquid) rinsed
1 ½ teaspoons Adobo Spice Seasoning (this makes the dish pop but you can make it yourself – see recipe above)
1 bunch cilantro rinsed and chopped
Directions
Rinse black beans saving 1 cup liquid and set aside.
Heat a large frying pan on medium heat and add olive oil.
Add garlic stirring until lightly golden in color ~ 3 minutes (be careful not to burn).
Add black beans, black bean liquid and Adobo spice.
Turn to low heat, cover and simmer for 25 minutes. Stir occasionally to check the consistency, beans should remain intact with a little liquid for moisture.
Mix in chopped cilantro and serve
Store in an airtight container in the refrigerator for up to 5 days.